3 Ayurvedic Tips For Taking Care Of Your Skin This Winter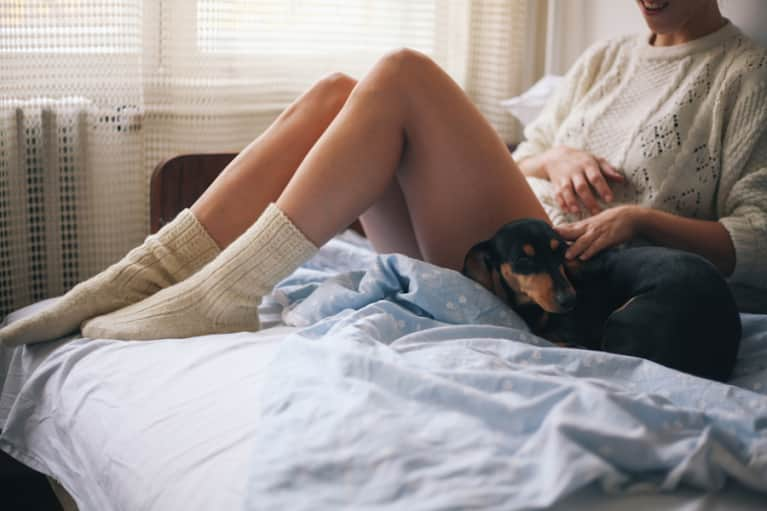 At this point, most of us are probably deep in the throes of winter and feeling a bit dry and flaky. Luckily, Ayurveda, India's timeless system of health can explain why and offer some help.
We know that our minds and bodies are ruled by three energies, or doshas — Vata, Pitta, and Kapha. Well, so is our external environment, including the seasons. Fall and winter are known in Ayurveda as Vata season: the excess dryness and wind in our external environment during the dry season manifests as an excess of Vata in our bodies and shows up on our skin.
To have beautiful skin this season, it's all about hydration. Proper hydration is necessary to counteract the dryness in our environment. In Ayurveda, like increases like, so to counteract Vata, we must introduce extra lubrication into our skin care routine and diet. The more oils the better this time of year, both internally and externally. Here are three Ayurveda-approved ways to do just that.
1. Follow an ancient skin care regimen.
If your skin isn't receiving adequate plant fats during the winter, it'll show on your skin. Daily Abhyanga (Sanskrit for "oil massage") is crucial to avoid looking shriveled and flaky during the dry season. Ayurveda has special ancient techniques for applying oil to both the face and body to give you a glowing winter complexion:
As you're applying a plant-based facial oil or serum this winter, do yourself a favor and use this Ayurvedic "facelift" technique, which activates the marma (or acupressure) points on the face. Marma points are key energy centers that connect the energetic body and chakras with the physical body, and are also key areas where stress and toxins can accumulate, blocking the free flow of energy in the body.
To use the facelift technique, apply oil in an upward motion from the bottom of the face and work your way up. Start at the center of the chin and move your strokes from the center of the face in an up-and-out direction. The marma points will be activated through this simple technique, which will reset the natural glow and vitality of your face.
Regular Ayurvedic face massage is known to diminish frown lines and give your skin a healthy, toned look. It also stimulates lymphatic drainage and the circulation of blood so the body can naturally rid itself of toxins. It's also a non-invasive and natural "face lift."
To apply oil to the body — either before or after showering — be sure to apply it in circular motions around the joints, with long strokes down the limbs. On the abdomen area, apply oil with a clockwise motion, to nurture the digestive organs, which are dominated by the Vata dosha.
Applying oil to the body is grounding and nourishing for Vata, and provides stability and warmth to the mind and body. Plus, this will create a force field for your electrical body, and you will feel protected from the elements.
This is not the season to be dehydrated! Drink warm or room temperature water throughout the day. Avoid ice water as it will aggravate the already dominant Vata dosha. I'd even recommend that you carry boiled water in a thermos and drink it throughout the day.
You can also sip on broth to keep yourself warm and hydrated. Try bone broth, homemade chicken broth, or a vegetable broth if you are vegan or vegetarian.
3. Eat your fats and oils.
You should actually increase your intake of oils and fats in your diet during winter since the weather makes your body much more capable of handling them. Favor Vata-pacifying foods that are warm, heavy, moistening, nourishing, and grounding. Start with these healthy fats:
Dairy: raw whole milk, grass-fed butter, ghee, cage-free eggs
Nuts: Brazil nuts, almonds, walnuts, cashews, hazelnuts
Seeds: sunflower and pumpkin seeds are two of the best to counteract the Vata dosha
Oils: Use plenty of healthy omega-3-rich oils in your cooking like coconut, avocado, sesame, or olive oil.