Diary of a Pregnant Yogi: Week 22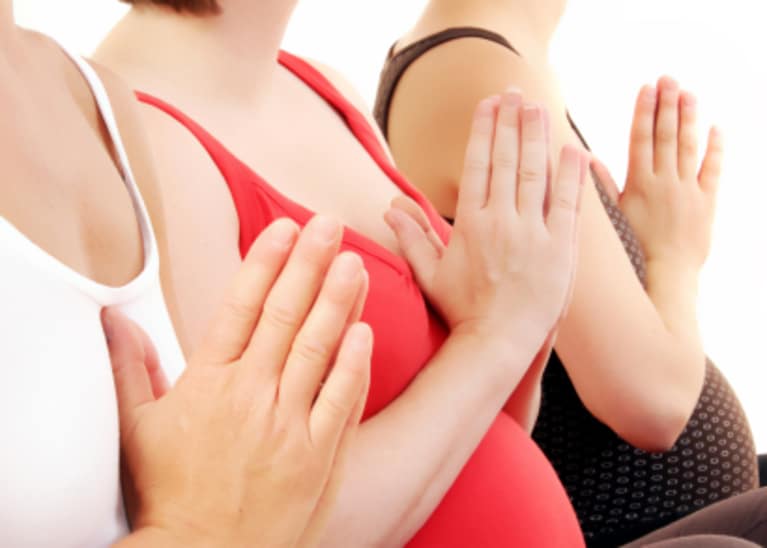 Prenatal yoga is all the craze right now. Studios offer it, websites offer information about it, and all the pregnancy books say "practice yoga". They do not tell you that if you've (accidentally) developed any sort of yoga ego, you are screwed. I had no idea I had fallen into this dreadful trap…until I got pregnant.
Who knew I was so proud of the flexibility I had gained, or the postures I had worked hard to master, or my ability to have a strong and steady breath throughout my practice. Who knew? I was the girl that yelled "WEEEE" when she would kick up into an inversion; now I am the one that is mortified when she falls out of natarajasana. I mean, seriously, I can't even do savasana. A pose that is only described in English as "a corpse", I have been medically advised not to do for fear of cutting off blood supply to the baby.
This was one tough pill to swallow. Until…last week I was rehashing how dramatic I had become when I found enlightenment. "Get over it!" I must have repeated this immensely difficult task about a hundred times in my head, before I was actually o.k. with the idea of just letting go. There are parts of my practice that I just have to sacrifice in the name of creating a life. I realized I should be proud to forego savasana and my deepest uttanasana for my baby. I should be wildly excited that my uterus is just so huge, it's pushed all my organs aside and I can no longer breathe. I should be proud of these things, and in time, I will be.
Being that this is my first pregnancy, I've never experienced or struggled with these things before. It's difficult to accept that your belly (and probably other parts too) are going to grow uncontrollably; and there is no pill, exercise or voodoo magic that is going to stop it -- no matter how magical I think yoga to be. This is going to take some getting used to, but no matter how wacky and unbalanced my practice becomes, at least I am out there practicing.
I know pretty soon (when my "get over it" motto really takes hold) I will be that wild pregnant lady laughing hysterically as everyone has moved into chaturanga, while she is stuck in high plank because her baby belly is pressing firmly against her mat.
So here's to pregnancy! Here's to yoga! And here is to PROUDLY doing them together!