Super Easy Gluten-Free Ramen (It's Vegetarian, Too)
There's nothing like a piping hot bowl of ramen on a dark, wintery night. But what's even more satisfying is when you don't have to leave home to get it!
This recipe will show you how to create a healthy, gluten-free, vegetarian ramen that will seriously knock your socks off. It can be prepared at home in just 30 minutes.
It packs a ton of nutrients and immune-boosting ingredients to help you stay healthy during these winter months. If you don't have some of the vegetables, just use whatever you have on hand. Cauliflower, zucchini, carrot, cabbage, eggplant — anything goes!
But don't take our word for it. You must make this for yourself. Let's get to it!
Vegetarian and Gluten-Free Ramen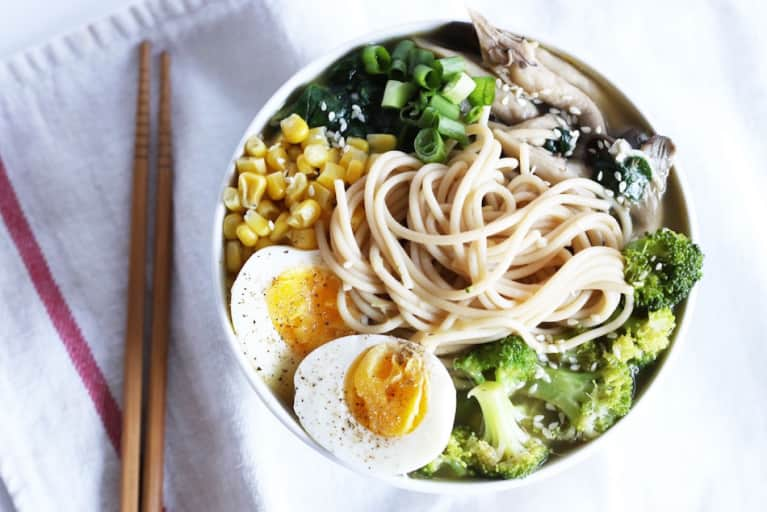 4 eggs
2 teaspoons sesame oil
1 tablespoon ginger, grated
2 garlic cloves, minced
6 cups organic vegetable broth
2 cups shiitake mushrooms
1 tablespoon tamari (or more for flavor)
4 servings brown rice noodles
2 cups broccoli florets
4 cups baby spinach
1 cup frozen corn, thawed
2 green onions, chopped
4 teaspoons sesame seeds (optional)
hot sauce or chili flakes (optional)
Preparation
1. Hard-boil your eggs by placing them in a pot of water over high heat. Bring to a boil. Once boiling, set your timer for 4 minutes for a soft yolk or 6 to 8 minutes if you like the yolk cooked through. Remove the eggs from the water when they are done. Place them in a bowl of ice water and set aside.
2. Place a large stockpot over medium heat. Add the sesame oil, ginger, and garlic. Sauté for 1 to 2 minutes or until fragrant and then pour in the veggie broth. Add the mushrooms and tamari. Bring to a boil, then reduce to a simmer.
3. Add the brown rice noodles and cook for 7 minutes or until al dente.
4. Set the broccoli on top of the liquid and steam for 3 to 4 minutes or until bright green.
5. Set the baby spinach on top and steam for 1 to 2 minutes or until wilted. Turn off the heat.
6. Peel your eggs and slice them in half. Ladle your soup into bowls and top with corn, green onion, and egg. Sprinkle with sesame seeds and add tabasco sauce or red chili flakes if you like it spicy. Enjoy!
Photo courtesy of the author