18 Foods A Healthy Private Chef Keeps In The Kitchen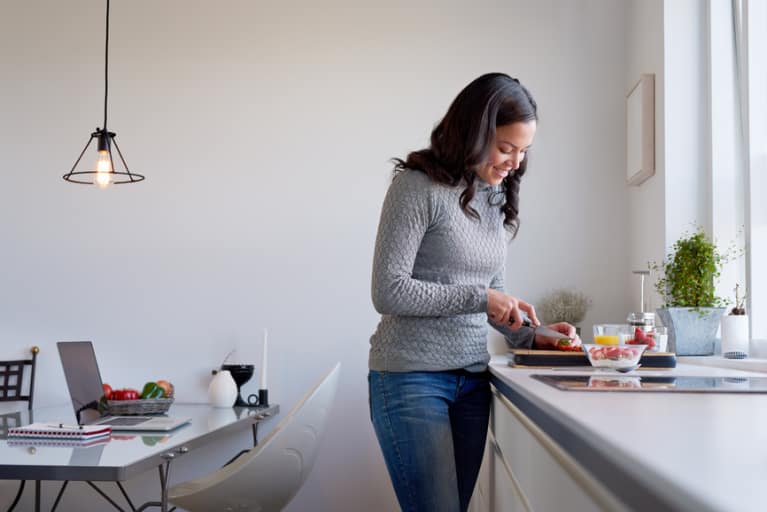 As a private chef, my absolute favorite thing about cooking is that there are no rules. Okay, yes, if you're baking, you need to be jam-on precise, but in your day-to-day, it's simply a matter of getting the good stuff in.
In addition to being a private chef, I'm also a personal trainer, so when I say good, I mean delicious AND healthy. Yes, it's possible, and it's all about good ingredients.
By beginning with clean, organic foods, we find more flavor. When we stop counting calories and begin counting chemicals, we find that the simplest of ingredients can come together to create something amazing.
By putting good stuff in the pantry, freezer, and fridge you're more likely to eat it. By just keeping a few staples on hand, you'll always be able to throw together a little something.
Here are some things you'll always find in my kitchen that help me create reliably delicious and healthy meals easily.
A good item to purchase at your local farmers market. The only way to get fresher eggs is to build your own coop.
Because I trust cows more than chemists.
This is also a good item to buy at your local farmers market. You may find yourself paying just a little more, but I guarantee you it's worth it. Remember, real food is better for you over a chemical-rich product, even if it's butter.
I love this on toast and it's delightful when added to a vinaigrette.
A delicious tool for keeping my blood pressure and immune system in check. During the summer I'll make huge batches and freeze some into ice pops.
5. Organic deli-sliced peppered turkey
I use it to make a simple sandwich or something more elaborate with sautéed onions, mushrooms, and spinach on toasted and buttered cranberry walnut bread.
Because bacon makes everything better. (I love Applegate.)
One of my favorite things to eat is my Big Girl BLT in which I scrap the lettuce and opt for sautéed spinach and onions, add some of my favorite peach jam, and I'm a very happy girl!
It's an easy way to step up a sandwich, pasta, or eggs. Occasionally, I make my own, but most of the time I keep life super simple by buying a couple of my favorite jars.
My favorites! By themselves, with almond butter and honey, in my oatmeal, and I'm sure they'd make a pretty good pie but I haven't tried it yet.
I put them on everything!
I always cook my own because I have control over what gets added to them and buying dried beans is less expensive.
I'll make them in a large batch so I can add them to different things during the week like scrambled with eggs in the morning, a salad, or a burrito.
One of my favorite breakfast options is a breakfast burrito. It's delicious, of course, but also travels easy.
Eating lemon is such an easy way to help our bodies stay healthy, how could I not? Add slices to some room-temperature water first thing in the morning to get your body working.
Or any green that I can make into a salad or easily add to another dish like a soup or pasta.
GOOD-quality bread — I can't emphasize that enough. I love sandwiches and make them all the time, so I have to keep bread in the house. It also makes a good sweet snack. Just toast and add almond butter with a honey drizzle. Mmm …
I use either mustard or pesto as my sandwich spread and it's the base for a great salad dressing.
16. Marinated artichoke hearts
These make a great snack with a little hummus and pita and they're a perfect addition to my veggie pizza.
One of nature's best creations! I love these on their own with a little olive oil, salt, and pepper, and (of course) I put them on all my sandwiches.
I use this instead of plain water when making things like rice, pasta, or beans because it's such a perfect way to add lots of flavor to your food without having to add salt. I make my own a lot (it's easier than you think) but again, in keeping life super simple I always keep a few boxes stashed away.
I believe that food is meant to be savored and enjoyed with all our senses. Why else would it have such vibrant colors and interesting shapes?
What I love most about food is that it allows us the opportunity to slow down and be purposeful in our actions. By choosing to eat well, we're deciding to heal and strengthen our bodies, and what can be more purposeful than that?
Bon appetit!