16 Ways To Live Your Passion In 2016
mbg Contributor
By Shannon Kaiser
mbg Contributor
Shannon Kaiser is the best-selling author of 5 books on the psychology of happiness and fulfillment including The Self-Love Experiment, Adventures for Your Soul, and Joy Seeker. She has a B.A. in Journalism and Communications from the University of Oregon.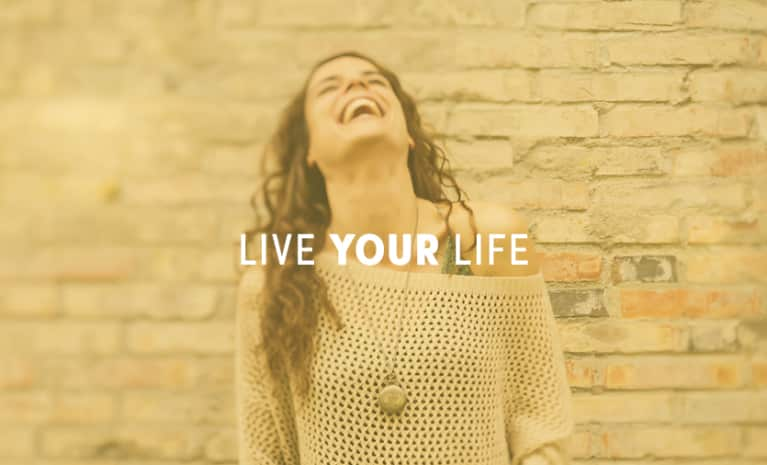 This post is part of a series by Shannon Kaiser called Live Your Life — a primer on finding your passion and living with purpose. Each day this week, we'll post one article offering the foundational elements you need to go deeper in the search for your life's true meaning. When you're ready to take the next step, check out Shannon's course: Get Unstuck: How To Find Your Calling & Live A Life With More Meaning.
Do you feel stuck in a career that just doesn't inspire you?
Are you in an unfulfilling relationship that you can't leave?
Do you wish you could live with more passion and rediscover your sense of self?
Do you crave more connection and meaning in your personal and professional life, but feel unsure sure how to make it happen?
I felt that way, too. For years I was stuck in a job that suffocated my soul. I felt numb. I wanted more passion and craved a deeper purpose, but I had no idea where to start.
Fast forward to today and things look pretty different: I'm fully transformed, living a life I love with a career that brings me meaning and joy.
"If there is an outcome you fear and you do not take action, you will produce the outcome you fear." -Mastin Kipp
Through my personal journey, I learned a lot about how to be fulfilled, what happiness actually means, and what steps we can take to take to get there. It starts with identifying what brings you joy and actively seeking it daily.
In the spirit of celebrating the new year and making 2016 your best yet, here is a list of powerful ways to live your passion:
1. Separate your hobbies from your passions.
You may love to paint or garden, but that doesn't mean you want to make a living doing it. Most folks get confused about finding their life purpose because they assume their hobbies are things that would bring them joy full-time. Hobbies provide a sanctuary from our hectic lives, but they aren't always part of our life purpose. Passion has a hold on you. It keeps you up at night with inspiration. A passion is something you can't not do.
Learning to separate the two will help you move forward with more clarity.
You have a unique set of traits at your core. They are your driving needs and values. They may be different than the needs and values of those closest to you, so it is essential to maintain a separate identity. When you live your values, you are in alignment with your best self.
What you believe is evinced by what you say and do. Align with your beliefs, and share them with passion. The more connected you are to your core values, the easier it will be to live them.
Many of my coaching clients first come to me with fears related to not knowing their calling. If you feel this way, don't worry. When the time is right, it will reveal itself. The passionate steps you take today will reveal your true purpose in the future. Everything is connected, and what you are learning today is part of your big picture.
Know that your passions will change. Your soul has seasons, and you could be in a learning phase that is giving you the skills you will use in the future.
5. Instead of asking what you can get, ask what you can give.
It's easy to feel trapped if we don't feel we are making a difference in the world. We all have a core desire to help and serve others. When you feel stuck, ask, "What can I give?" Can you give your time, money, or energy to help others? Let your life be enhanced by your skills and sustained by the value that you are able to provide.
Ask yourself, What brings me joy? What am I curious about? What inspiration keeps coming to me? These are nudges from your intuition telling you which direction to go. Following your joy route means aligning with joy daily, and making it a priority.
7. Ask a better question.
The questions we ask matter more than their answers. We have to ask the right questions to even get to the answers. Asking the right questions also means getting out of your comfort zone. If you've been asking, "Why can't I find my passion?" or "Why do I feel so lost?" you're focusing on what isn't working well and how you haven't found your purpose. Instead, ask a stronger question, like "What can I do to follow through on my inspiration?" This will lead you to more passion.
8. Act on your inspiration.
Most of us get ideas and don't act on them, focusing instead on how long it would take, how much money, time, or energy it may take to produce that goal. But as Mastin Kipp says, "if there is an outcome you fear and you do not take action, you will produce the outcome you fear." Take action and you will move through the fear blocking you.
Ask yourself, "What inspiration can I act on?"
9. Reconnect with your inner child.
There was a time in your life when you felt free, happy, and incredible joyful. Revisit your youth and take note of what you were doing and who you were with. I would write outside with my dog for company. Today I am a professional writer and work from home so I can spend time with my dog.
10. Go on a future field trip.
Field trips are fun! They provide a break from your current reality, and they are exciting because you get to discover something new. You can live your life with more joy by visualizing your future self happy, purposeful, and living with passion.
11. Take some deep breaths.
Meditation can improve your quality of life. Set time aside each day to breathe deeply and focus on being present.
Happy people attract happier people. Smiling is a great way to improve your day and make the most out of each moment.
Gratitude is one of the best ways to improve your life. Every morning when you wake up, think about what you are grateful for. This practice will help cultivate more joy and abundance in your life.
14. Feel the fear and do it anyway.
You don't want to leave the job you hate because you are terrified you will fail. Instead of focusing on the fear, focus on what action step you can take. Taking action diminishes fear.
You have inspiration and opportunities coming to you at every moment. Start to nourish these inspirations by following through on the insights.
Personal growth is a life-long adventure. It doesn't stop with one book, one course, or one meeting with a life coach. Investing in yourself will give you tremendous rewards.
Related Reads: