In 2015, We Finally Started Talking About Periods. What Happened?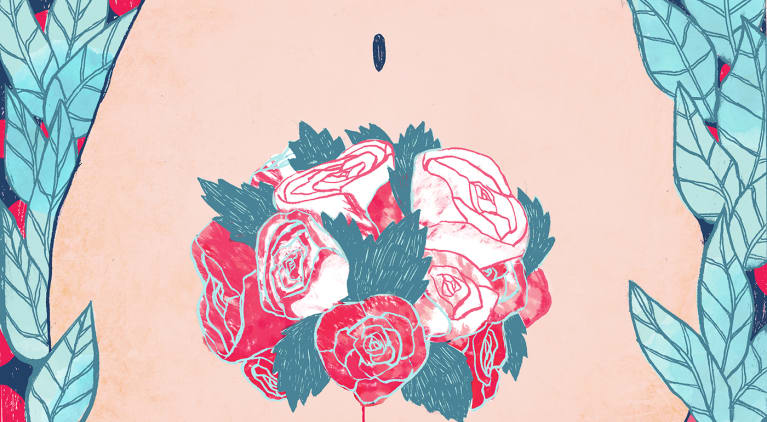 Our editors have independently chosen the products listed on this page. If you purchase something mentioned in this article, we may
earn a small commission
.
I have a friend — a self-identifying sex-positive, feminist millennial — who once got her period while she was staying over at a guy's house.
She saw what happened before the guy noticed, laid herself on top of the stain, and when he got out of bed, she stripped the sheets, telling him she had peed the bed and would wash his sheets for him. It was actually less embarrassing for her to say she'd urinated in his bed than admit her uterus had shed its lining.
And I get it. I don't particularly want to have an obvious period stain on my pants as I walk down the street. I don't feel comfortable mass-Slacking my office to see if anyone has a tampon. But it's also natural and vital. This is not hyperbole: the existence of the human race depends on women's menstruation.
Then why are we so embarrassed to admit we get our periods? Well, we've been taught since the beginning of time that, to be "ladies," we must keep our bodily functions to ourselves. Men don't want to hear about periods or poops or farts. Women can't do that stuff — it's gross!
So, we oblige. We keep it all to ourselves. Our dirty little secret.
That is, until 2015.
As NPR put it, 2015 was "The Year Of The Period."
Menstrual activism, a movement that challenges social taboos surrounding menstruation and the female body, has been around since the 1970s, at least in North America, but most of us still don't know much about it. In fact, I had never heard of it before last year. Everything I'd learned about menstruation came from my middle school health class: we bleed, we plug it up with a tampon (but don't leave it in there too long!), and that's that. No one wanted to talk about it beyond that. This past year, however, news and social media have really put the movement on our radar, and we're finally taking our fingers out of our ears.
In March, 22-year-old college senior and spoken word poet Rupi Kaur uploaded a picture of herself on Instagram with a spot of blood between her legs, as well as blood on her bedsheets — clearly, a period leak.
Instagram "accidentally" took it down. Twice. Kaur then posted an impassioned call to her followers, writing, "Their patriarchy is leaking. Their misogyny is leaking. We will not be censored." Uproar ensued, and the post got the attention of many media outlets. Both photos were magically restored to her Instagram.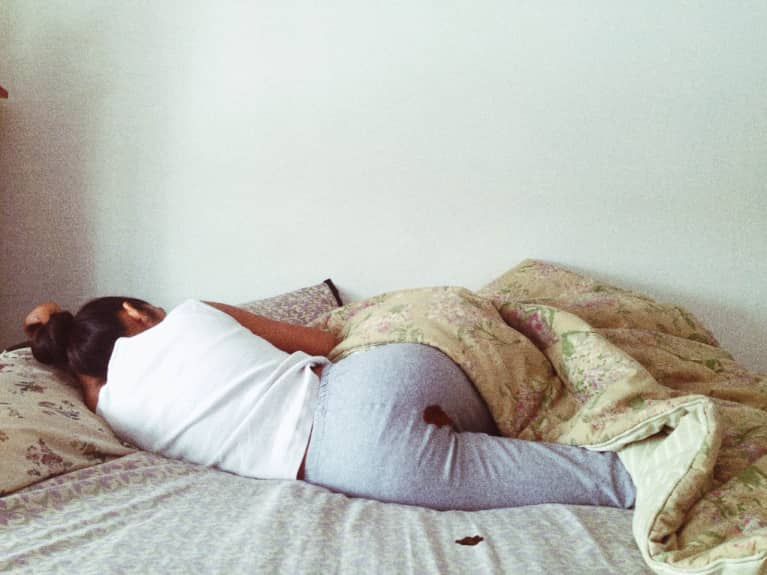 Then, a pivotal moment for the movement came in April, when Kiran Gandhi, a Los Angeles-based musician and feminist, ran the marathon on her period without using any feminine hygiene products — also known as "free-bleeding" — in order to encourage women not to be embarrassed about their periods.
"I didn't want to prioritize other people's comfort over my own," she explained. "I felt that that would be true oppression. It came as an act of liberation."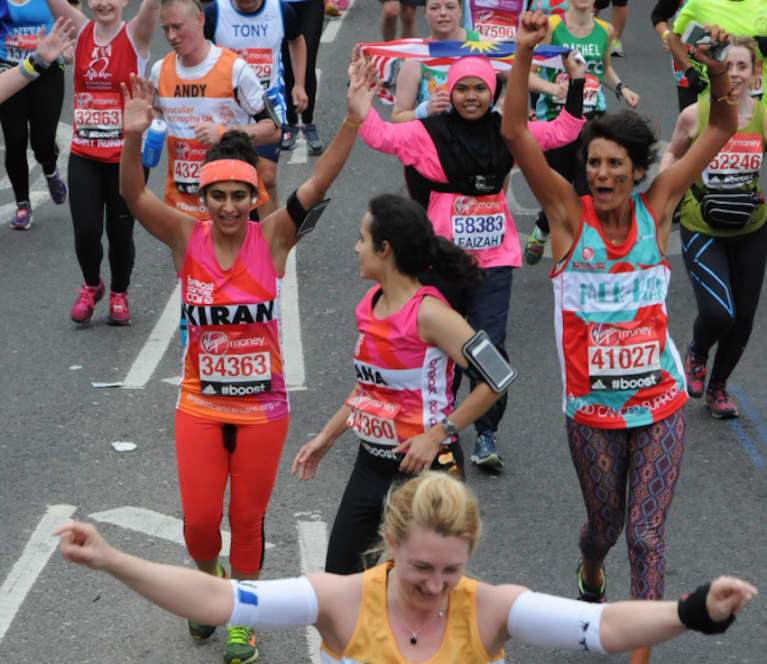 After that, the domino effect took hold, slowly chipping away at period stigma: In 2015, Apple finally included period tracking in iPhone's Heath app, a Key & Peele skit offers guys a hilarious "menstruation orientation" on Comedy Central, and then Donald Trump (obviously) as a dis, suggested that GOP debate moderator Megyn Kelly had "blood coming out of her whatever." Twitter went crazy, and the hashtag #PeriodsAreNotAnInsult was born. Portland artist Sarah Levy even painted a portrait of Trump using her menstrual blood in response to the comments.
What's more surprising than the actions themselves was how the public reacted to them. Instead of the resounding "ew!" we're so used to, there was finally applause.
And then along came THINX — not with a whimper but a bang.
The company, which uses patented technology to create stain-resistant, leak-proof, anti-microbial underwear that absorbs up to two tampons' worth of liquid, launched in May, but they really started to hit headlines in October, when the MTA rejected their ads.
The ads are suggestive, sure — one shows a photo of a cracked egg, an allusion to the unfertilized eggs shed from the body during menstruation, while another includes a very vaginal-looking grapefruit — but they're purposeful, meant to start a conversation about menstruation stigma.
They include the tagline "underwear for women with periods" with the helpful annotation that a period is "the shedding of the uterine lining." What they're most certainly not is "offensive," which is how Outfront Media, the company tasked with managing much of the MTA's advertising, described it to THINX CEO Miki Agrawal.


An Outfront representative told Agrawal that several of the proposed ads "seem to have a bit too much skin" — even though subway cars are covered in plastic surgery ads with nearly naked women — and that the copy couldn't use the word "period."
"What if a 9-year-old boy saw these ads?" they reportedly asked.
"What if they did?" Agrawal answered. "That would be great. He would ask his mom about it and she'd hopefully teach him about menstruation."
They wouldn't let up, though, so Agrawal went to press — and it went insanely viral. It incited such a Twitter fury, news outlets around the world — including The New York Times — covered it. People actually cared.
And then, according to Agrawal, because of the First Amendment, the MTA was forced to put the ads up (though a spokesperson told the Times that they would "of course" be approved). At the beginning of November, THINX took over the entire Bedford Avenue L subway stop in Williamsburg. By February, the ads will cover Grand Central and Broadway-Lafayette train stations, and appear in one of every ten subway cars.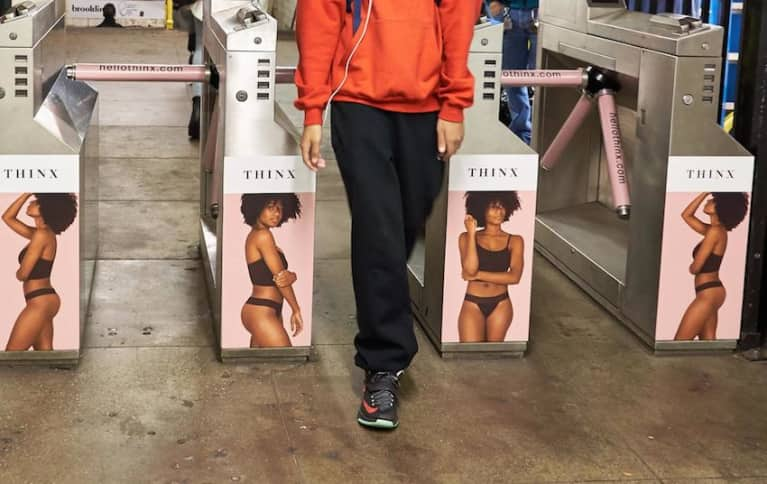 It seems like a no-brainer today, but when Agrawal first told people about her idea for period-friendly underwear back in 2005, she got a lot of "gross!" responses.
So, why are people getting behind this now?
"It might be that millennials are more comfortable with their bodies," says Chris Bobel, associate professor of women's and gender studies at the University of Massachusetts, Boston and president of the Society for Menstrual Cycle Research, who has been studying menstruation for decades. She even wrote a book about it back in 2010 that she says hardly got any attention. But even she doesn't have a clear answer as to why this is all happening now.
"It might be that as gender norms loosen in some spaces, that certain dimensions of embodiment that previously defined us come under scrutiny and reconsideration. It might be that the conversations that many of us were having with our girlfriends in our bedrooms are now happening in social media.
"Social media has certainly enabled us to be more immediate and transparent about our lives — what we eat, where we go, moment to moment, what we think about everything … so maybe this sets the stage for a more open discourse about our bodies, too."
Gandhi, the woman who free-bled as she ran the marathon, believes that women have been suffering in silence, and social media has given them the ability to open up — because they no longer feel like we're the only one with these thoughts.
These "radical" acts of defiance — like hers — against society's expectations of women get people talking and makes them realize they aren't alone. When anger and disgust showed up in the comments of articles and forums, that's when her story truly went viral. Not only did it spark a conversation — it also brought women together to defend themselves against this stigma.
By weakening this social taboo, this movement could have major financial implications, too: the world's feminine hygiene market is projected to hit $15.2 billion by 2017. Though huge, there hasn't been any major innovation in over 85 years.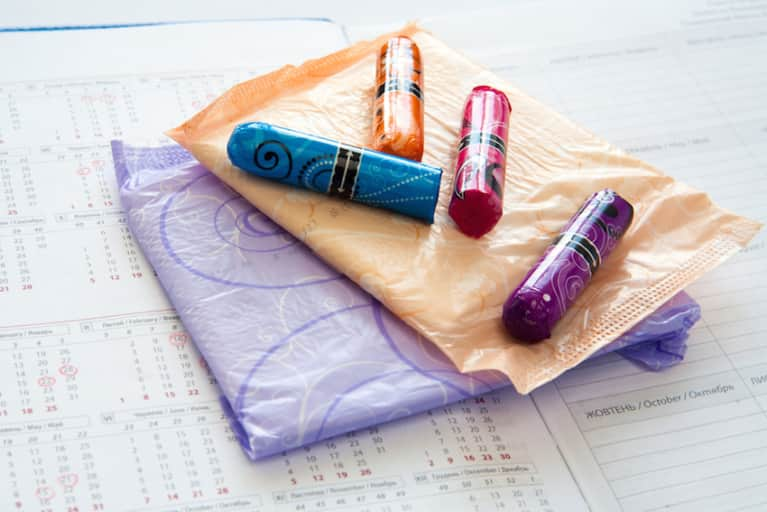 Tampons were invented in 1931 and, aside from adhesive strips and wings on pads, the products have remained unchanged. Independent studies by women's health organizations have found chemicals of concern like dioxin, carcinogens, and reproductive toxins present in tampons and pads, so more conversation could mean safer options for women (not to mention cheaper and more environmentally friendly ones, too).
Since women are starting to speak up more about menstrual health, the heavy hitters in the feminine hygiene industry are being forced to get creative. In October, Procter & Gamble and Kimberly-Clark — which together control the largest segment of the $3 billion feminine care industry in the U.S. (think Tampax and Kotex) — decided to list ingredients for their pads and tampons.
Hopefully, this movement could also lead to legislative improvements. So far, we've seen five states create tax exemptions for tampons, but the rest of the nation hasn't yet followed suit. A high school in Queens is now dispensing them for free, but again, the idea hasn't yet caught on around the country.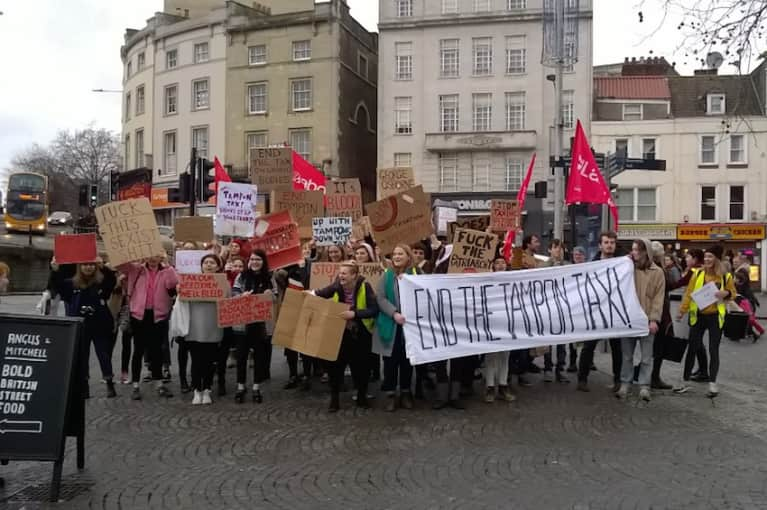 Bobel believes that talking about this issue is crucial, but it's not enough. We need to focus our attention on supporting legislative action like the Robin Danielson Act, recently re-introduced by Rep. Carolyn Maloney (D-NY), which would require appropriate Federal agencies to conduct research and make available to the public information about the potential contaminants in menstrual products, particularly tampons and pads. The bill has been killed before it could get near a vote a staggering nine times already.
"The very same people that are liking Kaur's photo on Instagram or tweeting about Gandhi's free-bleeding need to be writing their congressional rep and urging them to support the bill," said Bobel.
But taboo and stigma are powerful. The commercial world might be (slowly) getting on board, but we're not going to get anything done until we break these ideas down. We need to change the language surrounding menstruation (you know, like referring to it as the "curse"), so that we can talk about it with confidence.
"I want to live in a world where we can comfortably talk about periods in the same way we talk about having a fever or a cold," said Gandhi. "It's just something we all get now and then … It's not something we need to be apologizing for, quiet about, worried about, awkward about — none of that."
And that's obviously going to take work. It will take work to ask your partner questions about her period and actually listen to her. It will take work to not whisper when asking someone for a pad. It will take work not to hide the tampon in your hand from view as you bring it to the bathroom.
But we have to try — to talk about it as much as possible, learn to be comfortable in our own bodies, educate others, support others, change laws, and innovate. Both men and women need to find the courage to change how they think, and view it as a natural, normal part of life — because that's exactly what it is.
Illustration by Chloé Bulpin, mbg creative