The Diet I Follow For A Lean, Strong Build
Our editors have independently chosen the products listed on this page. If you purchase something mentioned in this article, we may
earn a small commission
.
After we shared Pete's story of overcoming an eating disorder to become a bodybuilder and competitive eater, people were curious to learn more about what his relationship with food looks like today. We reached out to see how the powerlifter chooses meals that give him enough energy for his high-intensity stunts. Keep his tips in mind the next time you're headed to that Barry's Bootcamp class.
I often don't know what to call myself: I'm a bodybuilder, YouTuber, and "recovering" competitive eater — I used to be full-time, but now I just do stunts here and there. Over the years, I've won nearly 100 eating contests and currently have 11 food-related Guinness World Records. Because of this, people often assume that my day-to-day diet is extreme.
In reality, my diet is usually very low in carbs (nearly ketogenic), with some higher-carb meals before and after workouts. Today, my main focus is training — I love everything from CrossFit to powerlifting and I provide online coaching for clients to help them reach fitness goals. Food is my energy source, and I can't perform in the gym without it.
On a typical day, I position my calories around my workouts and have meals that are higher in carbs right before I hit the gym to make sure I have enough sustained energy. I typically don't count my calories, but I'd imagine I take in about 4,000 on a training day and 3,500 on a non-training day. More than your typical person, I know, but it's necessary when you work out as much as I do.
Today I was working around the house, so I was able to eat all my meals from home.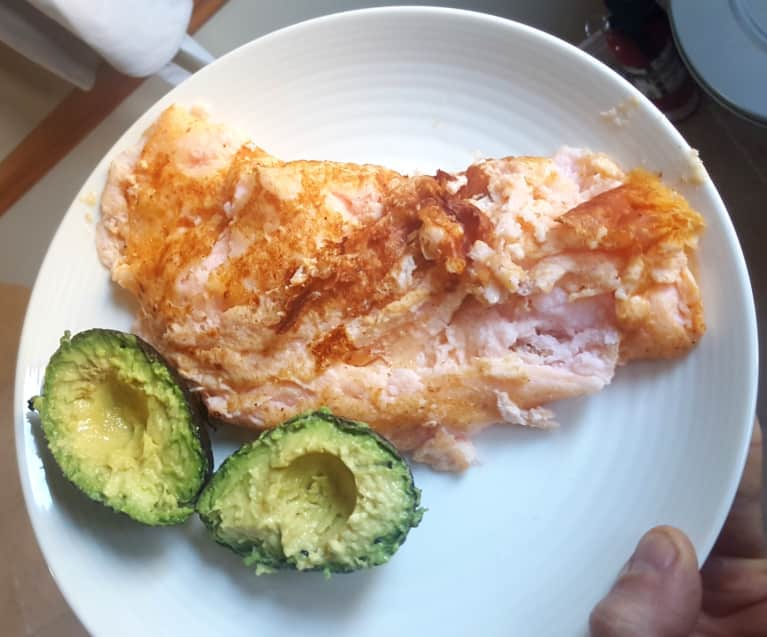 For breakfast, I keep it simple: an omelet made from some egg whites and a couple whole eggs and a side of avocado, oats, or some whole wheat bread if my workout is in the morning. I've found that including at least a couple of yolks keeps me from feeling sluggish by midmorning. Plus, the extra fat gives me a steady source of energy.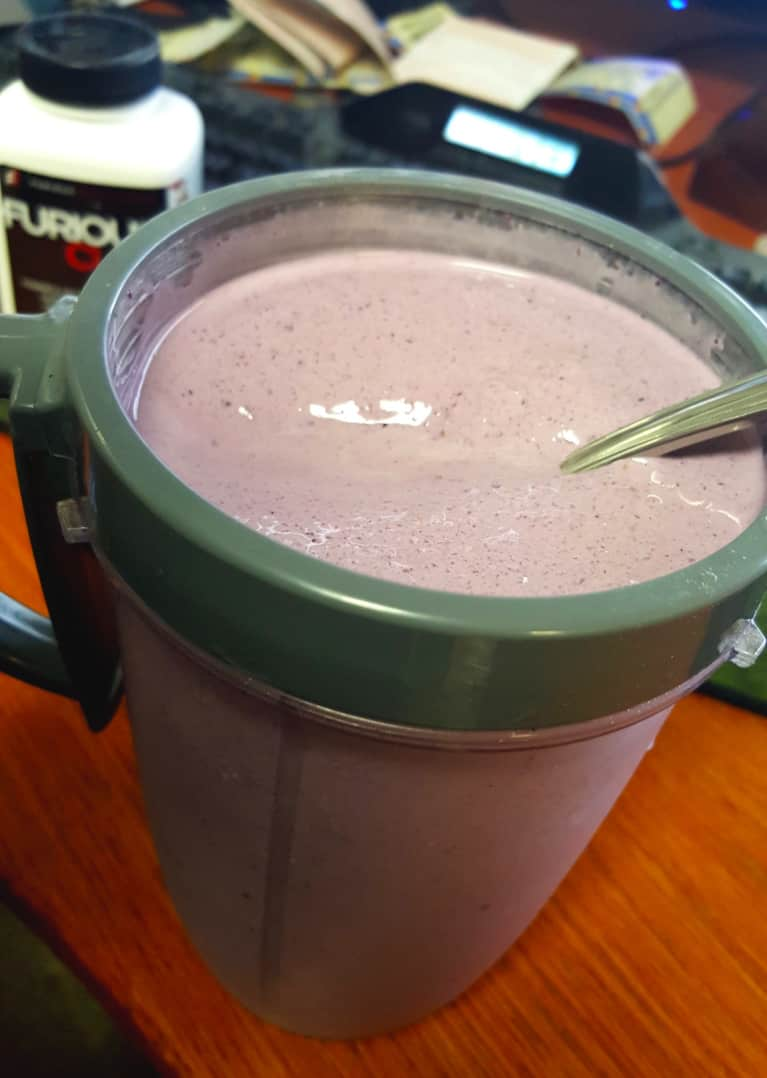 Today, I made a smoothie with some protein powder, blueberries, and almond milk. I'll pop some Furious Cuts protein powder to make sure I have enough energy for the day. I like to have a smoothie as my midmorning meal because I can whip it up quickly and sip it while I work at the computer.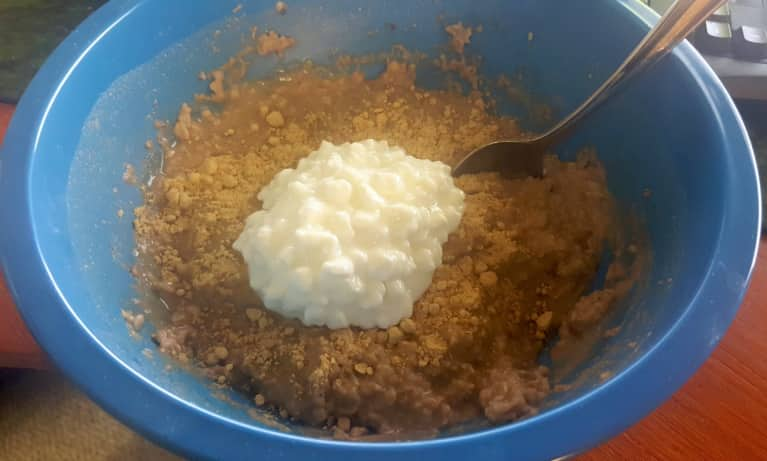 After breakfast, I usually spend the entire morning online, either handling business or working on editing my YouTube videos. Then I try to work out in the early afternoon. Although this may not look appetizing, it's actually one of my favorite things to chow down on before a gym session, and I've been eating it for nearly 10 years. About two hours before my workout, I'll cook one cup of oats then add a scoop of protein, some peanut butter powder and a scoop of cottage cheese. The mixture tends to get very hot, so the cheese helps cool it off. The meal digests very well and gives me a steady source of energy for my workout.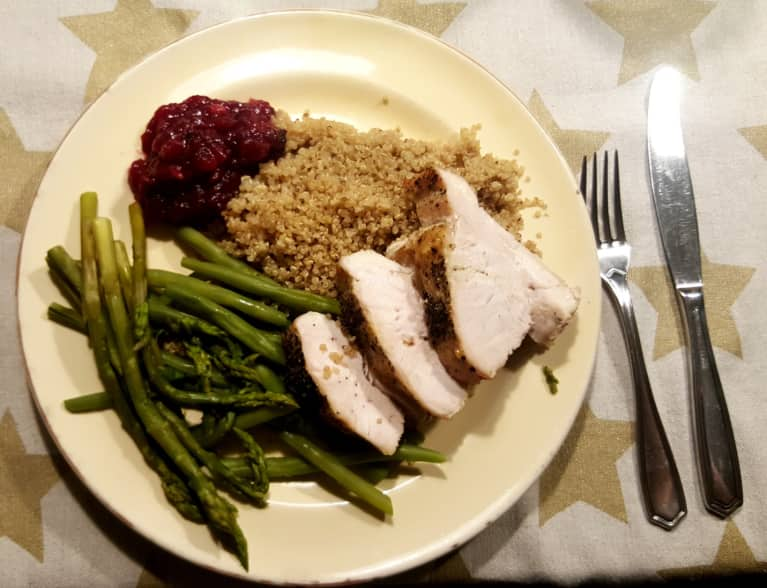 6 p.m.: Post-Workout Meal
I worked out at around 3 p.m. today. My workouts are generally one or two hours, and I do a combination of weightlifting with a bit of HIIT cardio at the end. I prefer to incorporate this at the end because I want to use my energy for lifting weights and find that I can generally get through a cardio session even if I'm tired. I recommend eating a quick-digesting meal or shake right after a workout. It doesn't have to be huge, but getting something into your body quickly will help it recover. Today, I had a high-protein, medium-carb shake right after the gym, made with protein and berries.
Then, I put together this plate of turkey breast, asparagus, quinoa, and homemade cranberry sauce. This is one of my favorite meals — it's damn tasty. To finish it off, I snuck in a second serving of quinoa. Since my workouts consist of so much heavy lifting, I always need to make sure I have enough carbs to replenish my body.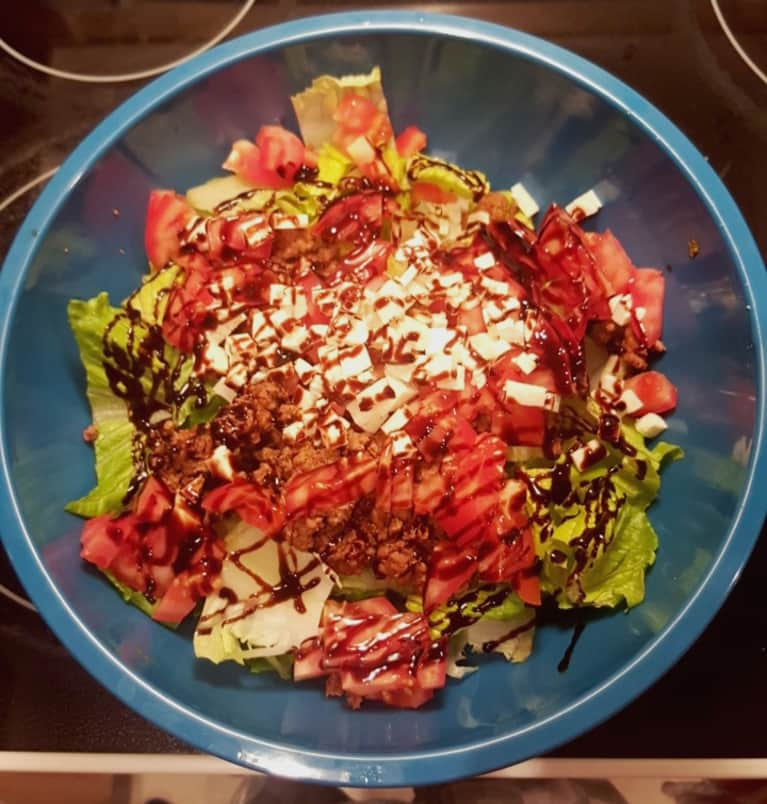 Tonight, I cooked up a couple pounds of ground turkey to last my fiancée and me a few days. I typically like to eat a big salad at around 9 p.m. since it keeps me full until I stop working and go to bed around midnight. It's a simple salad with some lettuce, fresh tomatoes, feta cheese (full fat, because if you're going to use cheese you might as well just use the real thing), ground turkey, and a reduced balsamic glaze.
To learn more about my diet and fitness journey, check out my new book, Stay Hungry.