Take A Look Inside New York City's First Micro-Apartment (Photos)
Let's face it: NYC has become synonymous with cramped, small, dirty apartments over the years. But the city's first official micro-unit apartment building, Carmel Place, has uncovered the luxurious side of tiny living.
The cutting-edge space, composed of 55 studio apartments ranging from 260 to 360 square feet, is proof that a teeny apartment is nothing to complain about, but something to embrace.
These apartments fill a deep need
In 2012, a New York housing council challenged local designers to think up a "micro-apartment" — one less than 400 sq ft — that was livable and aspirational. The winner would be allowed to build their design on a government-owned plot, foregoing the city's 1987 zoning restrictions that say an apartment cannot legally fall below a certain size.
Carmel Place beat out the competition and is set to open its doors to renters in the Kips Bay neighborhood of Manhattan next month.
Intrigued by the tiny living trend and curious about the effects of minimalism on health and well-being, I went on a tour of the space during its final phases of construction last month.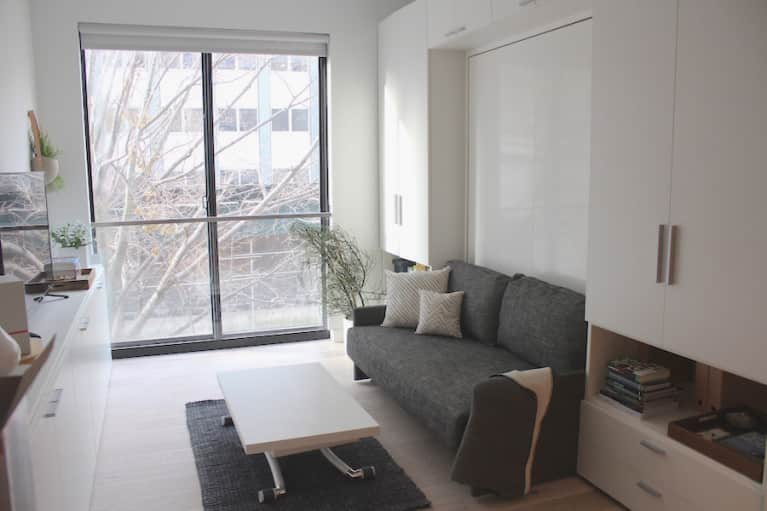 I took my first steps into the modest apartment expecting to feel a mild wave of claustrophobia. My concerns were quickly calmed — it seemed remarkably spacious. I took in the bright floor-to-ceiling windows, large white storage units and simple kitchen retrofits that opened the whole unit up — all 300-some-odd feet of it.
A built-in, two-burner stove, slight coffee table with adjustable legs, and simple fold-out couch all struck me as creative solutions to the size limitations.
"Having transforming furniture gives people options so they don't have to give anything up to live in a small space," Jacqueline Schmidt, a design director for Carmel Place, explained as she pointed out the studio's various furnishings and fixtures.
She imagines that complex's pre-furnished units will relieve future renters of a heavy burden. Since their lives won't be informed by material objects, their daily routines will be more flexible. Not to mention, the less money and attention people pay to their "stuff," the more cash and time they free up for other pursuits.
"By virtue of the fact that the space is smaller, it makes it harder to consume as much," she said. "The people living here have to decide if they want their stuff in the space or if they want to be in the space. It creates options for your life because your belongings are not informing where you're going to live."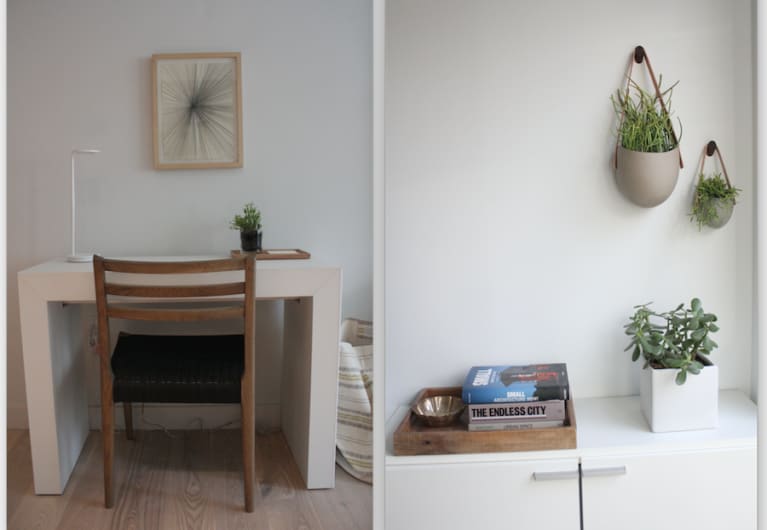 Tobias Oriwol, a project developer at Monadnock Development, the construction company behind the space, told me how this type of manageable, straight-forward apartment design speaks to an underlying social trend.
He explained that single-person households have become the most represented household type in NYC, the country and the greater Western world. This move towards solitary living is largely attributed to a later average marriage age and a higher divorce rate.
"In NYC, single households are 30% of households across all age groups, ethnicities and incomes. It's a unifying demographic in the city," Tobias said.
The designers behind Carmel Place worked to make sure that their one-person households didn't feel lonely or isolated. Amenities like a large common area, gym, outdoor courtyard and barbecue terrace will give residents plenty of opportunities to branch out beyond their living quarters.
"Where you're giving up a little bit of space in the apartment, you're making up four walls," Jacqueline said. "That's probably the most important component of this project — connecting people and creating a seamless lifestyle so you can focus on the things that matter most to you."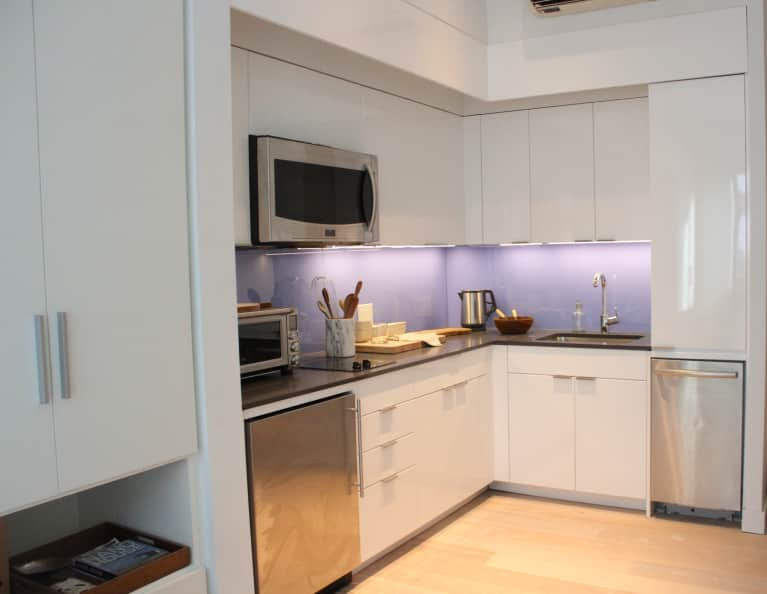 Micro-apartments are an environmentally-friendly solution to this demand for private spaces. (Carmel Place is certified LEED Silver and was built offsite using a modular design that creates less construction waste.) Cities with looser zoning laws like Seattle, San Fransisco and Houston have already invested in similar sustainable micro-complexes.
They're an option that both Jacqueline and Tobias see becoming more popular as time goes on.
"Everything has gotten smaller — we went from dinosaurs to microchips," Jacqueline said. "It's a new way of being. These apartments fill a deep need."
New Yorkers seem to agree with her. Upwards of 60,000 city residents applied to live in the 14 Carmel Place units listed as affordable housing at around $1,000/ month. That's nearly 4,300 applicants per apartment.
Who said that you can't live big in a tiny space?
Related reads: