The Ancient Secret To Getting Your Shiniest, Healthiest Hair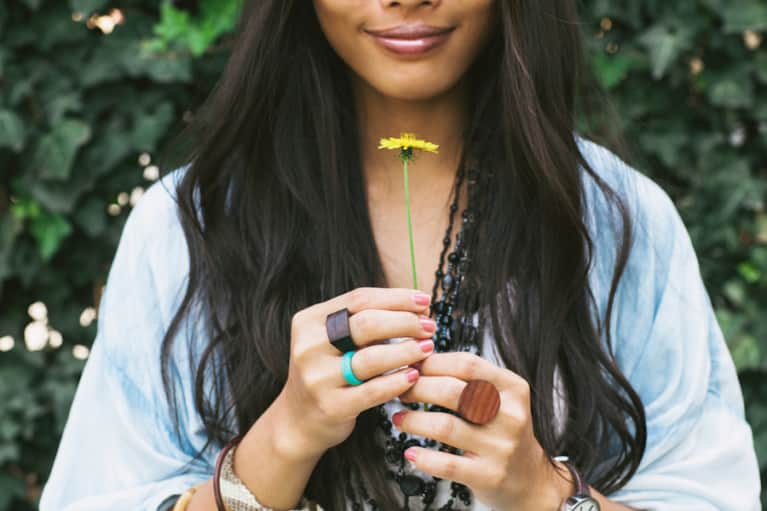 January 21, 2016 — 10:32 AM
Growing up in India, my sister and I were forced to have hair oil massaged into our scalps and hair at least once a week. It wasn't the most exciting part of my week, but it was mandatory. My mother made us do it because, according to her, it was an important practice for healthy hair.
I didn't understand the benefits back then, but now, as an adult, my hair is healthy, shiny, and long — all because my mother shared this ancient ritual.
For thousands of years, oil has been used to keep hair strong and shiny. In the Ayurvedic tradition, hair oil typically contains herbs and families often have their own recipe and blend, perfected over generations. The herbs are simmered in oil, sometimes for days, to infuse their goodness and healing properties.
Memories of visiting India in my youth include my grandmother in the backyard, stirring large pots of oil mixed with herbs to make her yearly supply that she shared with her six daughters and 10 granddaughters.
Though the secret recipe wasn't shared with me until much later, many old recipes include hibiscus, amla, bhringaraj, fenugreek, aloe leaves, and brahmi, all of which are known to have amazing properties for the growth and conditioning of hair. Traditionally in Ayurveda, sesame seed and coconut oils are used as the base of the hair oils, though castor oil also yields results to prevent hair loss and stimulate growth.
Although natural remedies can take longer to work than the conventional quick fixes we're accustomed to in our Western world, the results of the former are typically longer lasting and natural, meaning they're much better for your overall health.
So, what's the right way to use hair oil, and why should you bother?
In my experience, oiling your hair aids growth, treats dandruff, reduces hair loss, prevents premature graying, and increases shine and luster. Not only do hair oil treatments help keep hair healthy, the art of head massage can also help with headaches, migraines, improved sleep, and relaxation.
When it comes to actually performing the ritual, slightly warmed oil is applied before washing the hair — dry hair allows the oil to penetrate deeper; when you hair is wet, the shaft swells and makes it harder for the oil to be fully absorbed.
First, it's massaged into the scalp to stimulate hair growth and allow the nutrients to reach the roots. After all, a healthy scalp is the secret to improving the quality of your hair. Then, the oil is applied all the way to the ends of the strands. Leave the oil on your hair for at least 30 to 60 minutes before shampooing it out.
Since the oil coats the hair and forms a protective layer, the longer it's on, the more conditioning it is. You can also use a small amount of the oil after you've washed your hair to seal in moisture, reduce frizz, and impart a healthy shine.
Everyone from those who color-treat their hair to chronic flat iron-ers, from blondes to redheads, from people with fine hair to the curly-headed can benefit from a regular hair oil treatment. Make this a part of your self-care ritual. What do you have to lose?