Tame Your Tension with Herbal Bathing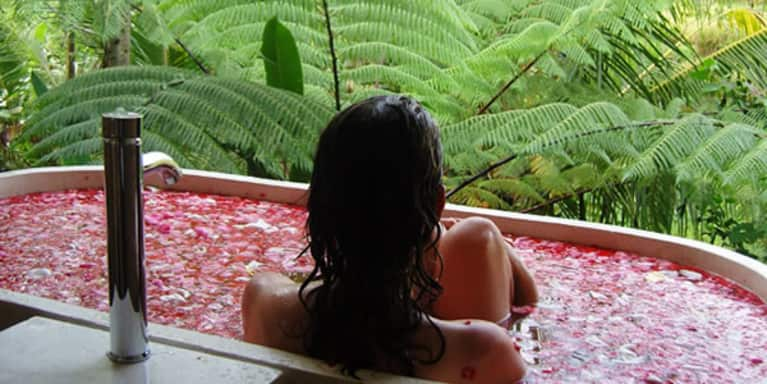 Herbal bathing is a simple practice that has many healing benefits. Steeping your body in a bathtub full of medicinal leaves and flowers is more than pampering; it is preventive medicine that washes away stress and tension. Many herbal constituents can be absorbed through the skin and taking the time out to lie down in the bathtub is healing in itself. Herbal bathing can help to calm the mind, lift the spirits, reduce stress, relax sore muscles, increase circulation, promote mental clarity, and help the body to release toxins.
Bathing is more than getting the dirt off; it is a ritual with water. Bathing often marks the beginning or ending thresholds of the day and we take special baths before dates or exciting occasions. We bathe for spiritual purification and to calm our minds and relax. Our water rituals are enhanced as we bring in the physical and spiritual properties of the herbs. Use rosemary and sage to invigorate your morning wake up bathing ritual, sprinkle chamomile and lemon verbena in your bath water to mark the end of the day. Soak your body in rose petals when you want more love and beauty in your life. Make herbal bath mixtures for each season, reflecting the needs of your body during different times of the year. Turn your bathing area into your healing sanctuary.
I love herbal bathing because it is a powerful therapy that is easily incorporated into our busy lives. Everyone washes with water, so it really is not that much extra effort to throw some herbs into the routine. I bathe in herbs almost daily and feel that my herbal bathing rituals are an extremely important part of my preventive health care plan.
Bathing herbs that have a gently stimulating effect are: basil, bay leaf, calendula flowers, elder flowers, eucalyptus leaves, ginger root, lemongrass leaves, peppermint leaves and rosemary.
Bathing herbs that have a relaxing effect are: chamomile leaves and flower, hops flowers, lavender leaves and flower, lemon balm leaves, lemon verbena leaves, rose geranium and rose petals
Mix together a few of the herbs listed. Put one cup of herb mixture in a pot with four quarts of water. Bring the water to a boil; turn off the heat and let the herbs steep for one half hour. Pour this infusion directly into your bath water.
If staining the bathtub is a problem then strain the herbs from the infusion before pouring into the tub. Another simple way to bathe with herbs is to take one cup of an herb mixture and tie it in a sock or piece of cotton muslin and let the herbs steep directly in the bathtub while contained in the fabric. This method makes much less of a mess but the herbal properties extracted into the tub will not be as strong as with the first method described.
For more Herbal Bathing Recipes, I hope you'll check out my book, The Herbal Kitchen.