I'm A Woman Who Doesn't Shave & The World Is Still Spinning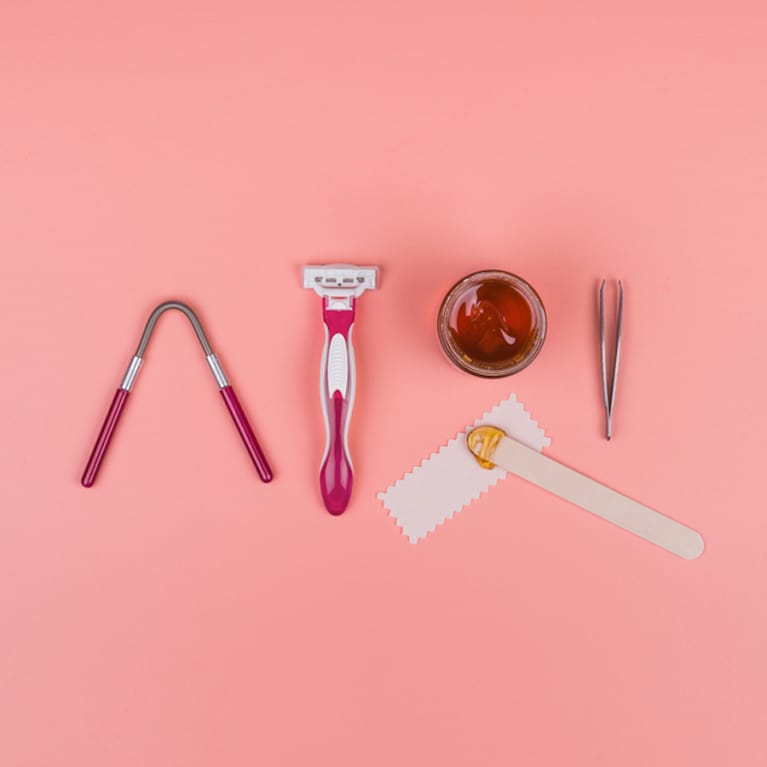 January 16, 2016 — 10:28 AM
As early as our preteens, we're taught that shaving is something that's normal and necessary. But no one tells us that once we start, it's hard to stop.
Sure, it starts simply enough with getting rid of the hair below the knee or under the arms. But before we know it, we're shaving ankle-to-hip, between the legs, belly peach fuzz, arms, etc.
If you can name it, you can probably shave it.
Bombarded by pictures of tanned, glossy, smooth legs on TV and in ads, the cycle of hair removal (whether it be shaving, waxing, laser, or something else) is never-ending. Just look at the endless options of shaving paraphernalia and accessories available in any drugstore.
But like so many things in life, there comes a point when some of us just need to say that enough is enough where hair removal is involved.
For me, this point didn't happen until I had the support and encouragement of my current partner, who made it clear that the reason we were together was not because of my hairless legs.
In addition to his support, we'd been traveling for more than a year and a hot shower, let alone the time and space to shave, was a luxury. There aren't many things that feel worse than jumping into a cold (sometimes even stinky) shower and then needing to take the time to shave on top of it.
Before I decided it was finally time to say goodbye to my razor, I had some (unfounded) ideas of what would happen if I stopped shaving. I thought:
My partner would find me unattractive.
I would find myself less attractive.
Strangers would give me weird looks.
I'd smell and look dirty.
But you know what really happened when I stopped shaving? None of the above. Instead, my partner actually found me very attractive unshaven. If the person you're with loves you for you, a little hair won't make a difference. The world kept on spinning and no one gave two hoots if I was wearing shorts with hair on my legs or a tank top with hair underneath my arms.
Society deems perfectly hairless bodies as beautiful, and we all want to be beautiful, right?
Not only did I not find myself any less attractive, my confidence skyrocketed and I felt free from the bondage of shaving, especially for the sake of someone else or because society told me to. I'm not sure where I got the notion that I'd smell or look dirty if I stopped shaving, but coincidentally, I also quit wearing deodorant around the same time. I'm pleased to report that I do not stink and I look just as clean and kept up as I did when was shaving.
It's no one's fault in particular that we're taught to shave; society deems perfectly hairless bodies as beautiful, and we all want to be seen as beautiful, right?
There's a tradition of mothers teaching their daughters to shave, or teenage friends passing the knowledge to each other. But while this may be the norm now, it's even more important that we teach our daughters that their bodies are perfect just the way they are, hair and all.
It's difficult enough with countless advertisements telling women what is supposedly beautiful and how they should look. Young women need to know that they have a choice about whether to shave or not. And young men need to be taught that the true beauty and worth of a woman isn't based on whether or not she has hair under her arms.
So. Are you ready to say goodbye to your razor?
My advice is to start small. Begin by not shaving your legs for a while — you might be pleasantly surprised at how little hair women actually grow on their legs if its left alone. If you like the way it feels physically and mentally, stop shaving another part of your body. Let it build.
And always remember that the one opinion that matters regarding your natural hair growth is your own. This is your body; own it!