7 Foods A Personal Trainer Swears By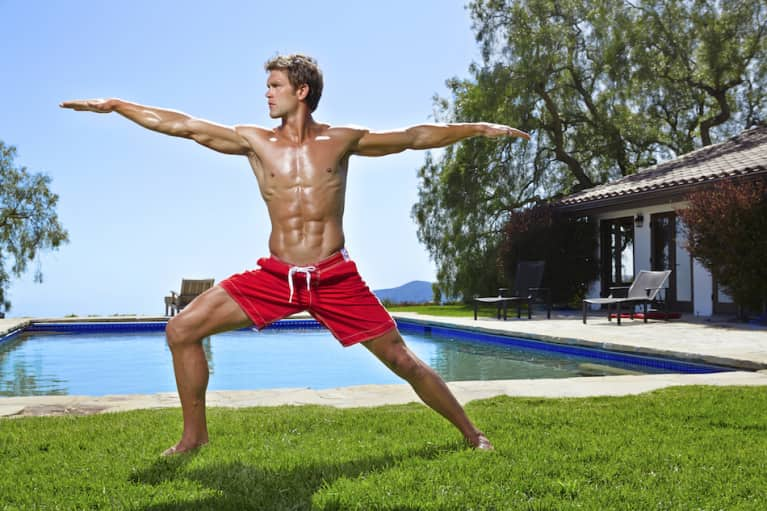 My philosophy on training and nutrition is: sweat and eat clean. And keep them both simple.
Find out how you like to sweat and do it. You're more likely to be consistent with your training if you enjoy it and it fits your lifestyle.
In regards to nutrition, I think about it this way: If God made it, eat it; if man made it, avoid it.
My philosophy on training and nutrition is: sweat and eat clean.
By following this idea, I don't need to count my calories. You would have to eat a whole helluva lot of kale to get fat. I believe in frequent small meals, so what I eat in a day might seem like a lot of food to you, but keep in mind that I am training people the majority of the day so I burn calories pretty fast.
You should listen to your body. If you're hungry, eat. Don't wait until you're starving, because then you're more likely to make worse food choices.
Here are the foods I eat that keep me going all day long:
After my morning workout, I roll into the kitchen and make my green juice:
Ingredients
½ pear or apple
½ cucumber
1-2 handfuls of spinach
8 mint leaves
1 inch sliced ginger (skin removed)
½ a lemon (skin removed)
a large handful of ice
Use a Vitamix or blender to blend until smooth. I have clients at 7 and 8:15 a.m., so I need something that I can make quickly that will keep me full until my next meal.
My go-to breakfast is an egg and veggie scramble with 2 to 3 eggs (or 2 eggs and 1 egg white), sliced-up mushrooms, peppers, onions, and a handful of spinach, topped with half an avocado. While I'm making this, my Stumptown coffee is brewing. So good!
3. Seasonal vegetables and fruits
About an hour after breakfast, I snack on a persimmon and a cup of green tea — I have a busy day ahead and need to stay fueled. This gives me energy and focus as I do a little work from home before my afternoon clients.
At about 1 p.m. it's time for lunch so I head over to see the fellas at Greens Up for a giant salad. Here is a video of me and owner Robert Yamarone showing you how they make such giant salads. Hint: It's in the handfuls of greens and the bowls ... they're giant!
I have a handful of raw almonds and an apple in between my afternoon clients. Almonds are a great snack (in moderation) with the perfect balance of fat and protein.
A handful of almonds is 12 to 15 nuts no matter how big or small your hands are! The apple gives me some energy, and the sugar is balanced out by the protein in the almonds.
Later on, I'll chug a few gulps of raw goat's milk. This stuff is great for those who are lactose intolerant like me. It contains more than 50 beneficial nutrients, fatty acids, and amino acids.
During the week I need quick meals. Tonight I go to my old faithful: salmon and kale. I order wild salmon in bulk from the farmers market. I took out a piece last night to defrost, then dinner only takes 10 minutes to cook. Dinner, done.
In the evening I do a little foam rolling while my roommate watches TV. I sip on some chamomile tea to help my food digest before I head off to bed.
Photo courtesy of the author