5 Big Reasons To Consider Minimalist Living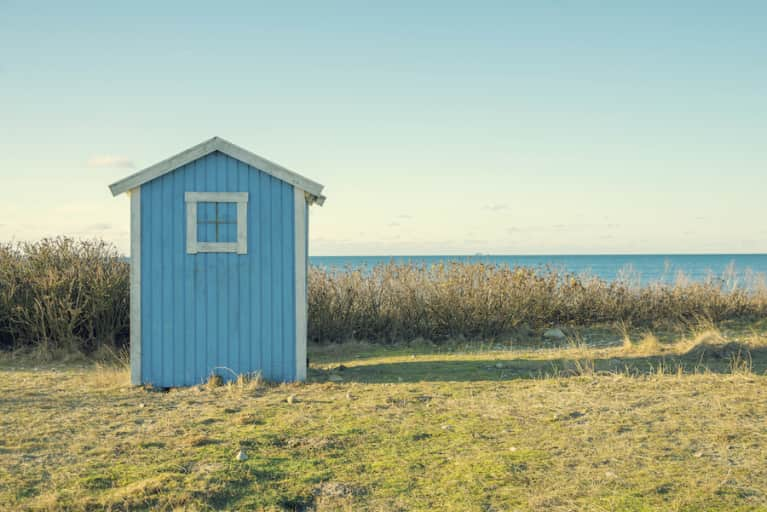 Downshifting your life into a smaller space takes planning, patience … and guts.
But there's plenty to be said about the universal benefits of shedding that mortgage, hitting the open road, climbing a tree, and going off the grid — something that I've learned firsthand while producing alternative lifestyle shows for TV. These are five less obvious lessons I've taken away from following along on this dream-big, think-small revolution.
I hope they speak to you as well, whether you're reading this from a tiny home, a tree house, or a McMansion.
1. Tiny living strengthens relationships.
Most couples plunge into the tiny house market in search of simplicity, trendiness, and adventure. Oftentimes, the planning and building process serves as a tutorial for them to discover how they really want to live … together. In the shared pursuit of simplicity, the couples I've worked with have crystallized the values that brought them together in the first place and brought their shared goals sharply into focus.
Even if you and your partner aren't ready to embark on your own tiny home journey, try tackling a challenging home project side-by-side. Your relationship will benefit if you work together as a team in pursuit of the same dream, even if it's not a life-changing one … yet.
2. Challenges breed self-confidence.
One show I work on, Building Alaska, tracks couples as they construct cabins in the Alaskan outback. This harsh environment presents a unique set of conditions and challenges, but I've noticed that the rewards for these dauntless folks are immense. With their heightened appreciation for the wonder of the outdoors and their personalized, isolated havens, these folks are about as close to nirvana as anyone I've ever met.
Try to make getting out of your comfort zone a regular occurrence by constantly using different skills and exploring new places. Each little conquest will build your self-confidence and self-esteem.
3. A fresh perspective is refreshing.
Another alternative living trend that I've seen firsthand is treehouse living. That's right — I've worked with folks who hire an intrepid crew to build their dream treehouse. Getting up into the canopy completely changes their viewpoint on life, as everything looks, smells, and sounds different from up above. Looking at your environment from the top down is a great reminder not to sweat the small stuff — which, it turns out, is pretty much everything.
Take a cue from these treehouse pioneers and change your point of view to see how it alters your perspective. The change might be as small as rearranging the living room furniture or as big as climbing a local mountain. Looking at old things from a new angle is always worthwhile.
Looking at old things from a new angle is always worthwhile.
4. Nature is a cure for pretty much everything.
Once urban couples make the decision to swap their hectic lives for a more rural existence in the great outdoors, they make invaluable discoveries. Once they get way out there in the wild, they realize how little they knew about where their food comes from, how to protect and provide for themselves, and why fresh air matters. They shed their what I like to call "NDD," or Nature Deficit Disorder, and swap it for a life of self-sufficiency.
Even if you're not the outdoorsy type, you'll discover more wonders than horrors when you venture out of your daily routine and into nature. Plan an extended trip into nature and you could cure your NDD for good.
5. Holistic living starts at the dinner table.
In the future, I hope to start another show that features Dr. Tanda Cook — a remarkable woman who's mastered the art of living in sync with nature. Tanda hunts, fishes, grows, and raises everything that hits her table … which she opens up to invited guests for weekly feasts at her acclaimed wellness retreat in rural Montana. Dr. Cook believes in the simple code of GIGO: Garbage in, garbage out. So she makes sure to put only the most nourishing food into her body and the bodies of her guests.
Take a cue from her and treat your body as a holistic vessel. Put only the freshest ingredients into it — even if that means producing them yourself.
Related reads: