Here Are The USDA's New Dietary Guidelines (Watch Out, Sugar!)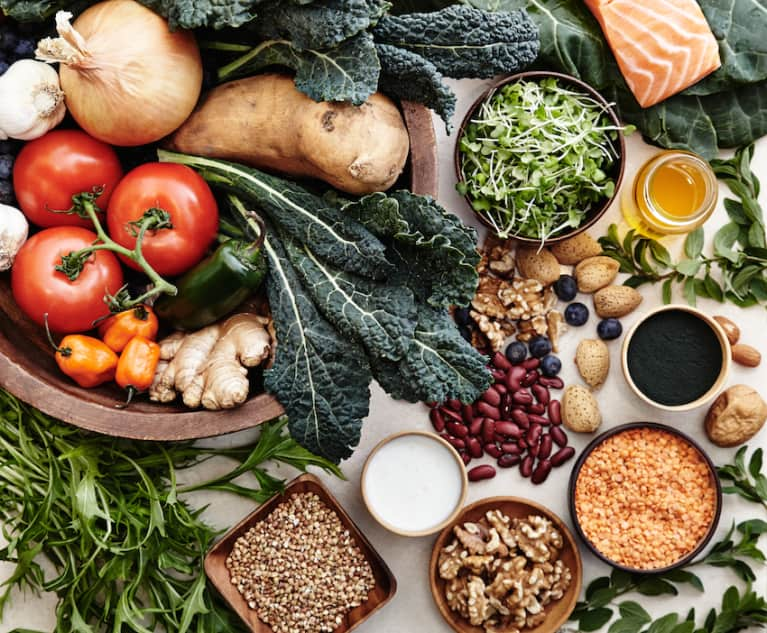 January 7, 2016 — 15:57 PM
Let's be real: You're an mbg reader. You already know that sugar is the enemy.
According to Dr. Mark Hyman, studies have shown that sugar is eight times as addictive as cocaine. It fuels inflammation, which can triggers blood sugar imbalances, insulin resistance, pre-diabetes, and Type 2 diabetes. It also derails hormones, which can make you more hungry, cause belly fat storage, and lead to Type 2 diabetes.
So today, the federal government has finally acknowledged what a problem sugar really is in its new dietary guidelines, which come out every five years.
The major takeaways: Americans need to drastically cut back on sugar, reduce their intake of saturated fat, and teenage boys and men specifically need to stop eating so much meat.
The panel dropped the longstanding limit on dietary cholesterol (300 milligrams a day) but still encouraged people to "eat as little dietary cholesterol as possible" to lower their risk of cardiovascular disease.
Other than that, much of the dietary advice remains unchanged since the last report in 2010; there's still a focus on consuming more fruits and vegetables, more fiber and whole grains, and less salt.
And while you might already be adhering to these guidelines by sticking to a plant-based diet, most Americans do not eat a healthy diet, are overweight and risk getting heart disease and other illnesses as a result. So hopefully this could change the way millions of people eat.
"Today, about half of all American adults — 117 million people — have one or more preventable, chronic diseases, many of which are related to poor quality eating patterns and physical inactivity," Health and Human Services Secretary Sylvia Burwell and Agriculture Secretary Thomas Vilsack say in an introduction to the report.
"Rates of these chronic, diet-related diseases continue to rise, and they come not only with increased health risks, but also at high cost."
However, rather disappointingly, the new guide fails to suggest less red or processed meat despite the strong evidence that both can cause cancer.
So, other than the major cap on sugar, the guide mostly just maintained its old advice of keeping to a "healthy eating pattern":
A variety of vegetables: dark green, red and orange, legumes (beans and peas), starchy and other vegetables
Fruits, especially whole fruit
Grains, at least half of which are whole grain
Fat-free or low-fat dairy, including milk, yogurt, cheese, and/or fortified soy beverages
A variety of protein foods, including seafood, lean meats and poultry, eggs, legumes (beans and peas), soy products, and nuts and seeds
Oils, including those from plants: canola, corn, olive, peanut, safflower, soybean, and sunflower. Oils also are naturally present in nuts, seeds, seafood, olives, and avocados.
Yes, we know: it's stuff you already knew. But if you realize you really should be cutting down on sugar, here are some simple tips from Dr. Richard Jacoby and a full course on how to ditch it from Dana James.
You can explore the latest edition of the USDA's dietary guidelines here.