Detox Kitchen's Perfect Winter Breakfast
Detox Kitchen makes quality food that's free of wheat, dairy, and refined sugars, and full of fresh, beautiful produce. It's both a food delivery service and a charming brick-and-mortar deli in London's West End — and something we wish we had here near our offices in Brooklyn!
Detox Kitchen founder, Lily Simpson, was nice enough to share her perfect winter breakfast porridge with mindbodygreen.
Detox Kitchen's Quinoa and Oat Porridge With Apple Compote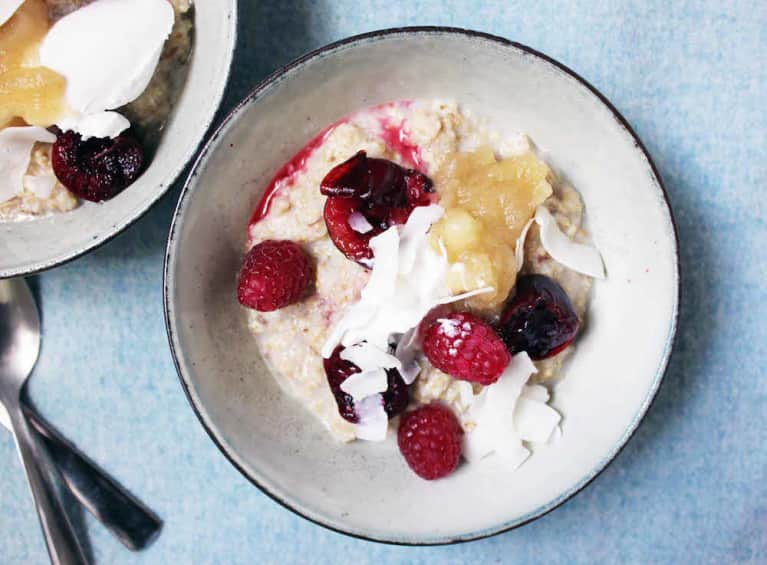 ½ cup quinoa
1 cup oats
Pinch mixed spice (try a blend of cinnamon, nutmeg, and ginger)
2 cups water
Ingredients for apple compote
2 apples, peeled, cored, and roughly diced
¼ cup water
Pinch of cinnamon
Pinch of freshly grated nutmeg
3½ oz. fresh cherries
handful of fresh raspberries
2 tablespoons coconut yogurt
1 tablespoons coconut chip or desiccated coconut
Preparation
1. Place the quinoa, oats, and mixed spice in a pan, add the water, and bring to a boil on low heat. Once boiling, reduce to a simmer and cook for 10 minutes.
You may need to add a touch more water so keep an eye on the consistency.
2. To make the apple compote, simply place the apples in a pan and cover with water, cinnamon, and nutmeg. Boil for 10 minutes until tender. Drain and tip them into a food processor. Blitz to a smooth consistency and set aside.
3. Now all you need to do is put the dish together. While the porridge is still warm, divide it between two bowls and top with a big spoonful of the apple compote. Now add the fresh cherries, raspberries, and coconut yogurt. Top with coconut chips and serve.
Photo courtesy of the author