Ram Dass On Spirituality, Life & Love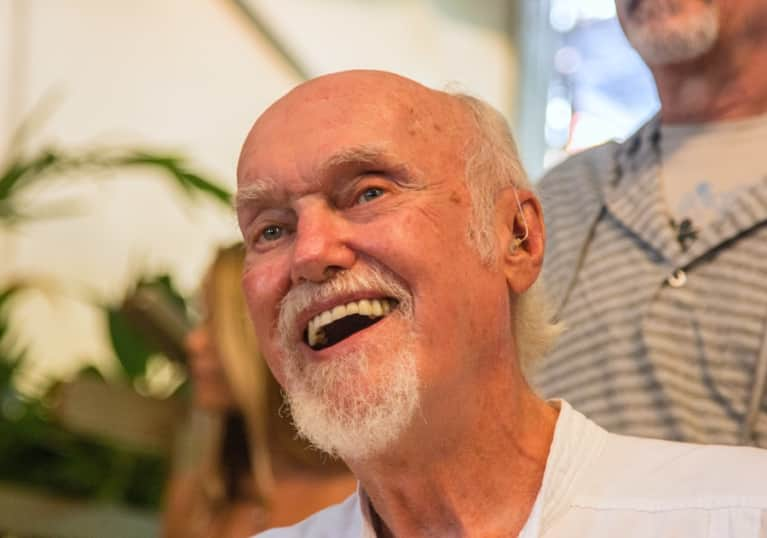 He's back! The man who brought the spiritual guidebook Be Here Now to the world has made his mark with a new work, Love Everyone. We were thrilled to speak with him about the project and get his take on spirituality, mediation, and love.
Ram Dass' revolutionary 1971 text Be Here Now introduced the Western world to the meditative practice that Eastern philosophy had been teaching for eons. Its title is a nod to Ram Dass' spiritual mentor in India, Neem Karoli Baba, or Maharajji, and his message of mindfulness and unconditional love.
A peaceful heart begets a peaceful world.
Today, more than four decades since its publication, Be Here Now still serves as a guidebook for anyone interested in living a more spiritual existence. And Ram Dass' blending of two disparate cultures continues to be celebrated as an extraordinary feat.
His latest project is an ode to his inspirational guru, Neem Karoli Baba. In Love Everyone, writer Parvati Markus weaves together spirited accounts from many of Maharajji's students. The text features a powerful foreword from Dass himself.
Read along for some of the pioneer's thoughts on all facets of modern spirituality.
MBG: Could you please tell us a little bit about Love Everyone? What was it that drew you to this particular project?
RD: During my time in India, Neem Karoli Baba, Maharajji, called me up and said, "Ram Dass, love everyone." I said, "Maharajji, I can't love everyone." And he came up close to me — nose to nose — and said, "Ram Dass, love everyone." And then I understood that he meant to love everyone from my soul. I took this as his directive for the rest of my life.
Now it's the title of our book, which is a collection of stories from the Westerners who made the journey to India to experience Maharajji.
You discuss the importance of loving unconditionally in the book's foreword. It seems like it's getting harder and harder to do so with all the pain and violence that surrounds us. What advice do you have for someone who wants to love more but finds it difficult in today's world?
Unconditional love emanates from the spiritual heart — the soul. From that vantage point, you can find the openness to live with the suffering and pain without rejecting anything.
Do the best you can to effect change around you; a peaceful heart begets a peaceful world.
If you were just beginning your spiritual journey today, how would you filter out all the many distractions and be here now?
You can deal with the chaos of the outer world by finding the calm place in your mind and heart from which to view it. To make that real in your life, you need to practice. Just like you go to the gym and do repetitive work to strengthen your body, so it must be with the mind.
One needs to practice some form of meditation or chant — whatever allows for the habit of one-pointed concentration and the development of the witness from the soul — the place from which you can watch your incarnation unfold. That will bring you into the here and now.
What is your meditative practice like today and how has it changed over time?
I practice by making Maharajji a companion for my life. His love and compassion and peace and joy continue to shine through from my heart.
Are there any books you have read lately that you would recommend?
To understand the soul land (that which survives after death), I read various books on near-death experiences. One such book is Backwards by Nanci Danison.
You've accomplished so many incredible feats in your life. What are your goals for the future?
I hope to continue serving Maharajji by bringing people toward their souls and the love that is their true nature.
How can people interested in your message connect with you?
Go to ramdass.org to find more than five decades of teachings, videos, audio lectures, and books and connect with us on Facebook, Twitter, Instagram, and our YouTube page.
Related reads:
This interview has been edited and condensed.