Should You Do A Cleanse? Nutrition Experts Explain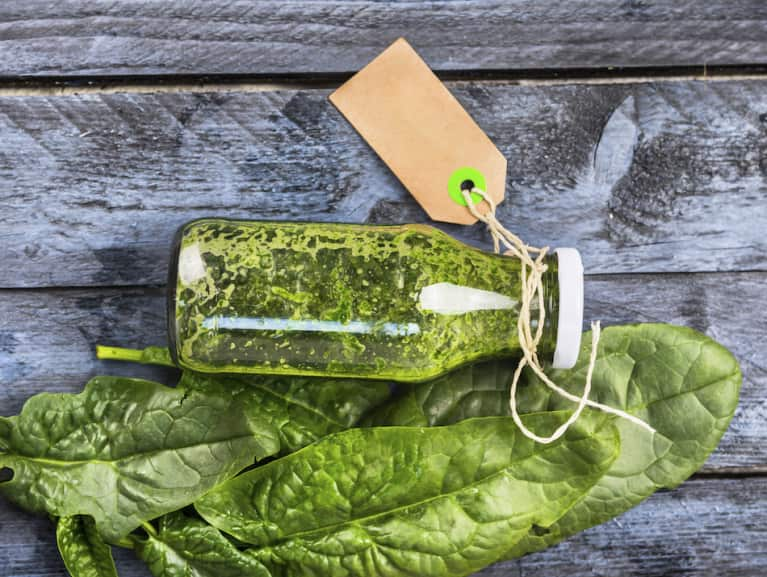 When a book titled Should I Scoop Out My Bagel?: And 99 Other Answers to Your Everyday Diet and Nutrition Questions came across our desks, we were intrigued. It turns out there's a lot packed into these 100 questions and their smart, easily digestible (pun intended) answers straight from a dietitian and vitamin expert.
Here are a couple of questions we wanted answered:
Does it matter if I skip breakfast?
While most people would never leave the house without washing their face and brushing their teeth, they often have no problem skipping breakfast even though it's just as crucial. There is truth to what your mom said. Breakfast really is the most important meal of the day.
Eating a good breakfast gives you the fuel your body and mind need to get going. Those who consistently eat breakfast are more likely to have a mental edge over those who don't. They also tend to be more focused, better able to concentrate, and have more energy and alertness.
Those who skip breakfast are reportedly moodier and more sluggish, which probably makes them pretty unpleasant to be around. By nourishing your body first thing in the a.m., you will most likely stay fuller throughout the day.
With hunger pangs at bay and food in your stomach, you should be better able to make healthy choices and keep up the good work. It may seem that by cutting out breakfast, you would be saving calories and therefore more prone to losing weight, but it actually can have the opposite effect.
While it's true that you have to cut calories or burn calories to lose weight, depriving your body of important nutrients first thing in the morning can be counterproductive. As the day goes on, you will probably end up snacking more or overeating at other meals as you will be playing catch-up. This often results in eating more than if you had just had a healthy breakfast when you first woke up.
Eliminating breakfast can mess with your metabolism as well. The more time you delay eating, the slower your body will start to burn calories and expend energy. By not feeding your body within an hour or so of waking, in many ways you're hitting your body's snooze button and it will take longer for it to get to work.
If you incorporate breakfast each and every day, your body will respond. A hearty breakfast will supply you with the fuel and nutrients you need, and that's the best kind of wake-up call.
All my friends have been buying cleanses lately. Should I do a cleanse, too?
Your body already has its own cleaning service and doesn't need any extra support to get the job done. Doing a cleanse is just like cleaning up after a housekeeping service comes to your home — pointless and redundant.
Your liver, kidneys, and digestive system work their magic daily to rid the body of toxins and oxidants. It's a dirty job, so let your body do it!
Juice cleanses can be expensive and devoid of nutrients. Since they count on no or low intake of food, they can be dangerous and leave you lightheaded, moody, malnourished, and unable to focus.
Once you reintroduce real food into your diet when the cleanse is over, it's very likely that you will put the weight back on. It's also a very big possibility that you will return to your normal (perhaps unhealthy) habits, and end up even heavier than where you started.
So, rather than focus on a short-term solution, it's a better idea to try to make small, permanent changes that can make a world of difference.
Since your body already has to deal with so many things that are unavoidable (like pollution, germs, and aging), modifying things you can control will enable your body to work more efficiently, therefore rendering a cleanse worthless.
Try to:
Cut out all artificial sweeteners
Stay away from added salt and sugar
Avoid drinking alcohol
Eliminate fried and high-fat foods, processed snacks, sugary treats, and soda
Include foods that are high in fiber
Focus on fruits, vegetables, and lean protein
Drink lots of water and/or green tea. Add lemons, if possible, to further help flush out toxins.
Exercise a few times a week, even if that just means a brisk walk for at least 30 minutes or taking a minimum of 10,000 steps throughout the day.
These changes should help you to stop feeling "icky" and will leave your body in the best state to clean itself thoroughly, frequently, and without outside interference. There should be no reason to do a cleanse — it could just make more of a mess!
Excerpted from the book Should I Scoop Out My Bagel?