What I Eat In A Day: Registered Dietitian Lisa Hayim
Lisa Hayim is a registered dietitian who runs a busy practice offering nutritional counseling — so she knows a thing or two about what it takes to stay healthy. Follow her as she shows us what she eats in a typical day.
When I wake up at 8:30 a.m., the first thing I do is chug a bottle of water. It helps regulate me and sets the tone and intention of the day to drink water throughout.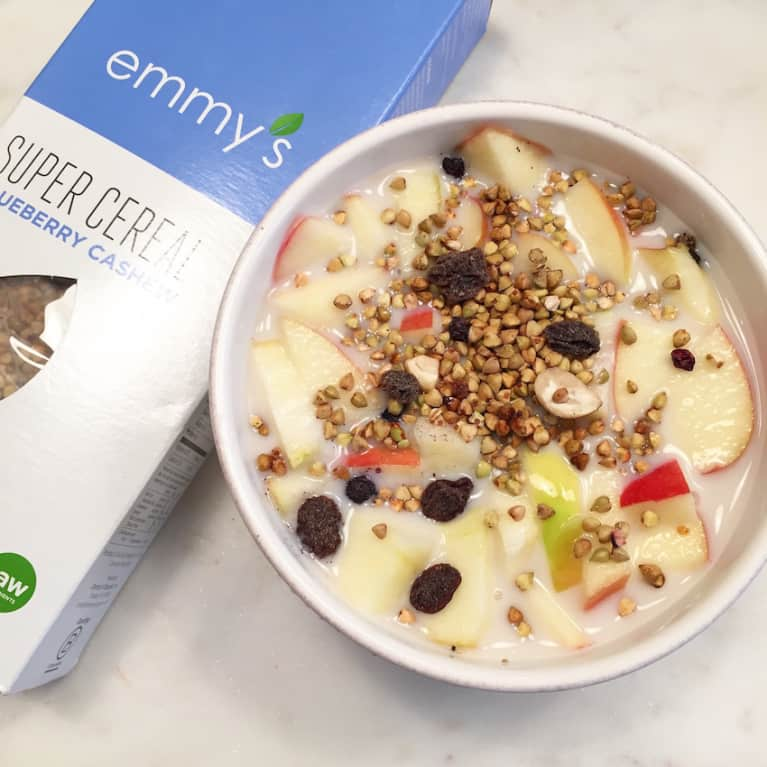 After a 30-minute cardio workout, I head into the kitchen to make a cup of coffee and my Apple "Cereal" Bowl. I make coffee in my Keurig and add a splash of unsweetened vanilla almond milk and one pack of Stevia.
I like to sit down and enjoy my breakfast, so I usually take at least 15 minutes to stop and just eat.
Instead of cereal, I chop up an apple, and pour almond milk over it, adding half a scoop of chocolate plant-based protein powder, a few broken up pieces of a NuGo Slim [protein bar], and top it with a little of Emmy's Superfood Cereal (cacao coconut flavor is my favorite!).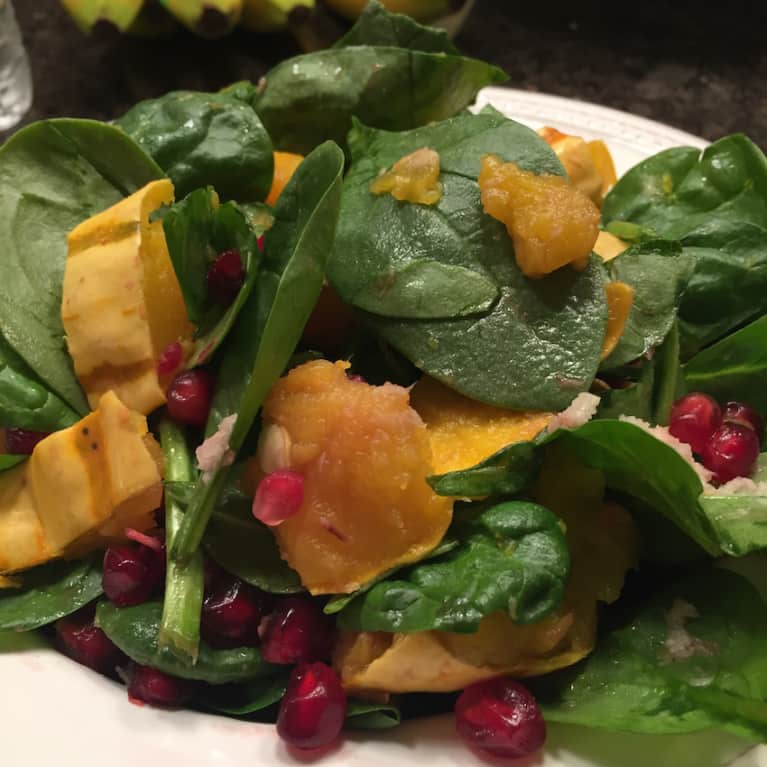 I usually bring my lunch to my office and can squeeze in a 20-minute break between clients. This is where I aim to get my greens in. Usually it's a salad I throw together with lettuce and whatever's in the fridge.
This time, it was leftovers from the night before, which was spinach, roasted delicata squash, and pomegranates.
I'm not into dressings (or the preservatives in most), so instead I use mustard! I know it sounds weird at first, but my stepmom turned me on to it when I was younger and it happens to be delicious if you find the right type of mustard. I like a mustard-horseradish blend.
Before I come home, I try to get a yoga class in. It's a treat for me and helps me shift my mood for the rest of night.
After my workout, I have another apple (apples are my favorite fruit) with cinnamon, and a cup of tea. I'm currently really into my homemade Mint Matcha Latte. The fresh mint gives it an unbeatable flavor. You can find the recipe on my website here.
Within an hour and a half after the workout, I'm ready for dinner!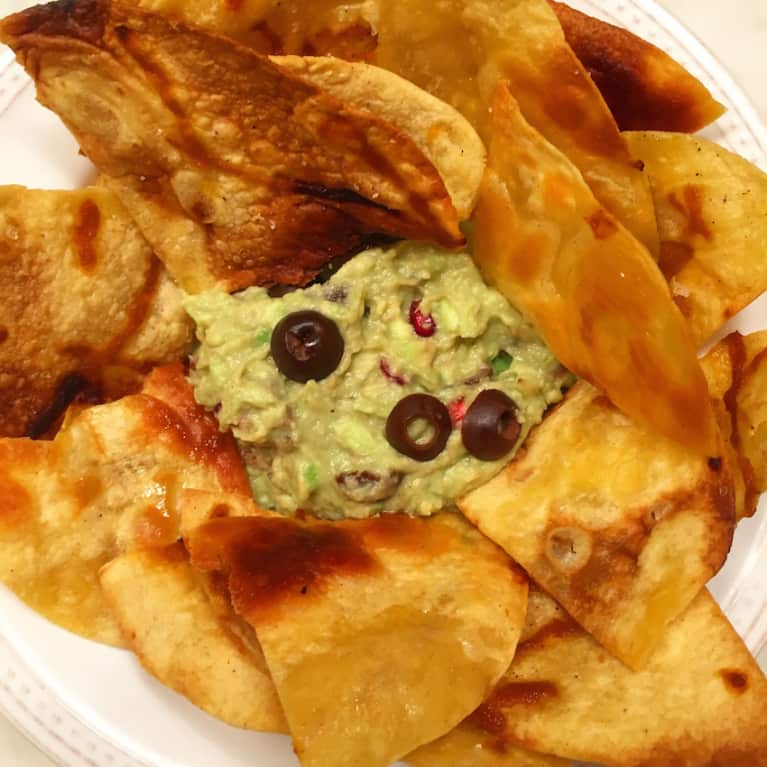 Dinner is almost always spent with my boyfriend. We take food very seriously and this is usually the only hour or two we get together all day.
After his long and arduous day at the hospital (he's a doctor), I try my best to make dinner the highlight (for him and for me). If he gets out early enough, I prepare an elaborate dinner for two.
Nothing I make requires kitchen skills. In fact, everything I make is very, very easy, but I prepare at least five different options of small dishes with varying flavors and no particular theme. And you better believe that fresh-made guacamole with homemade chips is almost always on the table!
I also use this time to recipe-test and post easy-to-make dishes with five ingredients or less to my website.
Some nights, we're both too tired and just need a night out of the house for a few hours. One of our favorite spots, that (fortunately) happens to be located on our block is called East Pole. The food is fresh, and they have a macro plate that keeps me full and warm.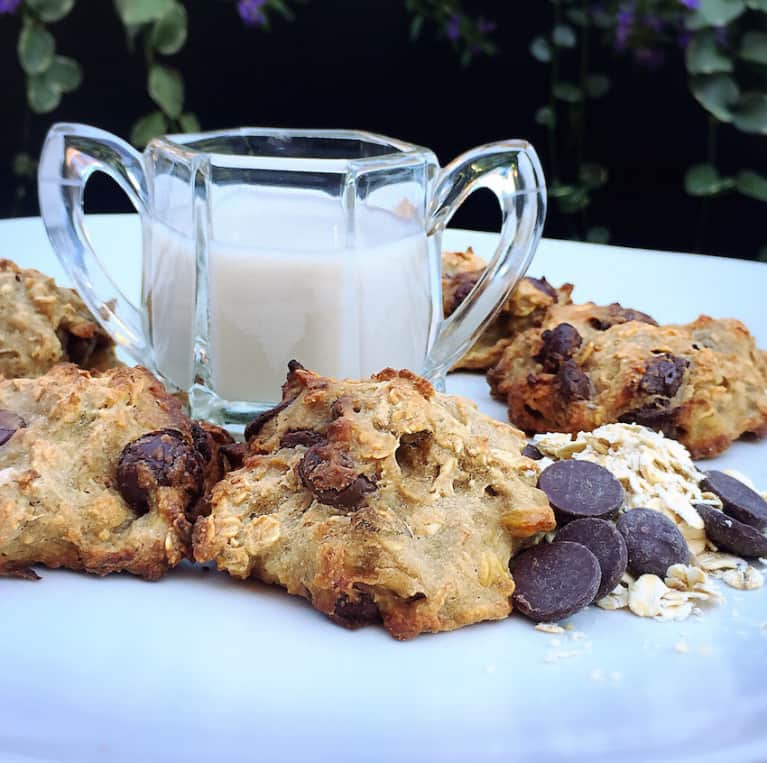 I have a sweet tooth after dinner about 80 percent of the time and usually can satisfy it with a bite or two of something. If I'm home, I'll have a scoop of a nondairy ice cream or a bite of my homemade cookie, called The Hugly™, which stands for "The Healthy Ugly Cookie."
If we go to a restaurant, I'll look to see if they have a vegan dessert, a fruit platter, or sorbet. If nothing catches my eye, I move on without it. I treat myself when I want to but don't make an excuse to every single evening.