These Are The Most Annoying Types Of Facebook Posts By State
mbg Sustainability Editor
By Emma Loewe
mbg Sustainability Editor
Emma is the Sustainability Editor at mindbodygreen and the author of "The Spirit Almanac: A Modern Guide To Ancient Self Care."
January 31, 2016 — 17:52 PM
Facebook is an incredible platform. Where else can you reconnect with an old friend, catch up with the day's news, and watch a hilarious viral video — all in the span of five minutes?
But for all its high points, the site can also be a downer at times. Everyone has that one thing that they can't stand seeing in a News Feed, whether it's an impassioned political rant or a seemingly vapid quote.
Social media marketing firm Rantic is here to shed some light on the top Facebook faux pas by state. They polled 10,000 men and women across the country to ask them what they thought was the most annoying type of Facebook post.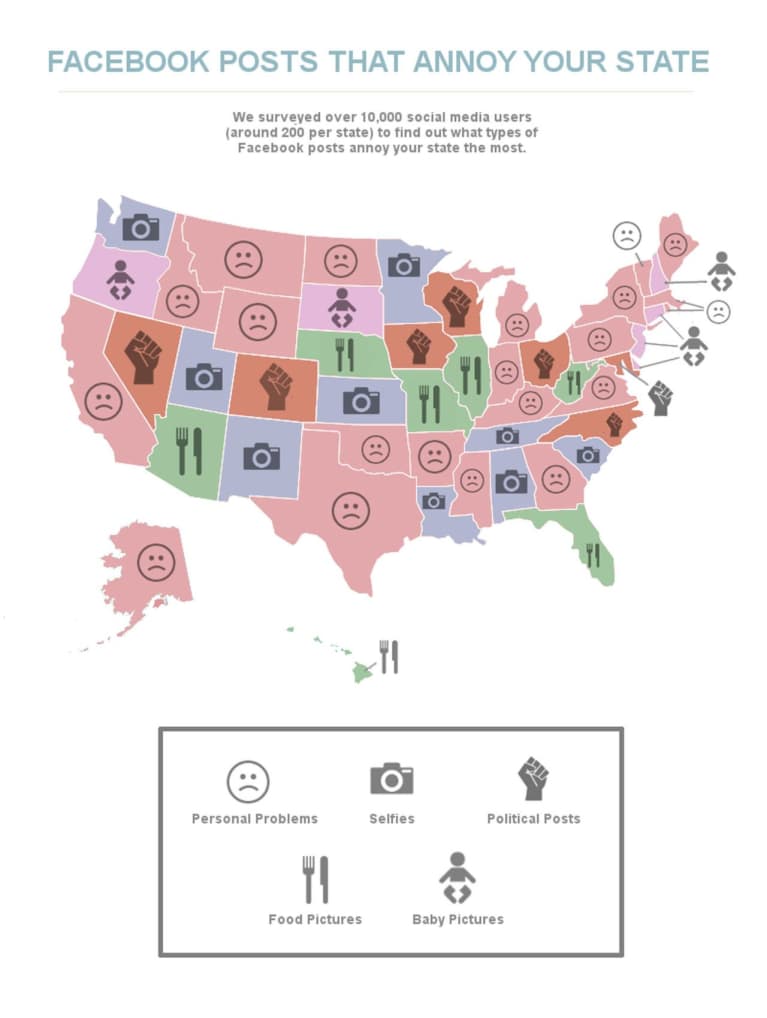 The results? Posts about personal problems are top offenders in most states, while selfies and political statements are often frowned upon too. Pictures of babies seem to be the safest bet, unless you live in the apparently infant-phobic northeast region.
According to the study, men and women have pretty similar triggers on social media. Most men and women also agree that, despite Facebook's occasional annoyances, they couldn't imagine getting rid of their profiles for an indefinite period of time.
Though it's interesting to see how social media perceptions vary along state and gender lines, it's important to remember to take these findings with a grain of salt.
After all, what's an annoying food photo to one person could be dinner inspiration to another, so don't hesitate to add whatever you like to your Facebook profile. (Although we do recommend thinking before you post.)