Cook Yourself Young: Cauliflower Rice Paella With Vegetables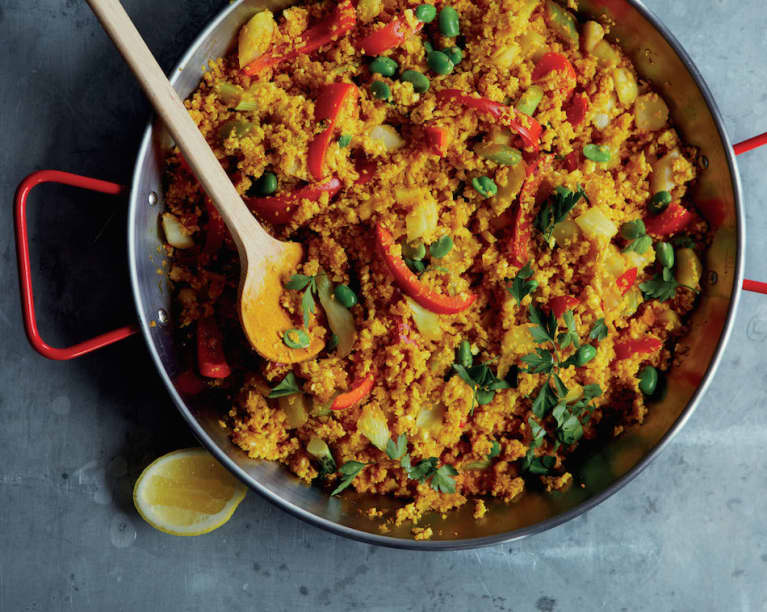 When Elizabeth Peyton-Jones' book Cook Yourself Young came to the mindbodygreen office, we were intrigued. Elizabeth provides tips, grocery lists with "youthing" foods, and recipes to keep you feeling and looking good no matter your age.
This is a great youthing option for a light supper or a lazy night in. It's tasty and low in calories.
1 medium cauliflower, cut into florets
2 teaspoons coconut oil
1 onion, minced
1 small fennel bulb, coarsely chopped
2 red bell peppers, sliced
2 garlic cloves, crushed
2 teaspoons sweet paprika
1 teaspoon ground turmeric
2 cups [500 ml] vegetable broth, ideally homemade (see page 79 in Cook Yourself Young), plus more if needed
pinch of saffron strands
7 oz [200 g] fava beans
handful of Italian parsley leaves, coarsely chopped
juice of ½ lemon
Preparation
1. Pulse the cauliflower florets in a food processor until they resemble grains of rice.
2. Heat the oil in a large sauté or medium paella pan over medium-low heat. Add the onion and gently fry, adding a little water if it begins to dry out, until softened. Add the fennel and peppers and fry for 2 minutes, until beginning to color. Add the garlic, paprika, and turmeric, and fry for another minute, until fragrant.
3. Stir through the cauliflower rice until combined and pour in enough broth to cover. Sprinkle over the saffron, cover, and simmer for 5 to 8 minutes, or until the broth has been mostly absorbed and cauliflower is tender. Add more broth if necessary.
4. Tip in the fava beans and cover for another minute or two until tender. Stir in the parsley and lemon juice and serve immediately.