I Was Stressed, Gaining Weight & Losing My Hair: One MD's Journey To Alternative Medicine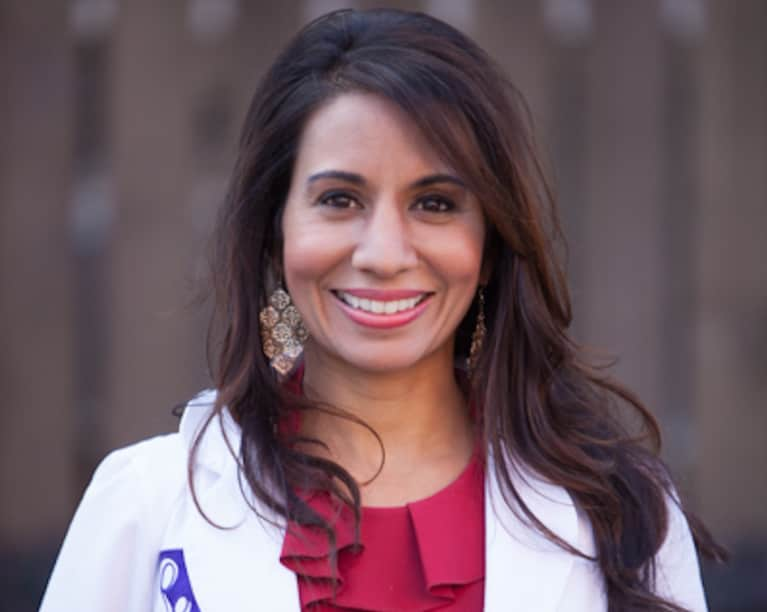 There has to be a better way. I sat at the steering wheel of my car looking at the embankment before me. I couldn't go on like this. If I wanted answers, I would have to do this on my own. These were the thoughts running through my mind in that moment.
That was the beginning of my journey and (now) my life's work. I had gotten dizzy from a recently prescribed medication, felt like passing out, and lost control of my car.
Thankfully, I only hit an embankment, not a person or another car. But it was enough for me to know that what I was currently doing with my health wasn't working. It was enough for me to change my course, shake what I believed in, and force me to open my mind and heart to alternative systems of medicine.
Stress, sleepless nights, and a less-than-stellar diet took a toll on my hormones and my energy.
For years, I thought my health story began in medical school. Stress, sleepless nights, and a less-than-stellar diet took a toll on my hormones and my energy. Popcorn for dinner, Diet Coke for a quick pick-me-up, and any fat-free, low-calorie food was standard fare for me in those days.
By the time I entered residency and welcomed more sleepless nights and bad food, I was gaining weight, battling acne, and watching my hair surround me in the shower.
I ignored these signs, ignored the shakiness I would feel after a shift at the hospital, or the depression that would set in periodically. I finished residency, started a job, bought a house, and thought I was beginning my life.
Unfortunately, life does not always play out according to the script that we write. My hair loss was noticeable, with people commenting and staring at my scalp. I was chronically fatigued, although newly out of residency; I should have had boundless energy at the age of 28.
My family started making comments about my health, as did my coworkers. I had trouble controlling my weight and it took me forever to get ready for the day, as I was using makeup to cover the acne and trying to creatively style my thinning hair. At the urging of my family, I started seeing the "best" doctors in the city and the country.
Hopeless best describes my experience in the current medical model. I was told I'd be bald if I didn't take a particular medication, infertile if I didn't succumb to hormone treatment, and obese if I refused an insulin-regulating drug.
Within two years, I had healed myself.
Everyone had a two-word answer: Take this. "This" usually being a medication of some sort. I finally listened, took a medication that lowered my already low blood pressure, and soon after that, found myself staring at that embankment, bewildered and frustrated.
The months after that began a relentless pursuit of answers. I tackled nutrition first, trying to learn about the connections between food and my health. I became gluten-free, increased my protein, and ditched the Diet Cokes.
I studied Chinese medicine and learned how to naturally balance my hormones, using acupuncture and herbs. I studied Ayurveda, holistic medicine, and integrative medicine. I studied and studied and studied.
Within two years, I had healed myself. My hair was back, my weight was stable, and my skin was clear. I was married, happy, and healthy. Yet the journey of seeking answers, asking questions left me forever changed.
I couldn't practice medicine the way I had originally trained to. I had to expand it; I had to enlarge it to include all the information I had gathered over the previous eight years. With encouragement from my husband, I started a small practice and quickly tapped into a universal hunger from patients for information, connection, and compassion.
As my practice continues to expand, my mission remains the same. I now know that all these alternative systems of medicine were a means to return to the heart of medicine, bring hope to medicine, and connect ourselves to our food, our genetics, and our life. I'm thankful for my journey and look forward to whatever is next!