This Is How Often Women Criticize Themselves Every Day
mbg Contributor
By Emi Boscamp
mbg Contributor
Emi Boscamp is the former News Editor at mindbodygreen. She received a BA in English and minors in Spanish and Art History from Cornell University.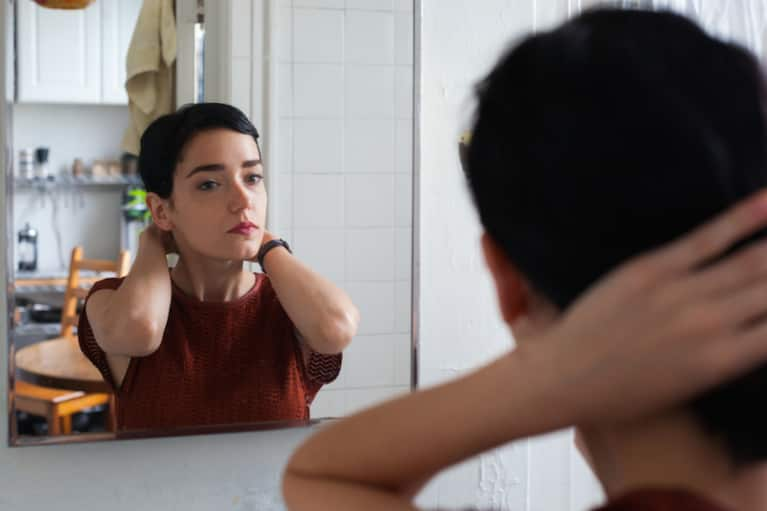 January 4, 2016 — 16:37 PM
One of the very first things we do in the morning: look in the mirror. And the first thing to follow that is likely some kind of put-down.
"Why are my eyes so puffy?"
"Where did that pimple come from?"
"I look huge."
And the criticisms definitely don't stop there. In fact, according to a new survey from Weight Watchers of 2,000 women in the UK, the average woman criticizes herself at least eight times a day, starting as early as 9:30am.
Image-based criticisms (i.e. wanting to lose weight) were by far the most prevalent, but the survey revealed that women also regularly worry about being low-earners and lacking creative and organizational skills.
It makes sense, if you think about it: Women are constantly bombarded with images of the "perfect body" or the "perfect life" on social media platforms while simultaneously expected to balance both working lives and family lives. This, the experts say, leads to women's critical relationships with themselves.
"Today's hectic and visually-driven world has meant that we're seeing a rise in women being self-critical, from the way they look to the way they feel at work," explained Zoe Griffiths, Head of Public Health and Programme at Weight Watchers.
"Our research has shown that being unkind to ourselves has been an underlying theme for women for many years, but a set of very modern cultural conditions have increased the intensity of this unkindness which are hard to avoid."
Here are the areas a woman is most self-critical:
Weight
Appearance
Career
Finances
Relationship
And here are a woman's 20 most common criticisms of herself:
You're too fat/overweight.
Your hair is a mess.
Your belly looks big.
You don't do enough exercise.
Feeling scruffy next to other women.
Not earning enough money.
You say you are having a "fat day."
Not wearing certain items of clothing because you think you can't pull it off.
You wish you were as photogenic as other women on social media.
You deflect compliments by saying something negative about yourself.
You worry people are talking about you behind your back.
Feeling underdressed.
I'm not stylish enough.
You don't have sex with your partner enough.
You aren't as creative as other women.
Your bum looks big.
You aren't as organized as other women.
You don't spend as much time with your friends as you should.
You're not wearing enough make-up.
You aren't attractive to your partner.