Moon Juice's Amanda Chantal Bacon On The Self-Care "Rules" She Swears By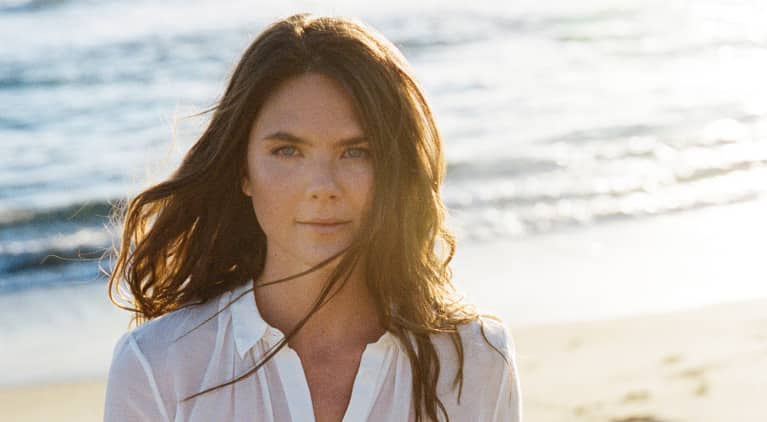 At mindbodygreen, we get to meet the female entrepreneurs who are passionate about making the world a healthier place. In this new series, we're profiling #WellnessWonderWomen who inspire us with vision and dedication — and hopefully inspire you, too.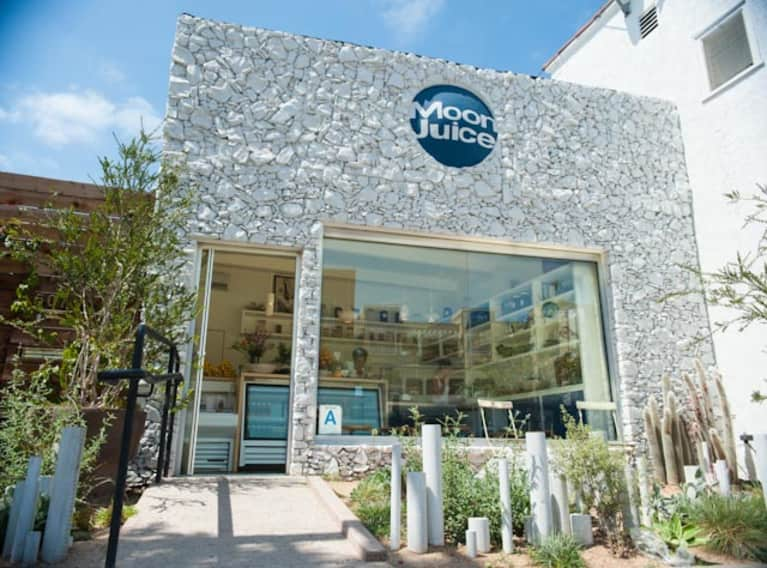 The moment I fell in love with Amanda Chantal Bacon was when I met her at 7 a.m. on a Saturday for a mindbodygreen photo shoot. It had been scheduled during mbg's revitalize event, and Amanda could sense that I was feeling exhausted. She insisted on making me breakfast (a chia seed, almond milk, superfood culinary creation) before starting the shoot to boost my energy levels.
When it comes to helping people feel better through healing foods, Amanda lives and breathes her mission — sometimes rocking a cowboy hat or a Kundalini turban.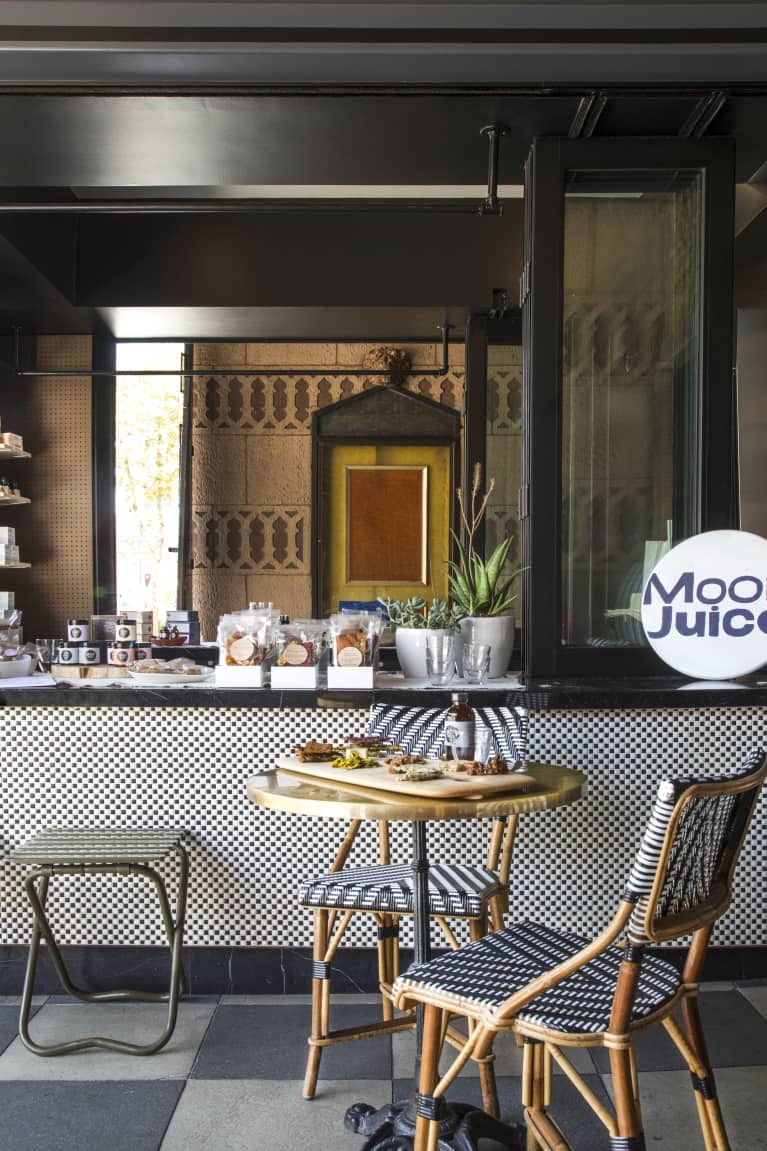 It's not just me as most everyone in my world is crushing on Amanda. She's the "it" woman of wellness. What started as one store, Moon Juice, on Rose Avenue in Venice, California, is now a lifestyle brand with a cult-like following, and multiple locations that ship nationwide.
Loyal fans seek out her legendary healing dusts and tonics, which have been flying off the shelves at Urban Outfitters. Amanda's tapped into the quest for holistic beauty, wellness, and longevity and made the "cosmic" cool. And with her boho-chic beauty (set aside an hour to get lost in her gorgeous Instagram), she makes it look easy to stay true to a really bold mission while running a complex business.
A Q&A with Amanda Chantal Bacon
We reached out to Amanda to find out how she does it all. (Hint: It involves a lot of patience and 32-hour days. There's some exciting news for Moon Juice fans in New York, too!). Here's what Amanda has to say:
mindbodygreen: What's your breakfast staple?
ACB: It's ever-evolving and revolving around the seasons and what my body is needing more of, but this month it must involve a tablespoon of ghee either on a buckwheat toast or in a warm protein smoothie with cordyceps and reishi.
Is there a natural beauty product that you don't leave the house without?
I love Living Libations chamomile lip balm, and I'm obsessed with the Clare de lune that I made with Odacite. This is the purest and highest quality carrot seed oil you can find.
Go-to supplements?
I love Dr. Mercola's Krill Oil for the brain. My brain is called upon to expand with each passing workweek. I rely on liposoheric vitamin C, not only for stellar health but for skin tone as well; with the bicoastal work schedule I give extra nourishment to my skin and immunity during air travel.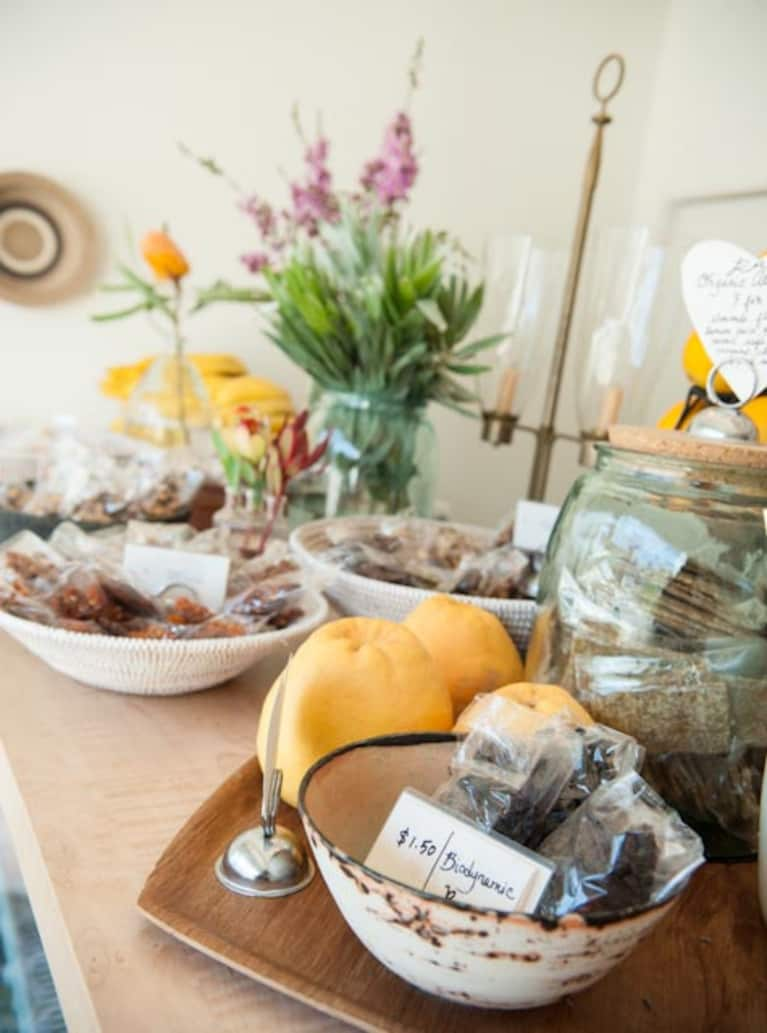 Favorite self-care ritual?
I try to work in a quick abhyanga a few times a week. Standing in the shower, before I turn the water on, with a cup of warmed sesame oil (not toasted) I spend 10 minutes on self-massage using circular movement toward my heart.
I then use a chickpea flour to scrub my body in the shower. It's a practice that sweetly nourishes and soothes the nerves, helps with lymphatic circulation, and makes for the loveliest soft and flushed skin.
Best advice you've ever received?
"Acquire a firm will and the utmost patience." — Anandamayi Ma
Though this was not personally delivered to me, it remains the best advice I can turn to on a day when I start to feel like I could indulge in defeatist thoughts.
Worst advice?
To tailor your mission or offerings to what is thought the masses are "ready for." That's never been my style. I have way more faith in the general state of consciousness and rapid collective evolution. Following that kind of advice never helps move us forward and doesn't appeal to our highest intelligence.
What advice would you give to anyone looking to turn their passion into a career?
Get up and do it! If you have a passion that comes from your heart, it's meant to be. Seeds of inspiration are planted in us because nature wants to see them grow. Success will come from daily action. Don't delay!
It can be scary to build a brand from scratch. What's your advice there?
Make sure you are in LOVE with what your brand will bring to the planet. Do a scan; if there's any part of your idea that feels out of integrity, address it now. Working tirelessly for something you can stand 100 percent behind is a lot easier!
How do you maintain balance as an entrepreneur and mom?
I don't ever stop to reflect on it or plan for it. I just keep moving forth until I near a place that feels unsustainable; from there I think about the infinite strength and patience we all have inside of us, and if that doesn't inspire, I know it's time for bed or a lazy day at home with my kid.
I find the more neutral I remain through the highs and lows, the further I can stretch horizontally to contain more. My meditation practice and diet are key; without them I wouldn't be here talking to you.
Any intentions for 2016?
To deepen my expressions of love for those in my heart.
What's coming up for Moon Juice in 2016?
We just launched our national delivery for juices and moon milks; we have a store opening on Melrose Place in Hollywood, an expansion under way for our kitchen and Moon Juice Shops in New York City and Brooklyn, The Moon Kitchen Cookbook, an expansion of our product lines — more Moon Pantry herbs and Moon Dusts coming, and some new Moon products that will be available nationally outside of our shops and site!
What does mindbodygreen mean to you?
Harmony between environment, body, mind, and spirit.
This interview has been edited and condensed. Want another way to enjoy your Beauty Dust? Check out Amanda's Beauty Dust Truffle Recipe, which she has shared with us below. Enjoy!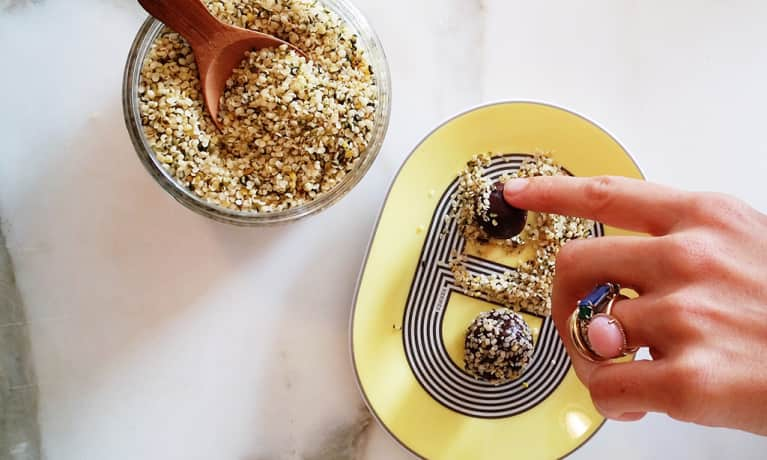 Ingredients
½ cup raw cacao
¼ cup coconut oil
¼ cup raw honey
2 tbsp. hemp seeds
1 tbsp. cold almond milk
2 tsp. Beauty Dust
Preparation
Warm coconut oil in a double boiler to a liquid state.
Remove from heat.
Add and whisk in cacao, dust, and sweetener of choice until fully combined.
Add a splash of cold nut milk to achieve a pliable chocolate state.
Roll chocolate by hand into balls, and then roll in hemp seeds.
Place in fridge until firm.