What It's Really Like To Live With Severe Anxiety (From Someone Who's Been There)
Contributing writer
By Quentin Vennie, E-RYT 200
Contributing writer
Quentin Vennie, E-RYT 200 is a writer, speaker, wellness expert, and author of the memoir Strong in the Broken Places. He serves as the Vice President of the Yoga Alliance Foundation, and has been has been featured in the Huffington Post, Thrive Global,Entrepreneur, Fox News and the Observer.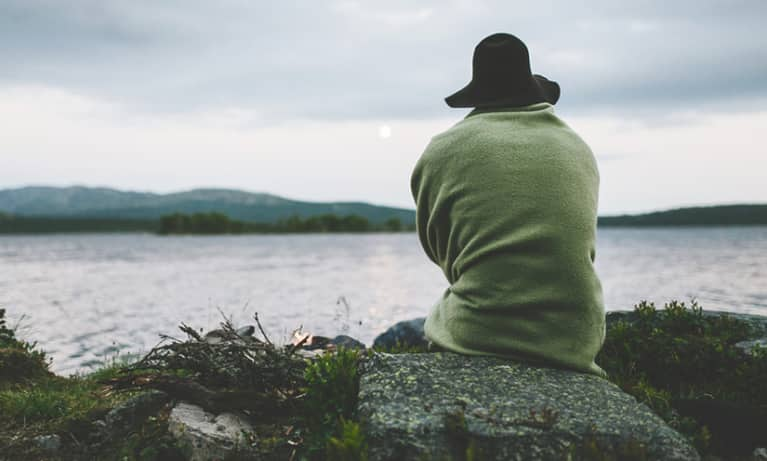 While my friends and family enjoyed life's simplest pleasures, I spent years frequently burdened by fear, hesitation, and uncertainty. My reservations often resulted in me being too afraid to leave my house for days at a time.
At 26, I was diagnosed with generalized anxiety and panic disorder. Anxiety is a mental state that resides in the unpredictability of the future. It's the pessimistic perception of the sufferer that drives this debilitating mental health condition.
Everyone experiences anxiety at some point. It's a natural part of being human. But for an estimated 40 million Americans, including me, anxiety becomes more than just an acute emotion — it progresses into a chronic problem.
Anxiety is not something that can be eradicated — it's something that needs to be managed.
My disorder was unpredictable. Without warning, I could go from feeling perfectly normal to suddenly experiencing chest pains, heart palpitations, tingling in my arms and fingertips, dizziness, and difficulty breathing. The pervasive fear of a heart attack dominated my thoughts, and with every moment I felt like I was inching my way closer to an untimely death.
I'd frequently spend nights sleeping in my car in the emergency room parking lot of the neighborhood hospital. I found comfort in my ability to get immediate help if I needed it.
The problem with having chronic anxiety is that you're always anxious about having more anxiety — which only causes more anxiety. This extensive cycle never seems to end. My anxiety was worse at night, so the emergency room (and the parking lot) quickly became my safe haven.
At the same time, I was too afraid to be alone during the day, opting to travel only within 10 miles of my home any time I was by myself. Sometimes, even leaving the house was a burden. My mother, who lived on the other side of town, would periodically have to make the 35-minute drive up Interstate 695 to come check on me and keep me company. My life was controlled by my condition.
I was no longer just afraid of having an anxiety attack — I was now petrified of what my life would be like without medication.
After four weeks of consecutive hospital visits, countless CT scans, EKGs, and blood tests, my doctor told me that my mental health disorder was so severe that it could only be controlled through medication.
I was immediately placed on Ativan, a medication used to treat anxiety, and for the first time in a long time, I felt like I was finally in control of my life. Any time I felt anxious, I'd just take a pill. It seemed simple enough.
Unfortunately, my body built up a tolerance pretty quickly. All of a sudden my 0.5 milligrams twice daily turned into three per day, which then turned into two at a time, which progressed to six per day, and frequently went as high as eight pills a day.
My fears had now drastically shifted. I was no longer just afraid of having an anxiety attack but was now petrified by the idea of what my life would be like without medication. My fear and trepidation, coupled with my disorder and a drug addiction, led me down a path of alcohol abuse and a subsequent overdose. I was trapped in a vicious cycle of damaging behaviors with no sensible means of escape. Or so I thought.
Following my overdose and a few more weeks of excessive drinking, I finally committed to an entire lifestyle overhaul. My children needed their father, and if I was going to save my life, I needed to change it first.
So I stopped eating dairy, cut out red meat and processed foods, eliminated refined sugars, and even went vegan for a few weeks. I found contentment in discovering my own personal trinity of wellness: yoga, meditation, and fruit/vegetable juicing.
After about a year of consistency in this new lifestyle, I eventually had my anxiety under control and was able to get off all medication.
This process taught me that anxiety is not something that can be eradicated; it's something that needs to be managed. It's not a weakness or anything anyone should shy away from. It is simply our body's way of communicating with us, and it's up to us to interpret what it's saying.
Overcoming it is not as simple as just thinking positively or pretending that it doesn't exist. The road to recovery is one to be traveled daily, but it all starts with the belief that you are stronger than your disorder. It took me a few years to discover my strength, but once I did, anxiety became more of a distant relative rather than my greatest enemy.