What It's REALLY Like To Be A Female Marine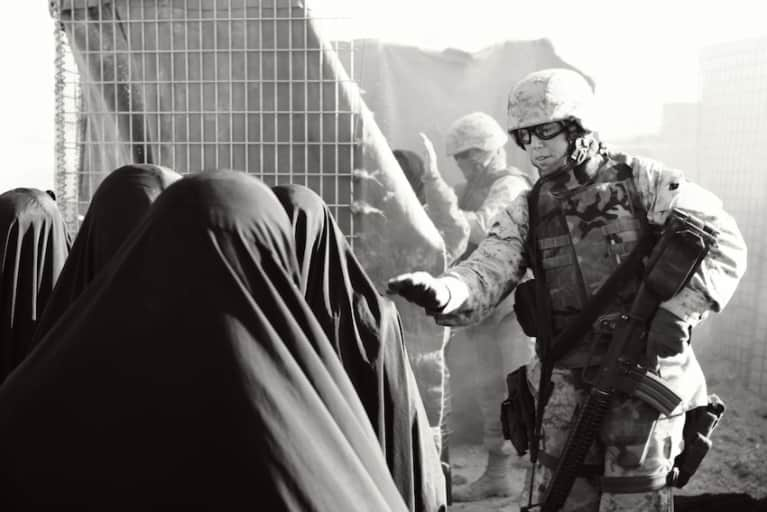 The Marines are such a large part of what shaped me into who I am, and I am so proud of my time in the service. In my mind, I never differentiated between being a Marine and being a female Marine.
Don't get me wrong, the preconceived notions of what a woman could do in the military were very visible, but I didn't see myself that way, and anyone who worked with me knew that I fought tooth and nail to be seen as a Marine.
I was given a job and worked my backside off to do it right, do it every day, and loved every minute of it. Well, almost every minute of it. Any service member understands that there is most definitely some bullsh*t that comes along with the job.
Here's a glimpse into what my job was like:
1. I was challenged every day.
I had two tours in Iraq as Field Military Police. During the initial invasion, my first deployment, I helped provide convoy security as our vehicles traversed the Iraqi landscape. During this time period, I slept in a fighting hole for about two weeks. Even after that initial period, sometimes we slept on top of our Humvees.
Mail was very slow to catch up to us at that point, and satellite phones were used very sparingly. My family did everything they could to stay in contact, but we mostly touched base about once a month.
We ate MREs (meals ready to eat), and those weren't always consistently available. The food trucks didn't always make it up to us, and on more than on occasion we were forced to ration our food. It's simple things like this that every soldier has had to deal with, but it doesn't make it into books and documentaries.
2. No day was ever the same.
On some days, I was a turret gunner, manning a .50 caliber machine gun, which shoots very large bullets very fast, or an MK 19, which is a belt-fed grenade launcher. On other days, I was a Humvee driver or riding shotgun, manning the radio and providing directions. Sometimes I was in the back seat with an M16 pointed out the window, staying vigilant the entire ride.
Any of these jobs required constant tire changes. With the heat of the desert and the temperature a tire can normally get to, we were literally melting our Humvee tires off the vehicle. Changing a tire mid-convoy, while it's smoking hot and melting, needs to be done quickly and without failure. The convoy didn't care whether you were female; it needed that heavy thing off and replaced so the vehicles could stop being sitting ducks. While the whole convoy is waiting on you, it's no time to be a woman, only a Marine.
During the second deployment I was tasked with a very female job. The citizens of Fallujah were searched by Marine infantry each day as they were allowed back into the city. The female citizens could only be searched by female Marines, and no females were in the infantry. I searched females for contraband including money, weapons, and bombs.
Since I was one of the very few that was trained specifically for this job at this early time, I was selected to lead an all-female platoon attached to this infantry unit. It was the first time the Marines had created such a platoon, and I am honored to have been a part of the very beginning for women to officially be on the front lines.
3. Being shot at by the enemy never gets easier.
The bullets didn't try to miss anyone because of their background, ethnicity, gender, or mood. I shot and I was shot at — I don't like delving into this topic.
4. I never took a day off.
This is how any Marine earns the trust and respect of their fellow Marines. The infantry had no faith in the females coming to the checkpoints to work. I proved to them day in and day out that my value was needed and changed the minds of a very large group of traditional Marines.
All the women worked hard in even harder conditions. When my day off came around each week I gave it to another Marine in my platoon so I could go back to my checkpoint. Honestly, I was in the middle of Iraq; what else was I going to do? It was significantly more boring back at the base.
I absolutely loved my job in Iraq and wanted to deploy again. Everything I did I had to fight for, and I feel even more proud of my accomplishments. Nothing was given to me and I did my job well. I have always enjoyed a challenge and the Marines gave me a big one!
Photo courtesy of the author
Related Reads: