Why I Invited The Toughest Guy I've Ever Met To Move In With My Family (And What I Learned)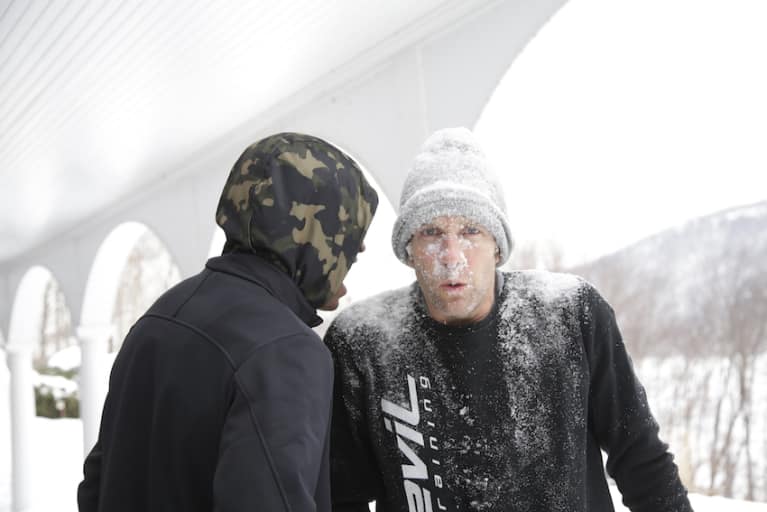 Our editors have independently chosen the products listed on this page. If you purchase something mentioned in this article, we may
earn a small commission
.
I first saw "SEAL" at a 100-mile race in San Diego. I was running the race as part of a six-person relay team with friends. The six of us would alternate legs until we completed the race. There were multiple teams from all over the country competing. However, SEAL didn't have a team. He was running the entire event, alone.
SEAL's supplies for the 100-mile race: a folding chair, one bottle of water and a box of crackers. That's it.
The race was unsupported which means you had to bring your own supplies. My team was stocked. We had a tent, massage tables, food, lights for the night portion of the run, etc. You name it, we had it.
SEAL's supplies for the 100-mile race: a folding chair, one bottle of water and a box of crackers. That's it.
SEAL is David Goggins, a now retired Navy SEAL. At the time of the race he weighed about 260 pounds. That's a ton of weight for an ultra marathoner to carry.
By mile 70 that weight had taken its toll. SEAL had broken all the small bones in both of his feet and was suffering from severe kidney failure. He was in bad shape. His response? KEEP GOING. I watched in amazement as this man FINISH the race on pure guts, will, and determination. It was incredible.
He was an accomplished Navy SEAL who lost 100 pounds in 60 days.
I immediately Googled him to learn more. His backstory was amazing. An accomplished Navy SEAL who lost 100 pounds in 60 days and taught himself how to swim before going to BUD's (SEAL "tryouts"). He became an elite ultra marathoner completing multiple 100-mile runs/events and he broke the Guinness Book of World Records for most pull-ups in a day. He did 4030 in 17 hours.
I had to meet him.
I decided to cold-call him and after a short chat I flew out to meet him. It was during this face-to-face meeting that I realized parts of my life would be better if I had some of what "SEAL" had, I just wasn't sure what that was. I asked him if he would move in with my family and me for a month. He agreed. Three days later he was at our breakfast table.
Seals nomadic lifestyle and unorthodox training methods clashing with my Upper West Side lifestyle was exactly what I needed.
When SEAL first moved into my house I could do 22 push-ups. When he left I was doing 1,000 a day. But where I saw the most gains was not at the gym, but rather at the office and in my personal life.
Although I added more to my plate when SEAL moved in, I became way more efficient with my time. I prepared differently. I became better. Here are four things I learned from living with a SEAL:
1. Get rid of your non-essentials.
So much of our days are spent taking meetings that don't move the needle. Many times we just say "yes" because we feel obligated or don't want to let someone down. Eliminate them. They will get over it and you will have more time for your "primary's."
2. Push yourself past your limit.
"When you think you're done, you're only really 40 percent done," says SEAL. We all have a reserve tank and only by pushing ourselves beyond our limits can we see what our real potential is. By stepping outside of your comfort zone, you reset your personal bar and once your set point is raised, it can never go back down.
3. Break big tasks into smaller ones
As an elite endurance athlete, SEAL understood the importance of approaching overwhelming tasks by breaking them down into more manageable ones. A 100-mile run is daunting, you have to break that race into way smaller increments to succeed and finish. Same with work challenges. Complete one task and then move on.