A Better Burger: Millet Veggie Patty + Cumin Cashew Cream Sauce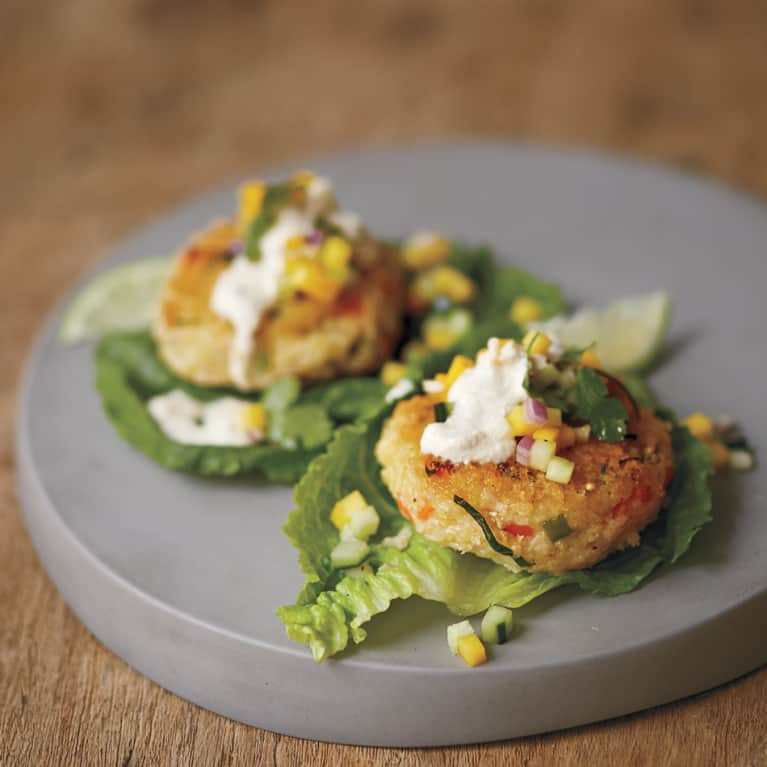 After a decade of chronic illness, I've realized that sometimes our bodies get out of balance with our own well-being. Once I discovered how to detox my body and environment, my symptoms vanished and I've now learned how to guide others who are suffering back to the balance they are looking for.
Below I'm sharing a recipe with you from my cookbook, Eating Clean, it's fresh, filling, and vibrant, with just a little hint of spice—it's free from gluten, dairy, soy, sugar, corn, and processed ingredients, too. I hope you love it!
Fabulous Lemon Basil Millet Burgers With Mango Salsa
These fresh-tasting burgers make an easy weeknight meal. No buns here — you can serve these wrapped in romaine or Bibb lettuce leaves and eat them with your hands. Make sure your millet isn't too dry or the burgers won't stick together!
Serves 6
Ingredients
1 cup millet
½ teaspoon sea salt, plus a pinch for cooking millet
1 tablespoon ground flaxseeds
3 tablespoons water
1 large carrot, peeled and grated
4 scallions, thinly sliced
1 handful fresh basil leaves, finely chopped
2 tablespoons freshly squeezed lemon juice
2½ teaspoons freshly grated lemon zest
½ teaspoon freshly ground black pepper
3 tablespoons coconut oil
6 large romaine or Bibb lettuce leaves
Mango Salsa, for serving (see recipe below)
Cumin Cashew Cream Sauce, for serving (see recipe below)
Preparation
1. Cook the millet with a pinch of salt. Set aside to cool. Combine the flaxseeds and water in a small bowl; set aside for 10 minutes until the mixture forms a gel, then mix well.
2. While the millet is cooking, combine the carrots, scallions, basil, lemon juice, lemon zest, salt, and pepper in a large bowl. Once the millet is cool, add it to the bowl with the flaxseed mixture and mix well.
3. Using your hands, shape the mixture into six burgers. In a large skillet, heat the oil over medium heat. Place the burgers in the pan and cook until golden brown, 7 to 8 minutes on each side.
4. Serve warm wrapped in lettuce leaves with a dollop of Mango Salsa and a drizzle of Cumin Cashew Cream Sauce on top. Uncooked burgers will keep for up to 4 days in the refrigerator or 1 month in the freezer, stored between pieces of parchment paper in a sealed container.
1 ripe mango, peeled, pitted, and finely diced
1 medium English cucumber, finely diced
3 tablespoons finely diced red onion
3 teaspoons finely chopped fresh cilantro
2 teaspoons freshly squeezed lime juice
Sea salt and freshly ground black pepper, to taste
Preparation
Combine all of the ingredients in a large bowl; toss to combine, and serve. Add more red onion, if desired, for a spicier salsa. Serve immediately.
1 cup raw cashews
¾ cup water
¼ cup freshly squeezed lemon juice
½ teaspoon ground cumin
¼ teaspoon sea salt
Preparation
Combine all of the ingredients in a blender and blend until smooth. Serve chilled or at room temperature. Store leftover sauce in a sealed container in the refrigerator for up to 5 days.