How To Invite Great Energy Into Your Home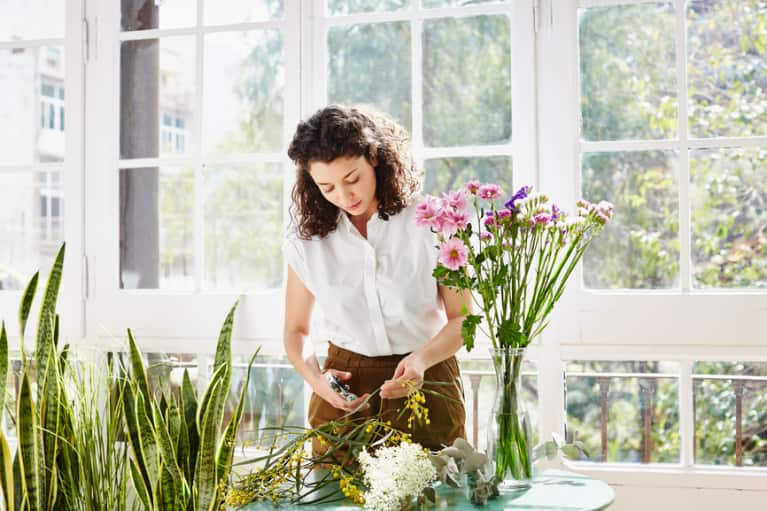 With the exhilarating energy of the New Year comes the perfect time to kick-start your goals and finally realize the life you want. Since your home so powerfully reflects and influences who you are, it's a key ingredient in manifesting your dreams and nourishing any personal transformation you desire.
No matter what you're excited to call into your life, you can draw it toward you by cultivating your environment with intention. It doesn't have to take a heavy investment to create a space that propels you toward the life of your dreams. Here are six quick tips to help you get started today:
1. Start with a simple clean.
Having a clean home is like having a fresh, unblemished canvas upon which to add the colors and textures of your life. Dirt and dust are heavy and stagnant energy, so a deep cleaning of your space will bring rejuvenation and vitality. Pay special attention to windows since they can boost creativity and mental clarity when they're spotless and sparkling. Clean windows can also help you think outside the box and see everything that's possible for your life.
2. Declutter in preparation to receive.
A cluttered space can lead to a jumbled mind, but a clear head can help you manifest your dreams. So consolidate anything in your home that's redundant (like those multiple half-bottles of hair conditioner), and toss or donate anything that you no longer love or use. Seasonal items should be stored away until they're needed, and the books, clothes, art, accessories, and magazines that no longer fit with your interests or where you're going in life can be released to make way for the new.
3. Make everything whole.
Missing knobs on drawers, cracks in the walls, partially assembled exercise equipment — all of these things signal the exact opposite of prosperity and self-love. So fix anything in your home that's broken, and address any outstanding projects. A successful life means finishing what you start, and each finished project comes with that wonderful feeling of completion and wholeness.
4. Use objects and images that inspire.
Once you finish cleaning and decluttering your space, bring in items that reinforce the life you're manifesting. If you've been daydreaming about trips to faraway places, adorn your coffee table with photo books of amazing destinations. To support nutritional goals, display baskets of fresh fruit and healthful snacks. If there's a social movement you've always wanted to explore, decorate your mantel with biographies of activists who've championed the cause — and, of course, really read the books. Think about all those things the new you in your new life would really want lying around, and imitate accordingly.
Every activity you introduce into your life needs to be supported by your space. If you plan to work or study at home, organize your office, fill it with proper lighting, set up an ergonomically sound desk-and-chair arrangement, and put all supplies and files within easy reach. If you're an artist, prepare a dedicated area for your painting, drawing, or sculpting. For the aspiring or amateur chef, keep every shelf in your kitchen meticulously arranged and stocked with basic cooking ingredients.
6. Arrange it and they will come.
If new love is on your wish list, display images of couples and pairs in the bedroom and clear out space in your closet and drawers to prepare for their arrival. If you already live with a partner, create a space that supports the growth of the relationship by blending décor that reflects both your sensibilities and making room for both of your hobbies and interests. Keep the bed you share easily accessible from both sides to promote balance in the relationship. If you're looking to draw more friends into your circle, be sure there's ample seating in your living room for a group movie night or enough chairs at your dining room table for party hosting.
The beauty of any home is that you can make it your own and infuse it with your unique spirit. Plan for the life you want when arranging your space, and soon your experiences will match with your every intention.
Related Reads: