8 Nutritionist-Approved Tips To Bounce Back After An Overindulgent Weekend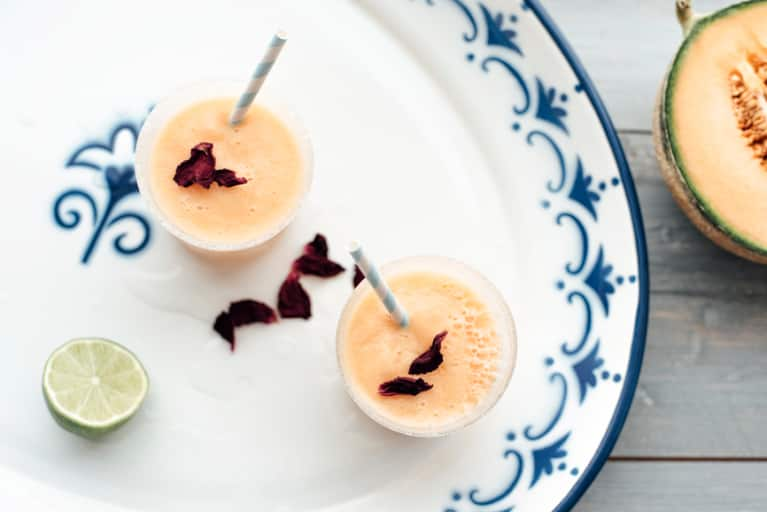 Did you go a little crazy with the dark chocolate (washed down with champagne) this weekend? You're not the only one. Use these tips from our favorite nutritionists and health coaches to help you get started:
1. Drink a smooth move tea before you go to bed.
"This will help you go to the bathroom the next morning, since gluten can block us up and that's really when we start to feel heavy and 'full of crap,' sorry for the pun!" jokes Lauren Berlingeri, creator of Higher Dose Infrared.
2. Start the day with rose-spiked water.
Advises Dana James, a functional medicine nutritionist and founder of Food Coach NYC + LA, but that's not all, "And a probiotic with at least 12 different strains of probiotics. The rose water feels opulent and feminine, which is far better than guilt and strict detox rules. The probiotic, while not an antidote to gluttonous eating, helps counter some of the gut microbiome disruption caused by a day of junky eating. I use Pure Bulgarian rose water and Klaire Labs Ther-Biotic."
3. Treat each meal as a new opportunity for success.
"Instead of wallowing in that one-too-many cocktails or that extra slice of pizza, it's imperative we allow ourselves the opportunity to really celebrate the act of gathering, of being with friends or family, and refocus our intentions to begin our Monday breakfasts with something extra nourishing," says Alexandra Dawson, a nutritionist and author of the blog In My Bowl. "I always aim to add a handful of raw leafy greens, like baby spinach or kale, and extra-hydrating coconut water (giving ourselves a one-up on that potential hangover) to a smoothie to set myself off on the best foot for the day and week ahead."
"My ultimate reset button and anchor for a healthy day is a morning protein shake made with Parsley's Rebuild powder, unsweetened almond milk, organic frozen berries, and walnuts," reveals Robin Berzin, a physician and health coach who specializes in women's nutrition and health.
5. Make a health cocktail.
"I drink my digestion-boosting, metabolism-revving, detoxifying, blood-sugar balancing a.m. 'cocktail,'" says Talia Pollock, a holistic health coach and author of the blog Party in My Plants. "I'll shake, in a shaker cup: apple cider vinegar, cinnamon, stevia, and water! Sometimes I'll even add in a scoop of greens powder just to take things to the next level."
"I always make a huge batch of my Feelin' Fresh Salad," says Mandy King, a holistic nutritionist. "The bitter arugula helps stimulate your digestion and kick it into high gear after the weekend, the enzymes in the lemon juice help support your liver's natural detox process, and the remaining ingredients are water-rich fruit and veggies, which helps reduce bloating and puffiness."
"If I've pigged out at a holiday party, I fast the next day. It's a great way to detox and burn off fat. I drink bone broth for breakfast, lunch, and dinner so I don't have any cravings — and bone broth contains the building blocks of collagen, so it also helps repair any skin damage done by late nights and too much partying," reveals Kellyann Petrucci, a naturopathic physician and certified nutrition consultant.
"I follow a gluttonous weekend with a page out of my S.O.U.P. cleanse," says Elissa Goodman, a holistic health coach. "I start with my detox tonic and follow with a nourishing, nutrient-dense batch of soup that is easy to digest. Eating this way redefines cleansing for me, I can fit it into my life without a lot of planning, and a day of eating this helps me get back on track!"
Related reads: