The Only 7 Tools You Need In Your Kitchen — The Rawsome Vegan Explains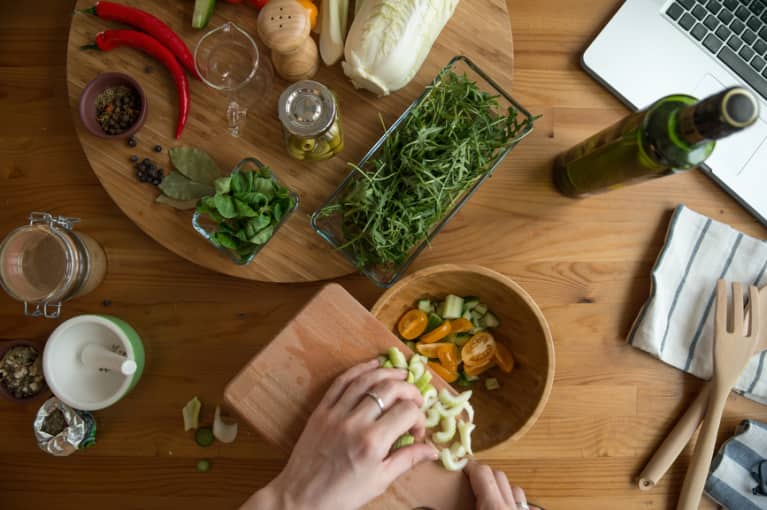 So I guess you're wondering what equipment you should grab if you're considering eating more plants. I'll tell you what I personally love to use in my kitchen when I'm making delicious (vegan) recipes — which I feature on my blog and in my cookbooks.
First off, I want to say that there is one thing every kitchen should have if you're cooking any kind of food: a sharp knife. Or even better — a variety of them.
Now, for the vegan kitchen. The following items aren't in any hierarchical order (there are enough hierarchies in the world, thank you very much) because I adore them all the same amount. I do talk to my blender; I'll be up front about that right now. I hope you still trust me.
I have both a Vitamix and a Blendtec. These are by far the best brands in the blender game. Of the two, I use the Vitamix at least once a day for things like smoothies, sauces, and soups; and occasionally I use the Blendtec with the Twister Jar to make flours, nut butters, and chocolate.
Note: These machines aren't cheap, but they're worth what they cost. Think of them as an investment. My mum bought our Vitamix more than 15 years ago and it still runs perfectly.
I use one from KitchenAid, and Cuisinart makes a decent one too. Food processors are similar to blenders but process the food a little less intensely. They're essential if you're interested in making raw vegan treats like cookies, energy bars, brownies, and cakes.
They're also mega-handy for chunky mixes like salsa, pesto, and parma (parma is a vegan parmesan-ish crumble I make with walnuts, nutritional yeast, and salt).
This is a graceful creature that will hurt you if you aren't looking. Use the dang blade guard. Please.
This piece of equipment cuts veggies into the thinnest slices imaginable, which is great for pizza toppings, veggie lasagna, pickled things, or fancy salads, and makes perfect, long, and chewy noodles from zucchini and other oblong vegetables.
Find a high-quality stainless-steel one and keep it forever. Oh and once you buy it, try slicing a candy cane beet on it. Two words: food art.
More veggies in your kitchen means more veggies to peel, which means you're gonna need this tool a lot.
Steaming vegetables is often much quicker than baking or sautéing, and it's super healthy! It makes the food vibrant and tender. Warning: Don't over-steam. If the food loses its color and goes limp, you've gone too far (in my opinion).
For instance, broccoli cut into bite-size pieces needs only maybe six to seven minutes in the steamer.
The amount of fiber coming into your kitchen is gonna go up when you start eating more fruits and vegetables, so the amount of fiber leaving your kitchen will also increase.
I know composting isn't an option for everyone (sigh), but if it's available, it's an important way we can recycle. My family has a big yard so we use all our compost as fertilizer for our growing plants and garden.
It's cute and fun to use and encourages me to put grated ginger on/in everything from tea to savory dipping sauces. I recommend a bamboo one because it's pretty and that's what I use. You can also find the traditional copper and tin-plated kind.
Want more info about going vegan? Start here: