Dying Mother's Letter To Family Is Somehow Heartbreaking & Funny At The Same Time
December 22, 2015 — 17:36 PM
Heather McManamy, a 36-year-old mother who passed away on December 15, knew her loved ones would be sad when she was gone, but all she really wanted was for them to laugh.
When she was diagnosed with breast cancer in 2013, she decided she'd write to them — especially to her daughter Brianna — keeping her sense of humor in tact so that she'd be there for them even when she couldn't physically be there.
Heather created a book of cards for different occasions in Brianna's life, from the first day of school to her wedding day, and published them in a collection called Cards for Brianna. "I hope some of you take the time to read it and remember all the fun we've had together," Heather wrote on her Facebook page.
She had also instructed her husband, Jeff, to post a letter she wrote on Facebook in the event of her death so that she could say goodbye to everyone and be there to comfort them.
Jeff posted Heather's letter on December 16, writing "I am posting this on behalf of the love of my life. These are her words. Much love to all."
While the note is certainly heartbreaking, it also has a surprisingly funny (and honest!) take on life and death.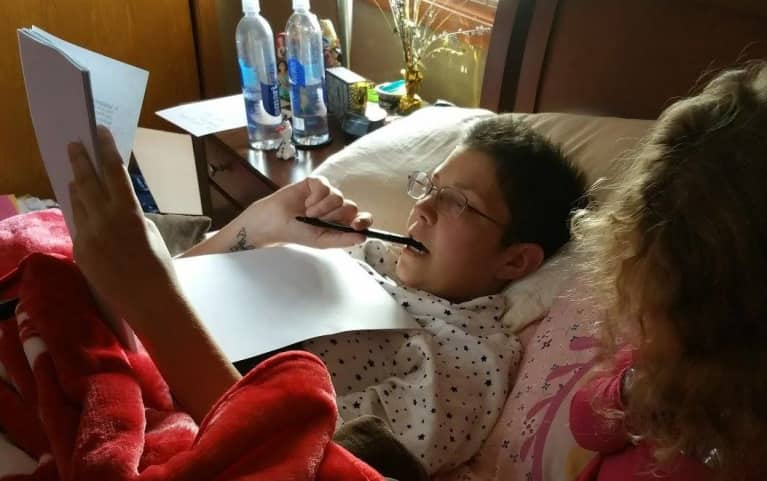 "So… I have some good news and some bad news," the letter begins. "The bad news is, apparently, I'm dead. Good news, if you're reading this, is that you are most definitely not (unless they have wifi in the afterlife)."
She then expresses her hope that everyone will tell Brianna stories to celebrate her memory instead of being consumed by sadness.
"And don't say I lost to cancer," she writes. "Because cancer may have taken almost everything from me, but it never took my love or my hope or my joy. It wasn't a 'battle' it was just life, which is often brutally random and unfair, and that's simply how it goes sometimes. I didn't lose, dammit. The way I lived for years with cancer is something I consider a pretty big victory. Please remember that."
Toward the end, Heather assures her family and friends that she will be happily haunting them for the remainder of their lives, which, she reminds them, they should be living to the fullest.
"Celebrate the beauty of life with a kickass party because you know that's what I want and I believe that in a weird way, I will find a way to be there too (you know how much I hate missing out on fun). I look forward to haunting each one of you, so this isn't so much a goodbye as it is see you later. Please do me a favor and take a few minutes each day to acknowledge the fragile adventure that is this crazy life. Don't ever forget: every day matters."
While death is indisputably sad, it's inevitable, and her letter suggests that maybe we shouldn't take it so seriously. We should appreciate the fact that we got the chance to love the people we lost and what made us love them — for example, an unshakeable sense of humor like Heather's.
You can read her full post here.
Cover photo: Heather McManamy/Facebook