What Two Registered Dietitians Eat In A Regular Day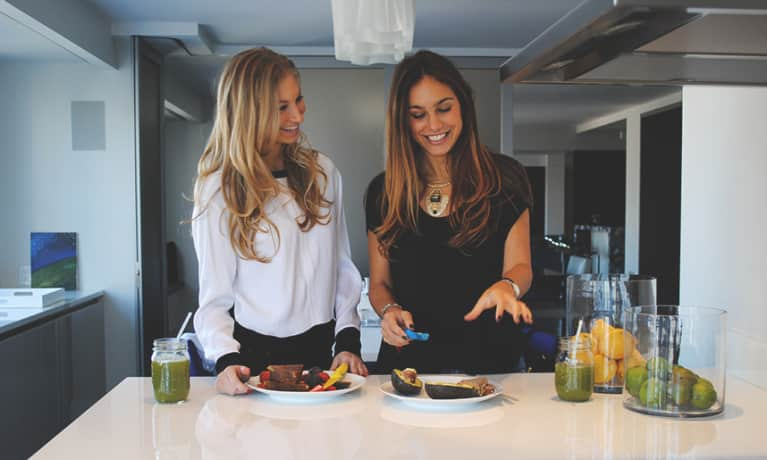 As registered dietitians, we practice and preach a healthy lifestyle, but we also empathize with those of you who struggle to find a balance between work, your social life, and carving out time to eat clean.
We're the first to admit that takeout from the deli downstairs can be tempting after a long, hard day. The good news is that we're going to share some recipes and tips for keeping it healthy amid the chaos. So come, take a walk with us through a day in our lives …
Leah: Starting my mornings out with an iced coffee is non-negotiable. I like to add a dash of soy milk and cinnamon. Soy milk is a bit sweeter than regular or skim milk, so I'm not tempted to add sugar or agave.
Molly: Yep, I have to agree. When I have time, I'll also make a cup of warm lemon water. It serves as a natural detox and helps me start my day.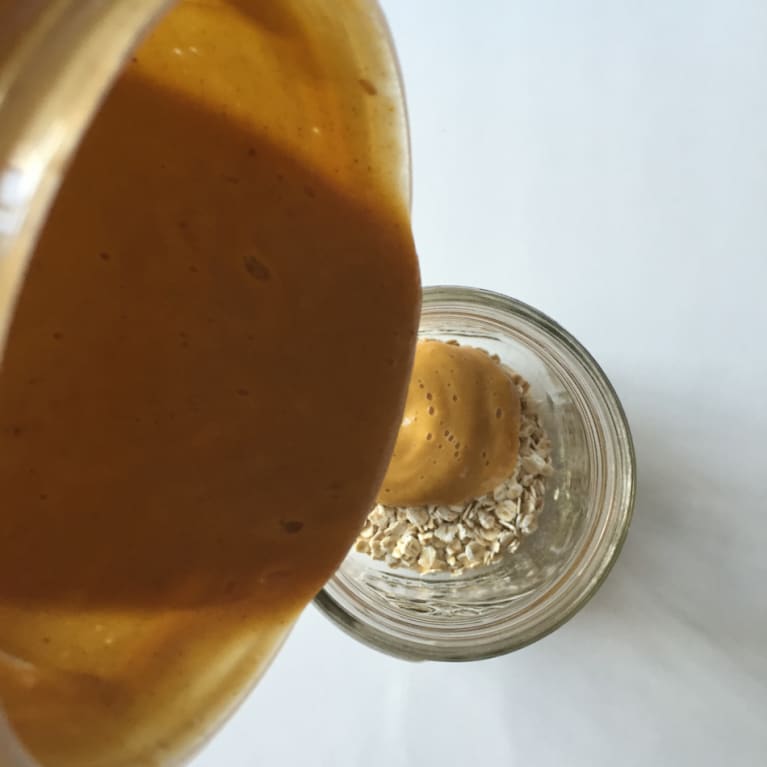 Leah: I usually eat breakfast at around 9:30, an hour or so after I wake up. Recently I've been all about this pumpkin overnight oats recipe we concocted.
It's essentially a mixture of pumpkin puree, banana, oats, chia seeds, Greek yogurt, and spices. It's a great combination of fiber and protein, which helps keep me full and satiated.
This recipe is particularly convenient because it requires preparation the night before, meaning breakfast is a no-brainer, especially when you're running out the door.
Molly: Since mornings tend to be hectic, I love making a green smoothie that I can take with me. I use 1 cup of unsweetened vanilla almond milk, ½ a frozen banana, 1 to 2 handfuls of baby spinach, 1 teaspoon of chia seeds, and 1 tablespoon of peanut butter.
It may sound odd to combine spinach with peanut butter, but it's absolutely delicious! This smoothie retains the fiber from the greens (unlike juices, which extract fiber) and provides protein and healthy fats from both the nut butter and chia seeds.
Leah: I could eat breakfast foods for every meal. If I'm eating lunch at home, I'll make myself an omelet with 2 whole organic eggs, onions, spinach, mushrooms, and feta cheese. While it's still in the pan I like to add spices like rosemary and garlic powder.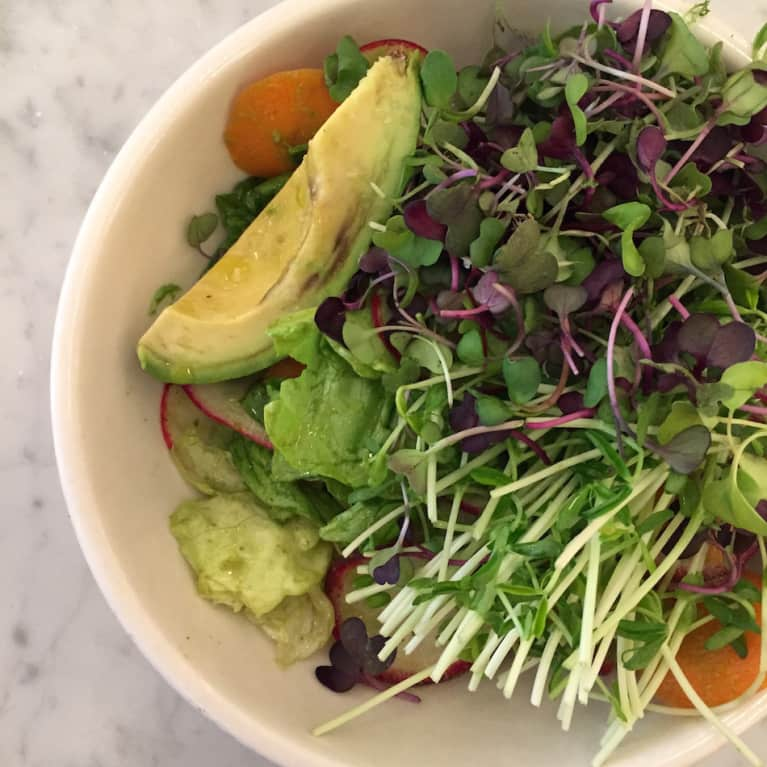 Molly: I love a good salad for lunch. Whether I am preparing it at home or dining out, I include spinach or kale as the base. These greens provide about 4 grams of fiber in 4 cups, versus zero in iceberg lettuce.
In my salad today I loaded up on non-starchy veggies like cucumbers, artichokes, and peppers. I topped it with egg whites and chickpeas for protein, avocado for healthy fats, and a vinegar-based carrot-ginger dressing. It's important to switch up the variety of vegetables and the source of protein to avoid getting in a salad rut.
Leah: By about 4 p.m., I'm always ready for a snack. It keeps me focused by keeping my hunger at bay and prevents me from over-indulging at my next meal (how many times have you eaten the first thing in sight because you were ravenous?).
Recently, my go-to snack has been lentil soup with a handful of Mary's Gone crackers. Lentils are a great source of vegetarian protein and fiber. You'll be surprised by how full you are after just 1 cup!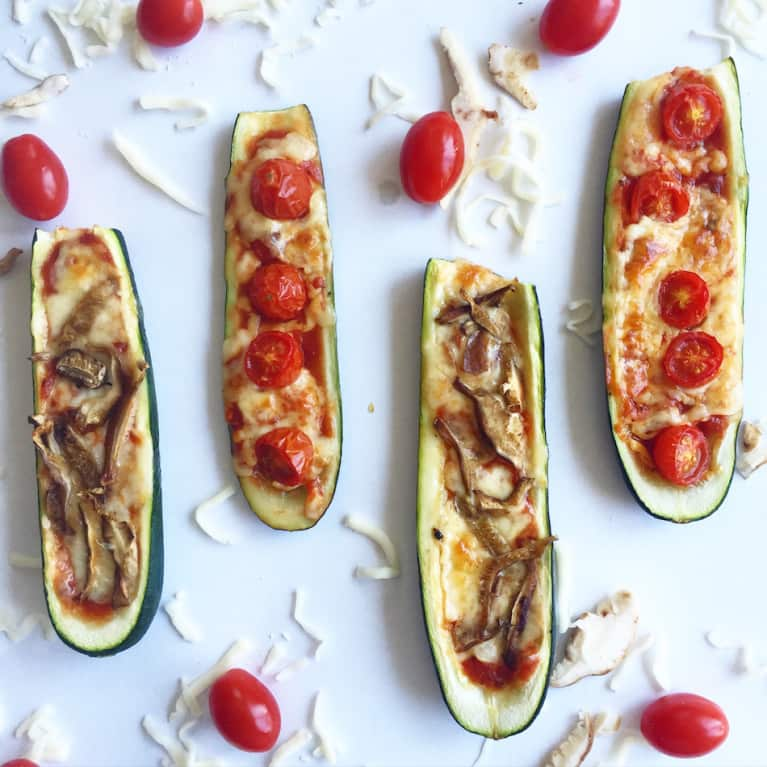 Molly: I try to have a snack at around 4:30 p.m. so I'm energized for my evening workout class. Today I was working from home so I made zucchini boat pizzas. To make these you simply cut a zucchini in half the long way, scoop out the seeds, and fill with 2 tablespoons of tomato sauce and a tablespoon of low-fat shredded mozzarella cheese.
Bake at 350°F for 10 to 20 minutes and there you have it! If I'm not at home, I'll keep it simple and have an apple with peanut butter. Justin's individual packets of honey almond butter are great for on-the-go.
Leah & Molly: More often than not, we eat dinner together. This night we ate at Village Taverna, one of our favorite go-tos for Greek food. First things first, two glasses of wine! (Red wine has a higher antioxidant capacity than white because it contains resveratrol.)
We like to share plates in order to try a little bit of everything. We began with hummus for the table, followed by grilled octopus. Next, we split the Horyatiki salad with grilled chicken, which is a Greek-style salad with chunky vegetables.
Generally, we keep the hummus on the table to use as a dip for the grilled chicken. The large salads at Village Taverna are more than enough for two people.
The night always ends on a sweet note for both of us.
Leah: I keep green tea mochi ice cream in my freezer at home to satisfy my post-dinner sweet tooth. Disclaimer: Mochi isn't a health food, even if it's green-tea-flavored! Don't be fooled!
Molly: I am a chocoholic so my night usually ends with a few squares of Aloha's dark chocolate bars made with 60 percent cacao and superfood green powders. I usually make a cup of dandelion tea to keep me from going back for more. Dandelion tea is a great detoxifying and anti-bloating tea, which is a perfect way to end the night.