The Perfect Lip Color For Your Next Party
Welcome to "Product Of The Week." Just like the name suggests, we'll spotlight one product every week that not only does what it promises to do, but that also upholds the green, natural approach to beauty and skin care we value so much. Trust us when we say you can trust our beauty editor, Allie White — in her time here, she's sampled upward of 400 different products. These are her favorites.
I love lip color. Sticks, glosses, cremes, stains ... you name it, I'll try it if it comes in any shade of red or pink (which, as you can imagine, means I've tried a lot). After a few years of experimenting with colors and formulas, I feel pretty confident that I've landed on my perfect shade of true red, and my hot pink game is on lock. I know which formula of tinted chapstick to use for different lip ailments, and despite the fact that no one can tell I'm wearing it, I've found the exact right "nude" to match my natural lip color.
I've got them all organized in a nifty contraption, standing like obedient, deeply-pigmented toy soldiers on top of my dresser. Sure, it's probably excessive to own upwards of 30 lip colors, but they are just so fun to play with and in my humble opinion, are the one thing I'll reach for when I really want to change up my look without too much effort.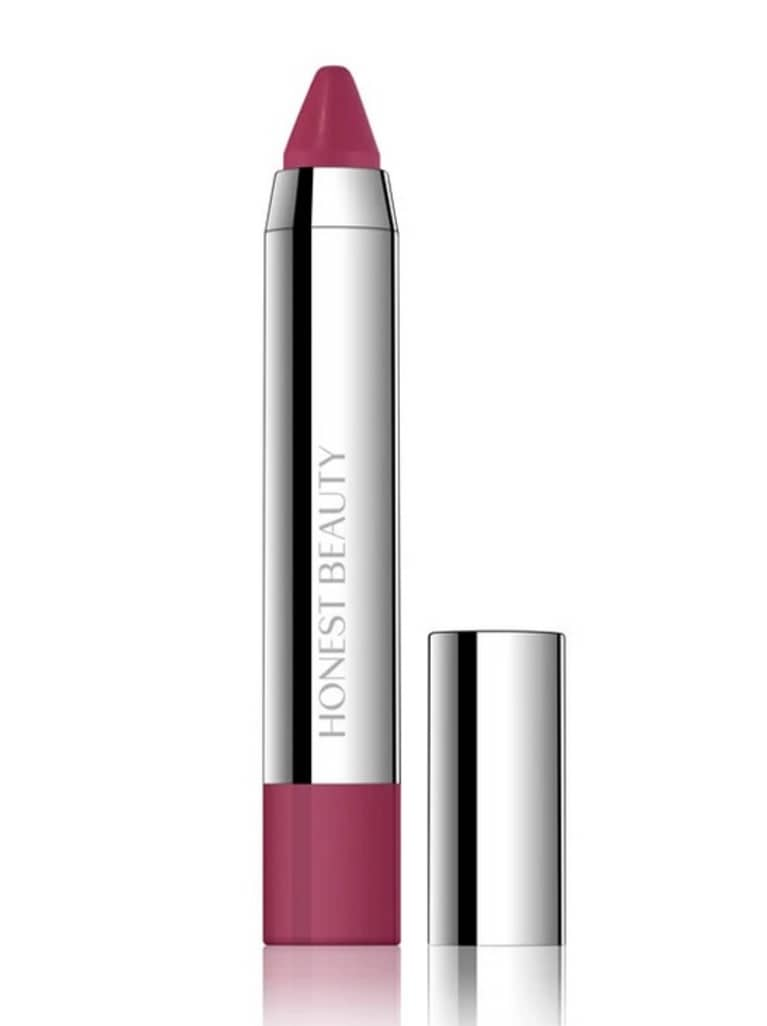 Applied correctly, the perfect red can brighten up your whole face and make your teeth look even whiter. That seemingly-unnecessary nude I mentioned earlier? It adds a little oomph to my mouth. And a happy pink makes a grey day happier (and makes for a nice little face accessory).
So with winter settling in here in Brooklyn and the holiday party season in full swing, it only makes sense that my lip stick collection be in heavy rotation right now. But all this seasonal cheer and talk of mulling spices has me craving something I'd yet to find: the perfect burgundy shade.
That's right, folks. I wanted something that made my mouth look like I'd just guzzled a few glasses of cheap red wine, minus the whole stained teeth and tongue thing. A lipstick that would make people think I'd just rubbed a bunch of blackberries across my lips. Give me the "grape popsicle effect" in cosmetic form. (Sorry, I'm very hungry as I write this.)
But as with all white whales, the perfect shade continued to elude me. I'd think I found one, but after only a few minutes of wear, it would have faded without a trace. Or the consistency and staying power were good, but the color was off. In what was one of the my more embarrassing makeup forays, I applied a full mouth of one merlot-colored lipstick that stayed put, but only on the outer edges of my mouth, making it look like I'd gone crazy with lip liner and forgotten the rest.
I was ready to give up hope of ever finding something that checked all the boxes: color, application, texture, staying-power.
And then, like a holiday miracle, a box of newly-launched Honest Beauty products landed on my desk and whaddya know, it just so happened to contain my wino-lip-color spirit product.
Not only is Mulberry Kiss the ultimate in flattering, rich, (biodynamic) Pinot Noir-ish color, it's incredibly moisturizing, goes on smooth and does not quit. One quick swipe will leave you with that just-bitten look, while layering it builds the intensity without feeling goopy. And the shape of the stick lends itself to filling in the corners of your lips just as well as the pillowy parts.
And unlike many other matte lipsticks, this one is made with jojoba seed oil, murumuru and shea butters, meaning your lips are going to be even more moisturized after you're done wearing the color than they were before you applied.
Honesty Beauty Truly Kissable Lip Crayon Demi-Matte in Mulberry Kiss, $18, honestbeauty.com
EWG Score: 2 — low hazard
Illustration by Chloe Bulpin, mbg creative; photo courtesy of brand