3 Healthy Holiday Recipes That Will Wow Your Guests
Our editors have independently chosen the products listed on this page. If you purchase something mentioned in this article, we may
earn a small commission
.
Classic holiday flavors with a healthy twist, these three recipes will brighten your day and lighten your plate!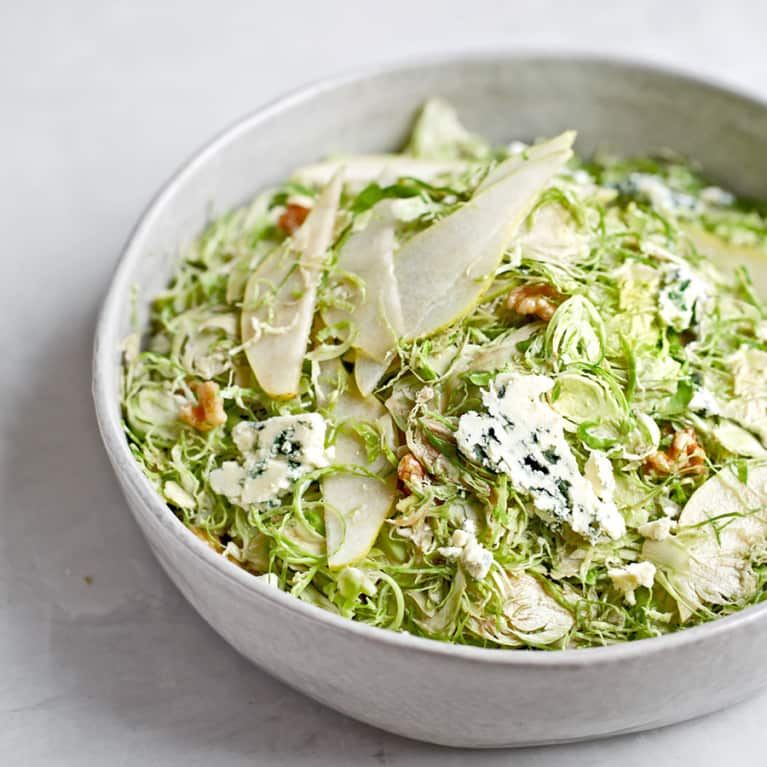 Delicious brussels sprouts are finally getting their 15 minutes these days — I see them on restaurant menus everywhere.
Brussels have an earthy flavor and hefty texture, while being loaded with vitamins K and C, and folate. While we tend to sauté or roast brussels sprouts most of the time, I love to prepare this raw, shaved Brussels sprouts salad, which really brings out the vegetable's unique texture and nutty flavor. I think you're going to love it, too.
Serves 4 to 6
Ingredients
1 1⁄2 pounds brussels sprouts, thinly sliced
1⁄2 cup cored, halved, and thinly sliced Bartlett pear
1⁄2 cup raw walnut pieces
2 tablespoons crumbled blue cheese
2 teaspoons Manuka honey
1 tablespoon Dijon mustard
3 tablespoons balsamic vinegar
3 tablespoons extra-virgin olive oil
1⁄2 teaspoon sea salt
Preparation
1. Wash the Brussels sprouts and pat dry. Thinly slice the sprouts on a mandoline to a thickness of 1/8 inch. If you don't have a mandoline, use a sharp knife.
2. In a large bowl, whisk together the dressing ingredients. Add the sliced Brussels sprouts and toss to coat with the dressing. Add the pear slices, walnuts, and blue cheese. Serve immediately.
Roasted Miso + Honey-Glazed Veggies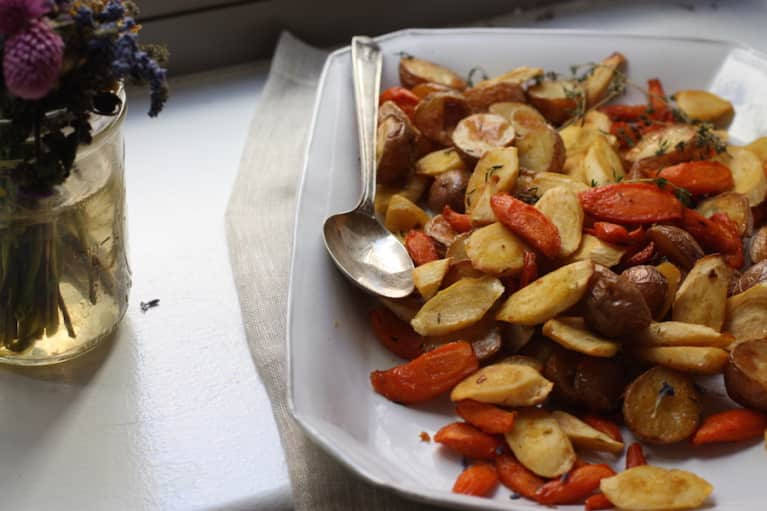 Dearest parsnip, I know you're often overlooked, but I've seen those lovely roots and I know you are oh-so-sweet!
Related to the carrot, parsnips are perfect when lightly simmered, roasted, braised, or even grilled. With the addition of miso and honey, you can't go wrong with this subtle side.
Serves 4
Ingredients
2 tablespoons miso paste (red or white)
2 tablespoons honey
2 tablespoons rice wine vinegar
2 tablespoons roasted sesame oil
1 1⁄2 pounds parsnips, sweet potatoes, carrots, or any other root veggies you like
Preparation
1. Preheat the oven to 375°F. In a mixing bowl, combine the first 4 ingredients to make the marinade, whisking well to incorporate.
2. Peel and slice the root veggies on the bias into 1⁄2-inch pieces. Toss the parsnips in the marinade until they are well coated. Allow the parsnips to marinate for about 20 minutes.
3. Place the parsnips on a large, foil-lined baking sheet and roast for approximately 45 minutes, or until they are tender but crisp on the outside.
Vegan Dark Chocolate-Avocado Cake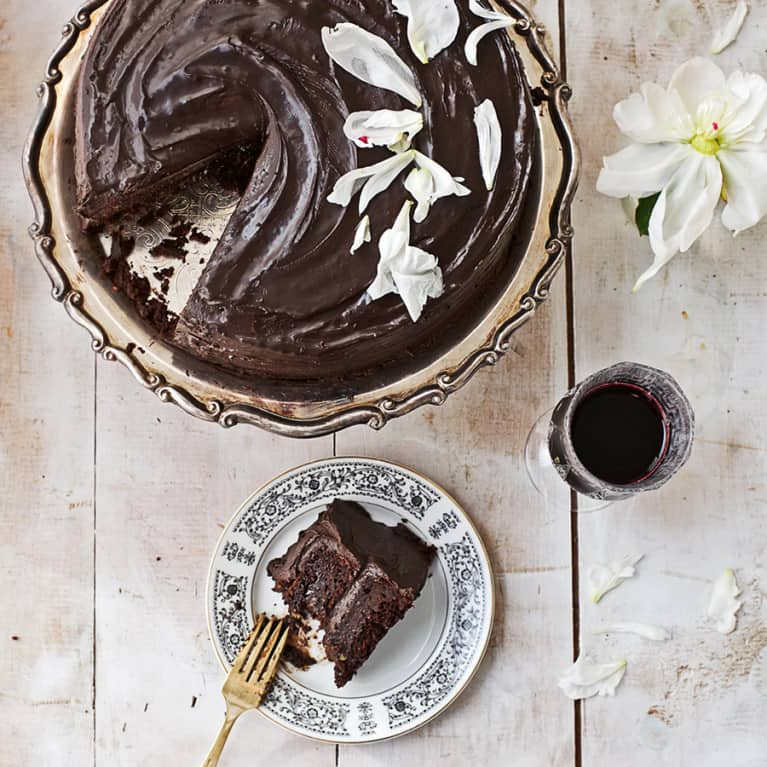 This decadent, fudgy, and dense cake quickly became THE favorite out of all my vegan baking recipes. Perhaps it's the use of cocoa powder or delicious, creamy, and good-for- you avocados and coconut oil.
Whatever the reasons (probably the chemical endorphins that are released after eating chocolate!), we all went mad for it. If you're making this cake for a special occasion, you can double the recipe and make a two-layer cake.
Serves 12 (makes one 8- or 9-inch round cake)
Ingredients
Coconut oil or olive oil cooking spray, for the cake pan
1 3⁄4 cups gluten-free flour
1 cup almond meal
3⁄4 cup unsweetened cocoa powder
1 teaspoon aluminum-free baking powder
1⁄4 teaspoon salt
1 ripe avocado, pitted, peeled, and mashed until smooth
3⁄4 cup organic granulated sugar
1 1⁄2 cups water
1⁄3 cup unrefined coconut oil, melted
1 teaspoon organic vanilla extract
1 tablespoon raw, unfiltered apple cider vinegar
1 teaspoon baking soda
5 cups confectioners' sugar
2 to 4 teaspoons almond or coconut milk
1⁄2 cup chocolate-hazelnut butter
1⁄4 cup unsweetened cocoa powder
*If making a low-sugar cake, omit icing and lightly dust with cocoa powder.
Preparation
1. Preheat the oven to 350 ̊F. Cut a round parchment paper base for the bottom of the cake pan(s). Grease an 8-inch cake pan with coconut oil or olive oil spray, place the parchment paper round inside and set aside.
2. In a large bowl, whisk together the flour, almond meal, cocoa powder, baking powder and salt.
3. In a separate large bowl, combine the fully mashed avocado and granulated sugar. Slowly stir in the water, coconut oil, and vanilla extract.
4. Slowly incorporate the flour mixture into the wet ingredients, stirring until the avocado is completely smooth. In a small bowl or measuring cup, combine the baking soda and apple cider vinegar and let them fizz. Add to the final cake batter. Batter will be thick.
5. Pour the cake batter into the prepared cake pan, and bake on the middle rack for 20 minutes, or until a toothpick inserted in the center comes out clean. Let the cake cool in the pan, then transfer to a plate or cake stand.
6. While the cake is baking, make the icing. Using a stand mixer or hand mixer, beat together the confectioners' sugar, chocolate-hazelnut butter, and cocoa powder until smooth. Slowly add the almond milk and continue beating until combined.
7. When the cake is completely cool, spread the icing evenly across the top and sides using an offset spatula.
Adapted from an excerpt of my books Clean Green Eats and Cook Yourself Sexy, available now.