What I Eat In A Day: Former Today Show Correspondent Jenna Wolfe Tells All
Our editors have independently chosen the products listed on this page. If you purchase something mentioned in this article, we may
earn a small commission
.
You may know me from the Today show, where I worked for the past nine years as a lifestyle and fitness correspondent. I'm also a personal trainer, mom of two young children, and partner to a network correspondent. I juggle a million side projects, and our household is busy, but we manage to stay healthy.
Let me be totally honest with you: I hate cooking. I'm terrible in the kitchen. As a result, I don't really live to eat. Rather I eat to live. I eat whatever I can prepare/gather/throw together in my kitchen, on a shoot, at the gym, or on the go, as quickly and as healthily as possible. Vegetables are always easy. A chicken burger (already prepared) is pretty doable. Eggs, tuna, nut butters — all easy.
Here's a look at my diet on a typical busy day!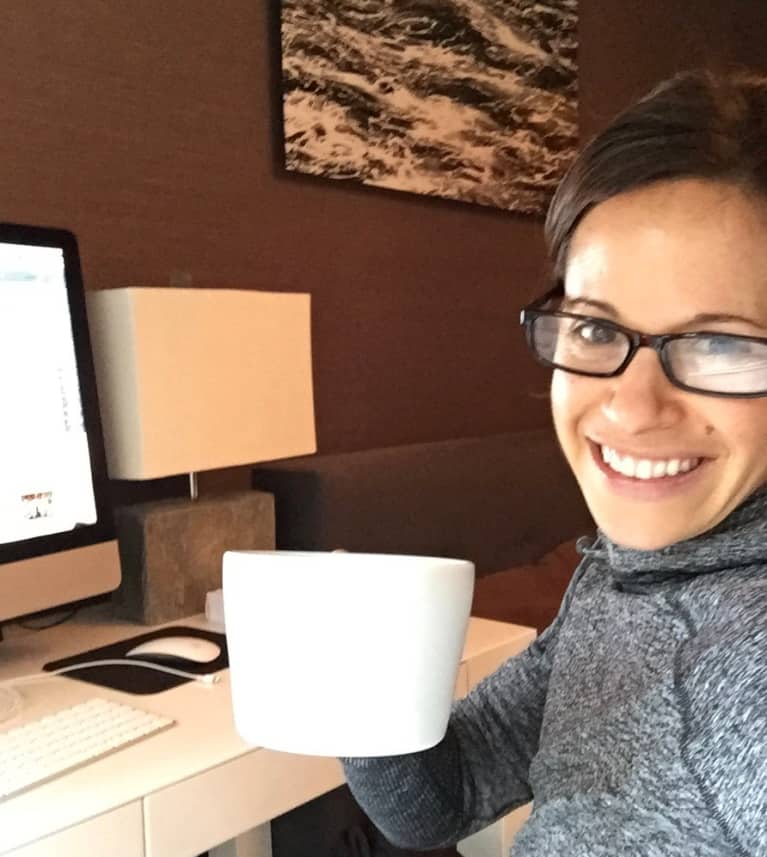 I make the first cup at home — an almond milk latte. It's a little protein and a lot of pick-me-up. I sit in front of the computer while the rest of the house sleeps and I take 30 minutes to myself. I read the papers, return emails, schedule the day, and get dressed for the gym. The babies wake up at 5:30 a.m.
7:30 a.m.: Pre-Workout Snack
My pre-workout snack is almond butter on a slice of apple. I just need some protein and carbs to pump me up before a workout. It's more than enough fuel for me.
9:30 a.m.: Post-Workout Snack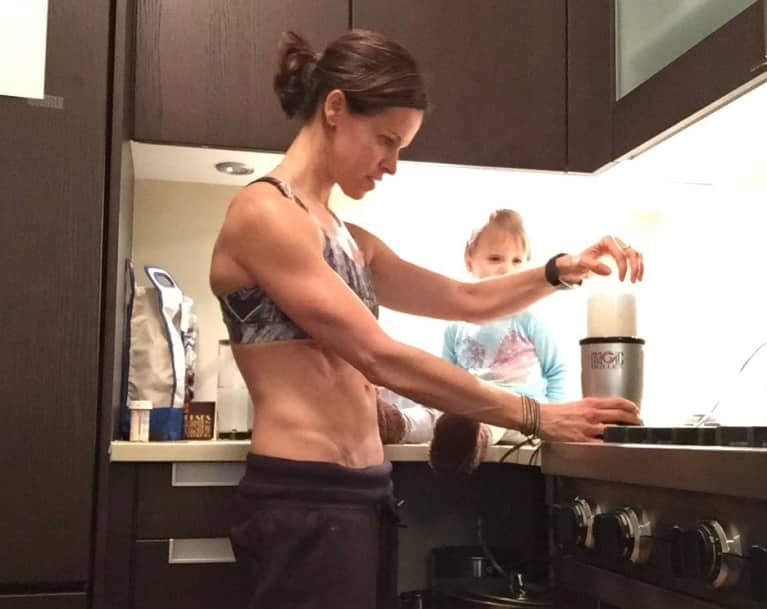 This is my post-workout snack. Just powder, ice, water, blueberries, and sometimes a little peanut butter. I drink it slowly after my shower and it both refuels me and fills me up.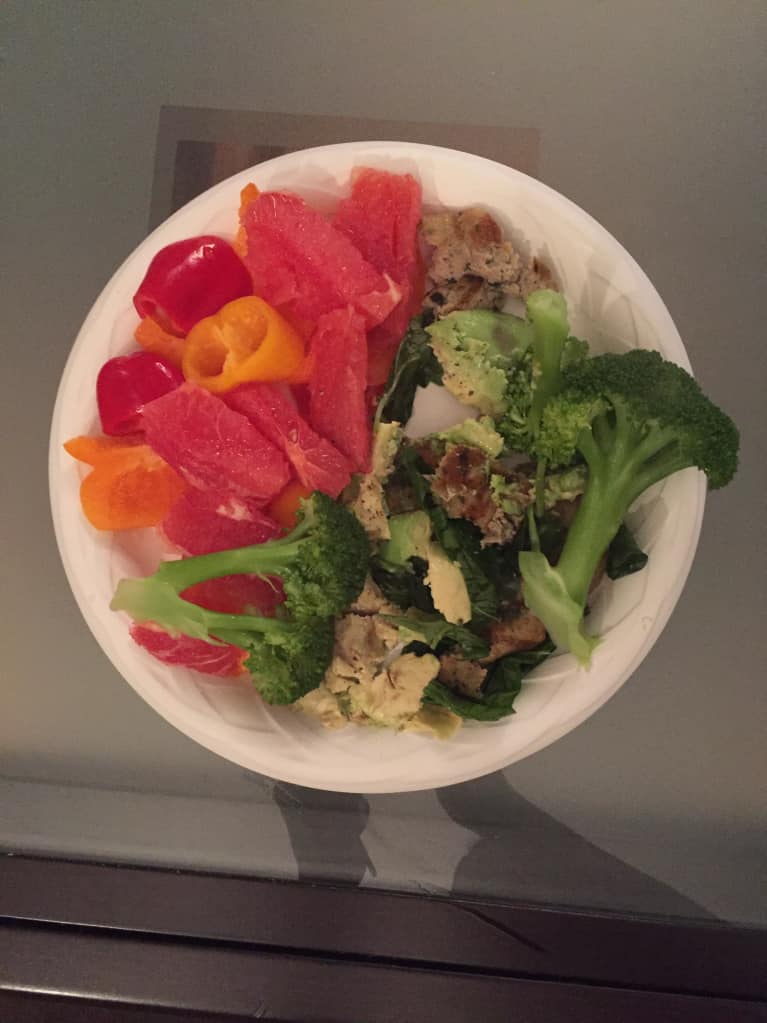 I like to eat as many vegetables as possible with each meal. This day, I had a chicken burger, yellow pepper, grapefruit, avocado, and broccoli. It fills me up and keeps me satisfied into the afternoon.
They're also super easy to prepare. I steam the broccoli and cut up the pepper/grapefruit/avocado and throw it on a plate. If it's too bland, I'll sometimes throw a tablespoon of carrot hummus on top for taste. I'll often follow this up with an apple.
3:30 p.m.: Afternoon Snack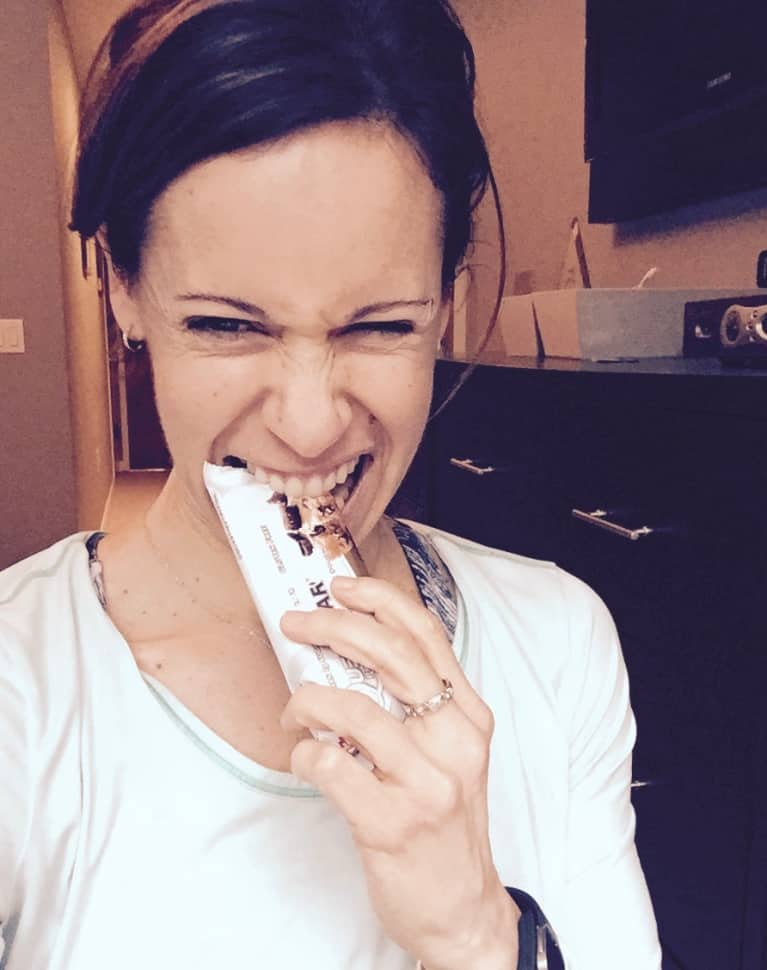 I'll eat a protein bar in the afternoon with another cup of coffee from my favorite little café (if I'm home). I'll also get in my daily fruit allotment here — an orange or a cup of berries with some yogurt.
I went out to dinner on this particular night and had the cioppino, one of my favorite dishes. This one had tilefish, shrimp, and clams in a paprika broth. The broth fills you up and the seafood is great substance and fantastic protein. Healthy and satisfying. That, along with a side salad and a cappuccino for dessert, and I was set.
Jenna Wolfe is the author of the new book Thinner In 30, from Grand Central Life & Style.