11 Nutritionists Reveal The ONE Healthy Appetizer They Bring To Holiday Parties
Holiday parties are stereotypically full of bad-for-you foods like pigs in a blanket, anything wrapped in bacon, and cheese plates galore. While it's fun to indulge every once in a while, it's also a good idea to bring a healthy option for party-goers to snack on.
Check out these delicious recipes from our favorite nutritionists and health coaches — they're healthy, but equally as tasty as those guilty pleasures.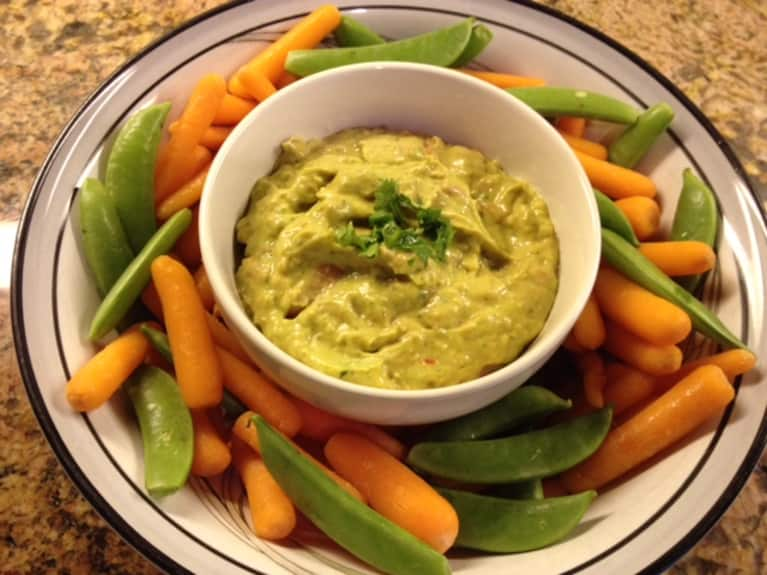 "Everyone loves my guac-hum mole! It's a smooth combo of guac and hummus," shares Bonnie Taub-Dix, owner of BetterThanDieting.com and author of Read It Before You Eat It. "The protein in the hummus from chickpeas will keep you feeling deliciously full (so you don't have to overeat at dinner!)."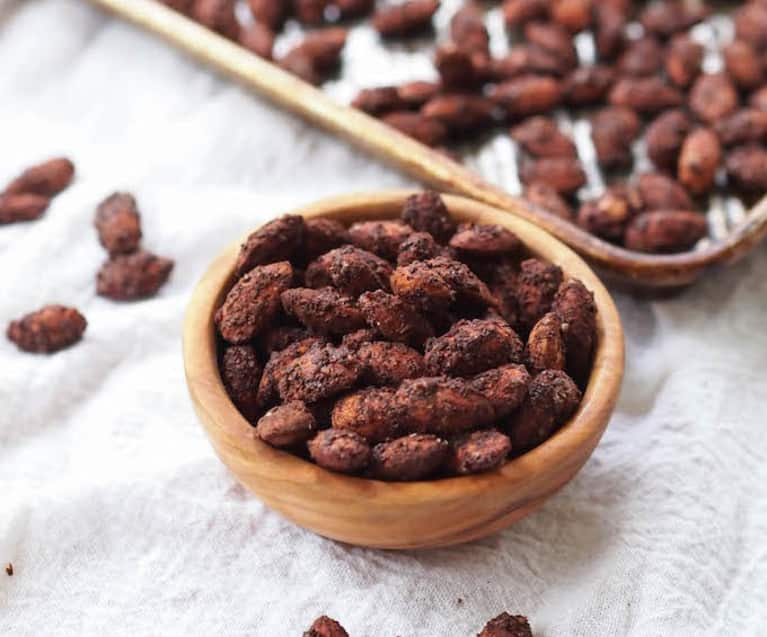 "I like to bring a big bowl of spiced nuts, like my mole-roasted almonds, to holiday parties. Since the holiday season gets quite busy, I'll make a double batch and package the extra in small containers as stocking stuffers or for co-workers," says Rachael Hartley, RD and author of the blog Avocado A Day Nutrition.
Plate Of Raw Nuts, Smoked Fish, Berries + More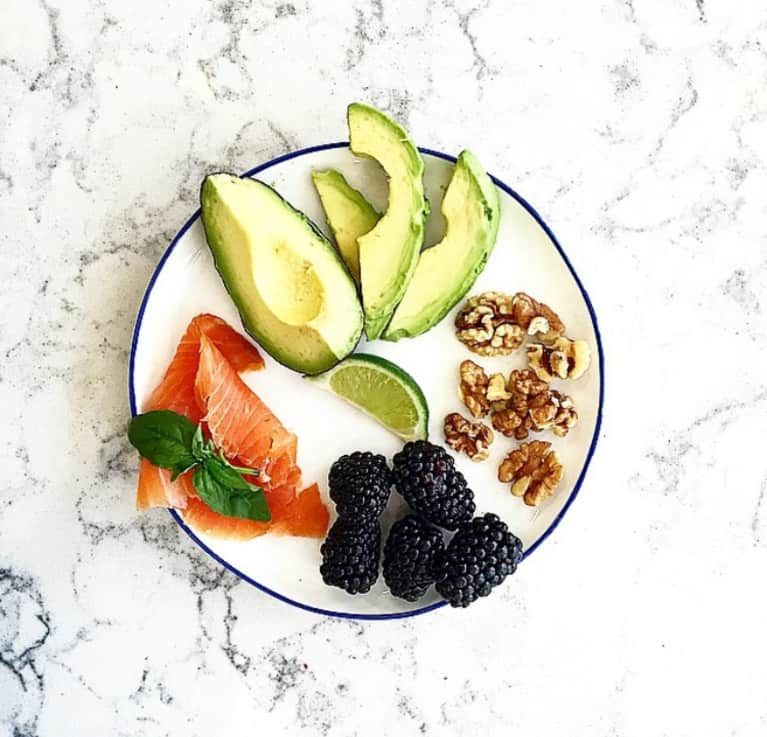 "I like to pull together a big colorful plate of assorted raw nuts, smoked fish, berries, sliced radishes, and veggie dips," says Robin Berzin, a physician and health coach who specializes in women's nutrition and health. "My favorites are beetroot hummus, which I make myself in a VitaMix, and olive tapenade, which is easy to find from the store. It's low stress and gives me a go-to instead of the cheese plate."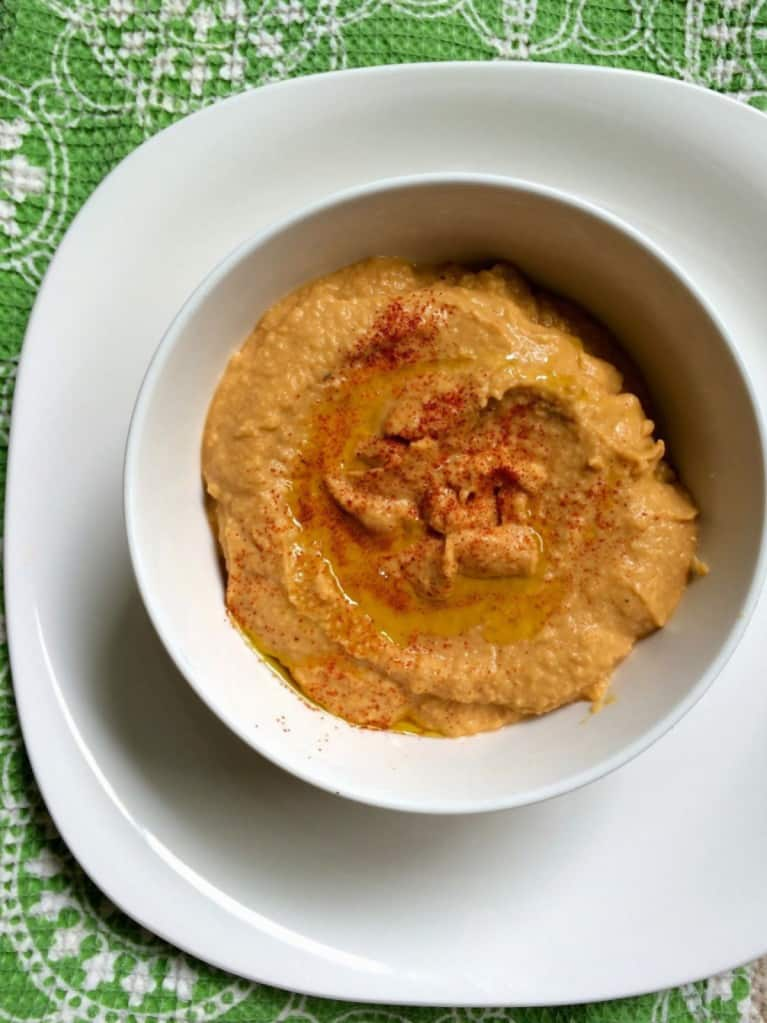 "I almost always bring homemade hummus with crackers and veggies," says Robyn Coale, RD and author of the blog The Real Life RD. "For one, it's super simple to make and fast. And secondly, homemade hummus always wins people over because it tastes so much fresher than store-bought. Plus, people think making hummus at home is more time-intensive than it actually is — it takes all of five minutes! I love adding a variety of spicy spices (ha) to give it a kick and cause people to continually ask for the recipe."
Buffalo Chicken Meatballs + Jalapeno Poppers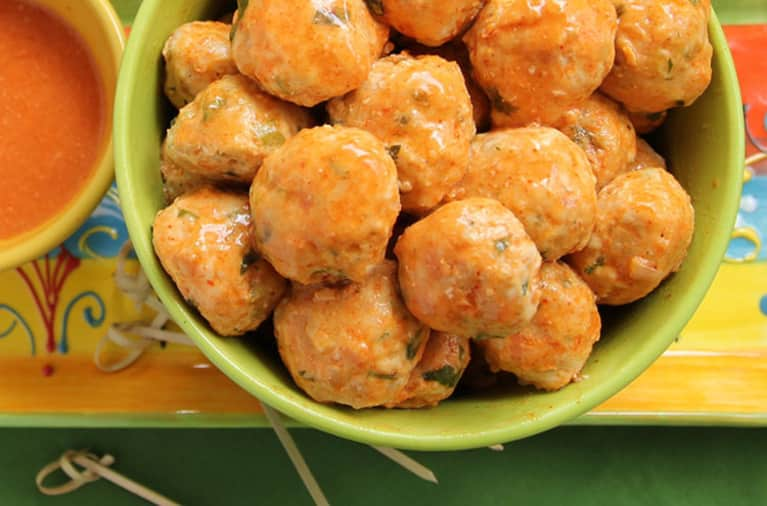 "When I'm asked to bring appetizers to a party, my favorites include these jalapeno poppers and these buffalo chicken meatballs," says Dr. Kellyann Petrucci, a naturopathic physician and certified nutrition consultant. "What I love about them is that both of them taste sinful, but they're actually low-carb and loaded with nutrition. So instead of feeling guilty about indulging, I can feel virtuous when I eat them!"
Roasted Figs With Macadamia Nut Cheese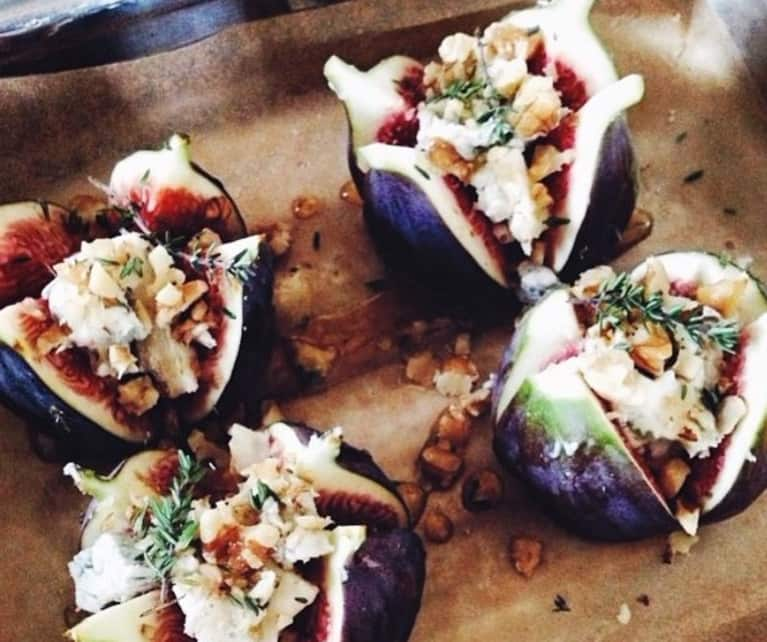 "Getting party guests on board with plant-based apps is always fun for me, and these roasted figs with macadamia nut cheese have been a big hit with everyone," says Elissa Goodman, a holistic health coach. "Figs are a good source of fiber, so having one or two of these can help satiate you so you don't overeat later in the evening. This appetizer proves you don't need dairy or processed foods to get the party started, and it pairs well with festive sparkling wine (because you have to indulge a little!)."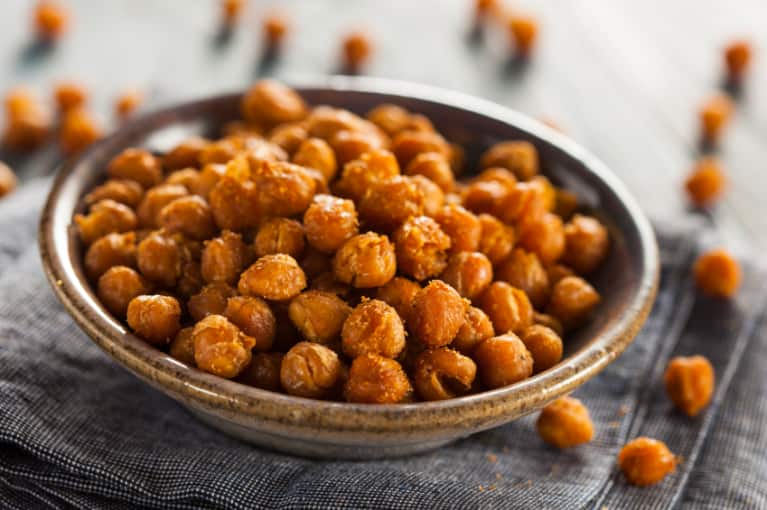 "I love to bring roasted chickpeas. You can season them any way, but I love them with smoked paprika and salt. They taste delicious, and the combination of fiber and protein helps take the hunger edge off before it's main course time. They also allow me to pre-load with some protein, in the event that there aren't any great vegetarian options the rest of the meal," says Rachel Meltzer Warren, MS, RDN, and author of The Smart Girl's Guide To Going Vegetarian book and blog.
Smoked Cheddar + Pomegranate Beer Dip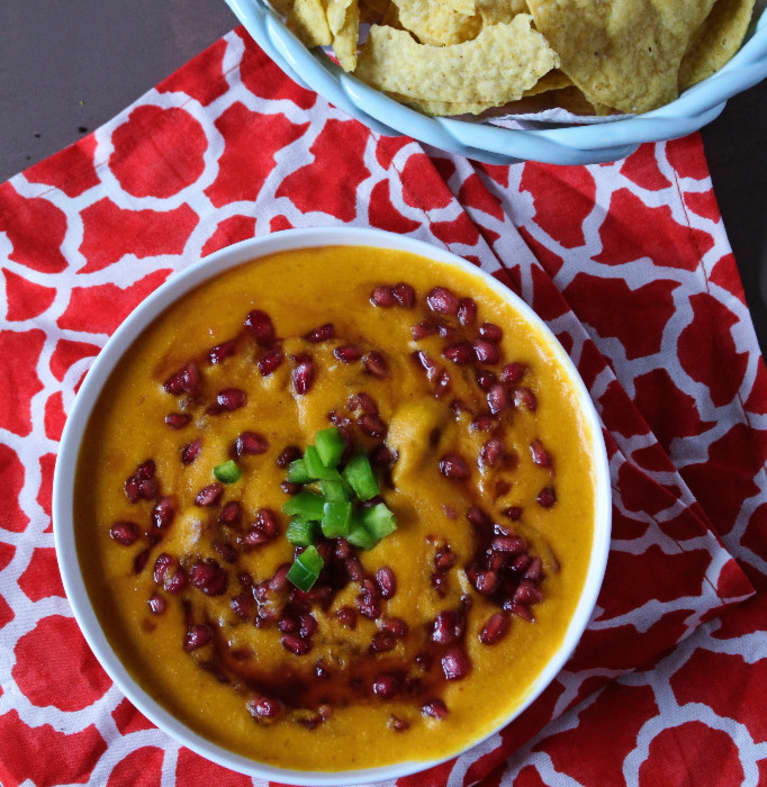 "I am a huge fan of chips and queso, so I take the liberty of bringing my own! A recent favorite of mine is my smoked cheddar and pomegranate beer dip," says Emily Hein, RDN and author of the blog Zen & Spice Nutrition. "It secretly contains pumpkin and is full of smoky, cheesy flavor! The sweet pomegranate seeds contrast nicely with the spicy jalapeno."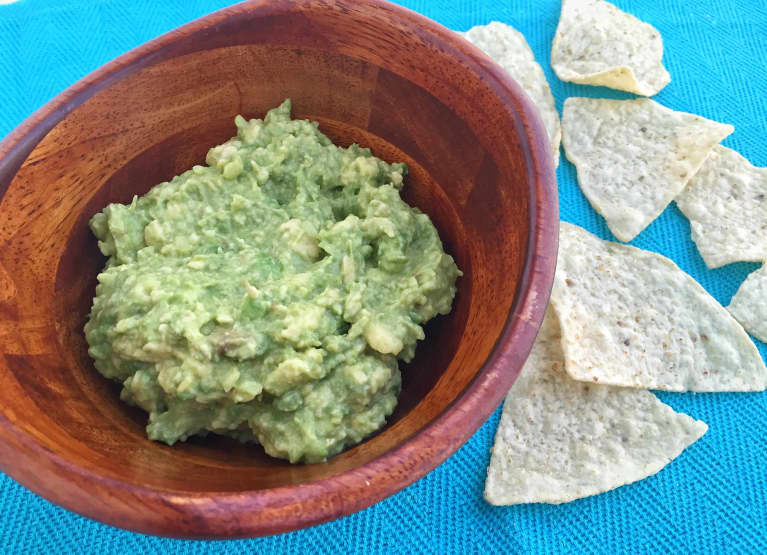 "I love to bring tortilla chips with salsa and guacamole," shares Jenna Braddock, RDN and author of the blog Make Healthy Easy. "Everyone loves chips and dip, whatever the time of year, and these two classic dips are full of health-promoting ingredients. Plus, the healthy fat in guacamole helps keep me satisfied and prevents overeating of the more indulgent choices. You can get my easy guacamole recipe here."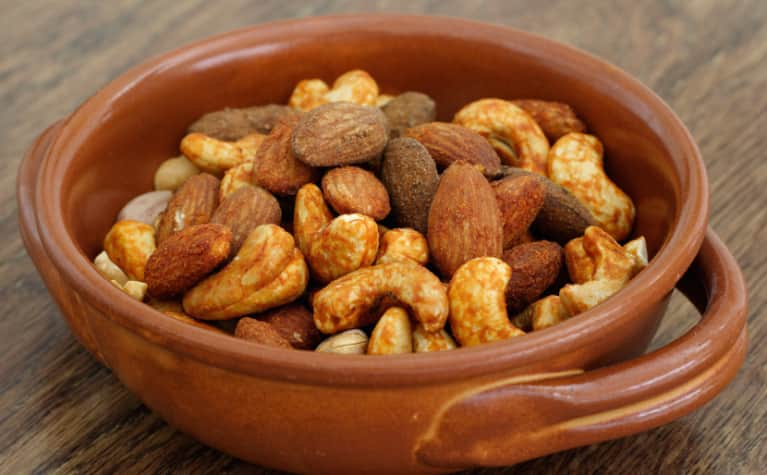 "Freshly roasted, spiced nuts are a delicious and healthy snack I often bring to holiday parties," says Alicia Anskis, MS, RD, LDN, and registered dietitian at Massachusetts General Hospital. "They are simple, easy to make, and only require about 20 to 25 minutes to roast in the oven. I love to switch up the herbs and spices I use. For a sweet treat, I like to use flavors like maple, citrus, and cinnamon. For savory flavors, herbs like rosemary, thyme, and sea salt are always a big hit with guests."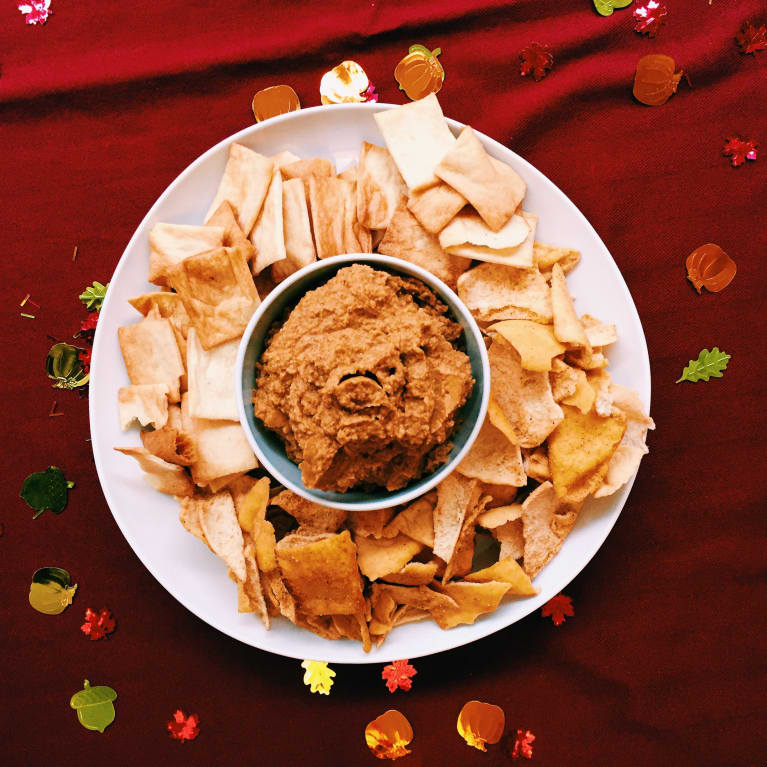 "My pumpkin hummus is the ultimate holiday crowd-pleaser," says Talia Pollock, holistic health coach and author of the blog Party In My Plants. "It really doesn't get much better than combining everyone's favorite healthy dip with all the beloved holiday flavors in a remarkably HEALTHY (and easy-to-make) way. This alone is a holiday gift for our mouths!"
Related reads: