I'm A Nutritionist + I Use These 3 Secrets To Stay Healthy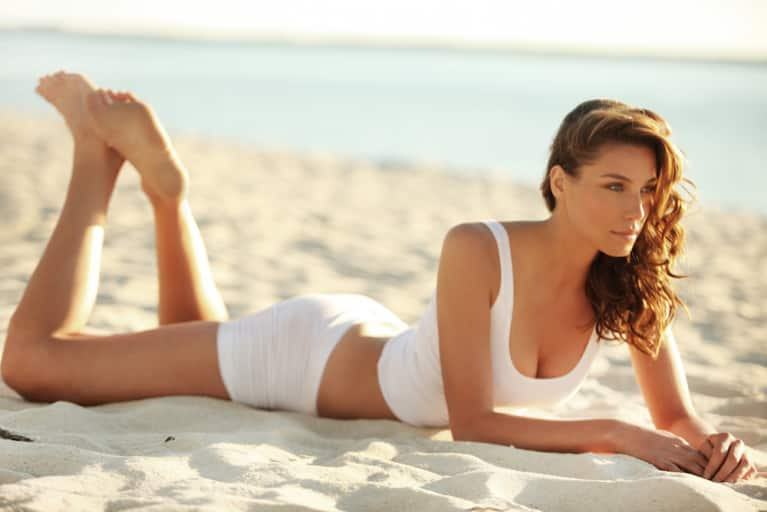 As a certified nutritionist, fitness expert, and international model. I have many health and wellness secrets up my sleeve to stay in top shape.
We've all heard the obvious ones that pertain to diet and exercise, but I'm about to share some that might surprise you. A few years ago, I was asked to star in a YouTube show called Woman vs. Workout, in which I participated in extreme athletic challenges from Navy SEAL training, motocross, FDNY training, and NASCAR racing, to name a few.
As you can imagine, the work was incredibly demanding. Not only did I have to push myself physically and mentally, I also had to look great while doing it. I found that diet and exercise alone was not enough to help me prepare for, and recover from, these challenges.
After the Navy SEALS training, it took two weeks for my nervous system to recover. I was breaking out from all the stress, and I needed to eat every few hours because I felt so depleted physically. I needed some solutions fast.
That's when I turned to these three healthy practices for an additional boost:
1. I reinvented my coffee habit.
I found that an average cup of coffee in the morning wasn't enough to keep me going through the challenges of the show. After reading about the benefits of Bulletproof Coffee and doing some experimenting of my own, I created a coffee recipe that turned me into a superhero. It's basically Bulletproof Coffee amped up a bit more! Here's what's in it:
Coffee + coconut oil + reishi mushrooms + turmeric + maca + cinnamon
What makes this recipe magic? For starters, the coconut oil boosts energy and speeds up my metabolism (as does the maca). Reishi helps prevent fatigue and supports cardiovascular health, while cinnamon helps regulate blood sugar and reduces cravings.
Finally, the turmeric boosts antioxidants and is anti-aging. So this coffee recipe basically makes you energized, skinnier, and younger! I drink it every morning now. I'm guessing if you try it, you'll become as addicted as I am.
2. I practice strategic sleep.
There's nothing worse than waking up feeling exhausted with a whole day of difficult tasks ahead. While filming Woman vs. Workout, I found myself tired at night, but too anxious to fall asleep, which meant I wasn't getting nearly enough rest to perform at my optimal level. It was time to take my sleep habits more seriously.
After trying many different methods of achieving better sleep, I found four variables that made a huge difference in the duration and quality of my shut-eye:
Room noise
Temperature
Darkness
Phone settings
While everyone is different, this is what worked for me: a sound machine, keeping the room temperature at 68 degrees, turning out all lights (and using thick curtains), and keeping my phone on airplane mode!
3. I started using an infrared sauna.
The last thing I discovered was an absolute game changer — the infrared sauna. I'd met a few influential doctors (including Frank Lipman, Mark Hyman, and Raleigh Duncan) who had told me about the wonders of the infrared sauna. So I decided to do some investigating on my own.
When I first read about the infrared sauna, I could hardly believe all the benefits. People boast about beneficial calorie burn, detoxification, skin purification, collagen production, reduction in cortisol, increase in serotonin, and muscle repair.
As soon as I tried the infrared sauna (which costs about $35 a session and can be found at wellness centers, like The Herban Alchemist in SoHo), I could feel all these benefits. It was like getting a massage, facial, and acupuncture all in one, and I was immediately hooked.
I credit infrared with helping me thrive while filming Woman vs. Workout, and I still use it to this day as my number one way to look and feel amazing. Full disclosure: I love it so much, I've started a movement to bring infrared to yoga and exercise classes through my company HigherDOSE (we install infrared heating systems in studios).
Implementing these practices meant better sleep and better performance in all areas of life. There's no doubt that proper diet and exercise are essential to a healthy lifestyle, but I recommend you try these three tricks to take your current routine to the next level. I promise you won't regret it!
Photo courtesy of the author
Related Reads: