New Target Ad Proves Any Age Or Shape Can Rock A Bikini
December 5, 2015 — 17:00 PM
That old "rule" about not wearing a bikini after a certain age? Forget it.
In a Facebook post this week, Target Australia shared a photo from its latest Christmas catalog. While the image was meant to showcase their new line of bikinis, the photo said so much more than just "swimwear." Take a look for yourself: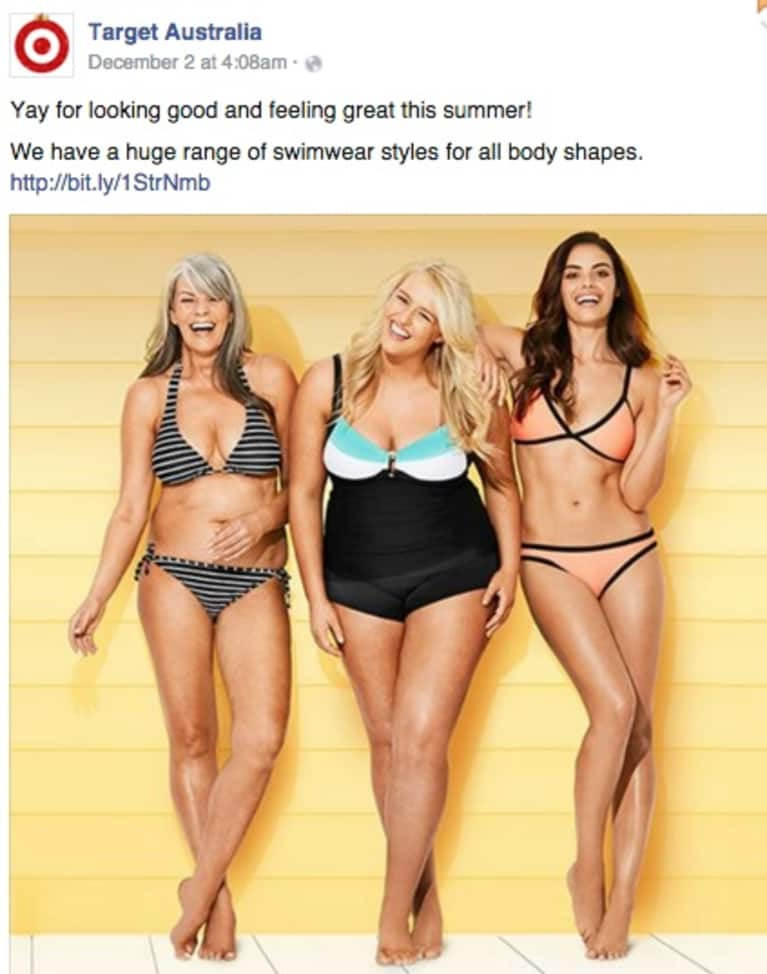 Right alongside a straight-size model is a gorgeous plus-size model and an older, gray-haired woman rocking a bikini. That's right, the woman on the left is Mel Brady, a 50-something model who took to Instagram to assure people the images weren't Photoshopped — that's her real body — and to say, "Very proud of how well I've done to represent my baby boomer demographic in a youthful way."
Facebook fans have come out in droves to let Target Australia know how much they appreciate the photos. "Well done, Target! It is so important on a social level to get the 'real bodies are beautiful' and the 'beauty has no age or race' message out there," wrote one commenter.
Another said, "Bravo Target for using a variety of women who are all gorgeous! May others follow your lead. Because these ladies look so good it makes me think that I can also look good in these items and therefore I am much more likely to purchase them. Well done."
Kudos to Target Australia for recognizing that age diversity is just as important as body diversity!
(h/t HuffPost)
Editor's note: An earlier version of this story claimed the Target Australia photo was part of Target Corporation's "Love Every Body" campaign. Though Myer Emporium Ltd. was granted the rights to the Target name and logo by the Dayton Hudson Corporation (now known as Target Corporation), the two companies are unrelated.
Photo: Stocksy