A Nutritionist Analyzed My Diet For 3 Days. Here's What I Learned
As the fitness and weight-loss editor at mbg, I try to stay up-to-date on the healthiest and most nutritious ways to fuel my body with food. Plus, we have nutritionists writing for the site all of the time — so I try to steal their tips when I can.
When registered dietitian, Katie Cavuto, offered up her guidance on how I could be eating just a tad bit better, I jumped at the opportunity for her expert advice. Below are three days in my diet, with tips from Cavuto on how I might have eaten differently. Most of the photos are taken with my iPhone, at my desk, where I eat a decent amount of my meals, so please forgive the poor quality.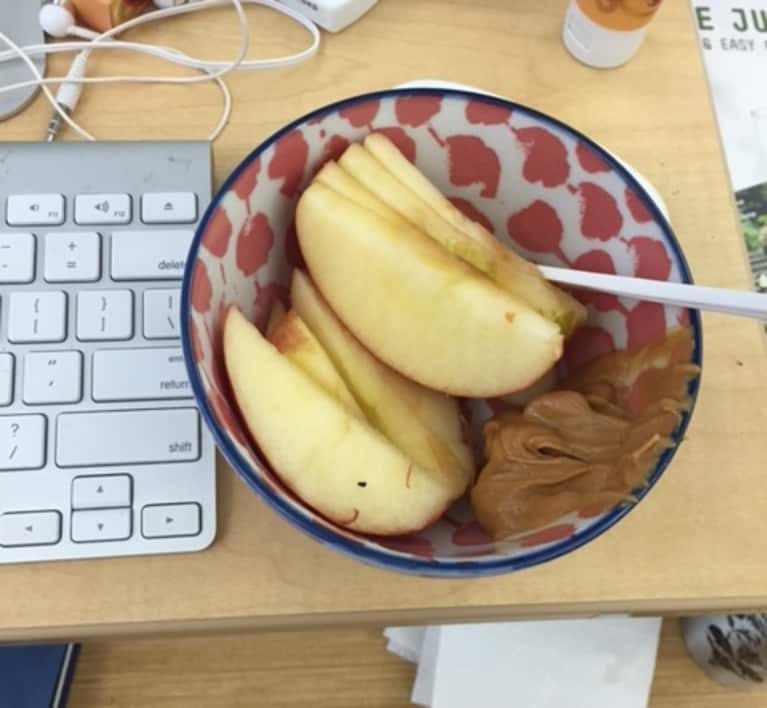 I usually eat an apple with cashew nut or peanut butter a couple days a week, it's a quick and easy breakfast for busy mornings.
Katie Cavuto, RD: "This is a great combination of carbohydrates and protein to start your day. Be wary of nut butters though — read the ingredients and avoid brands with added sugars. Instead, opt for a nut butter that contains nuts and that's it!"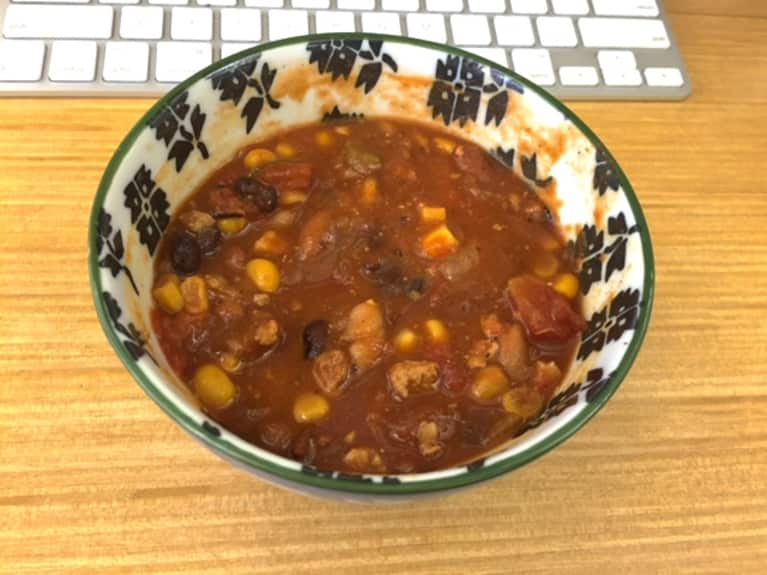 I try to bring leftovers for lunch whenever I can! This was a turkey chili I made one night, and brought to work the following day. It had organic corn, black beans, pinto beans, northern beans, and other veggies in it.
Katie Cavuto, RD: "Soups make for great leftovers and the beans add a hefty dose of fiber and plant-based protein to really satisfy. Experiment with batch cooking soups at home. This way you can control the ingredients and leave out unwanted sodium and sugar that can creep into canned varieties. Plus, when you make a big pot you can freeze leftovers for in a pinch anytime meals."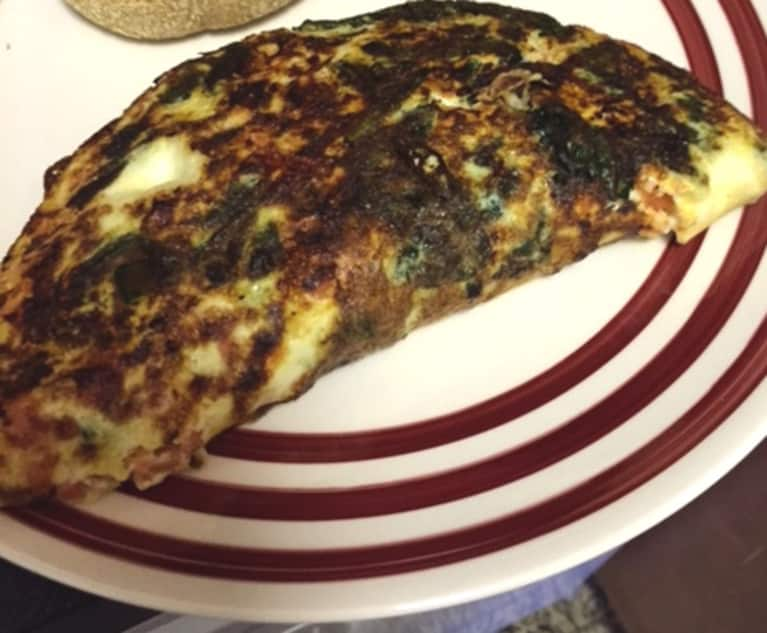 At least once a week, I make eggs for dinner. It's easy and doesn't require much thought. This week I had an omelet with two egg whites, one whole egg, organic spinach, and tomatoes. Sometimes I'll do one egg and one egg white, sunny-side up over kale and tomatoes. Oh, and I always add a little cheese!
Katie Cavuto, RD: "Don't fear the yolk — we now know that consuming dietary cholesterol will not increase our serum cholesterol plus the yolk is loaded with nutrients! You could also try batch cooking some chicken or fish as well as a variety of vegetables at the beginning of the week. That way you'll have healthy options on hand for dinners."
I was running a little late, so I grabbed a small package of trail mix that had crasins, almonds, and sunflower seeds. I was also feeling a little low energy and bought a large coffee with skim milk and one packet of Sugar In The Raw.
Katie Cavuto, RD: "While dried fruits can be a great source of antioxidants they can also be loaded with sugar. Choose unsweetened dried fruits like mango, unsulfured apricots, raisins, and cherries. As for your coffee — I often ask my clients which they want more…the coffee or the sugar? Try to wean yourself off the sugar all together if you can, and remember, no calorie sweeteners are not a good substitute (even if they are natural). They enable you sugar cravings with off the wall sweetness."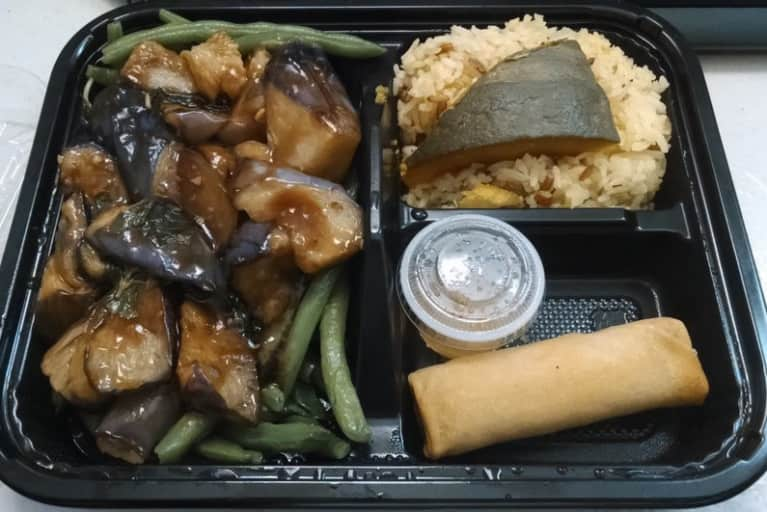 A few of my co-workers were ordering takeout, so I joined in and got marinated eggplant and green beans with brown rice and a small spring roll.
Katie Cavuto, RD: "Consider adding a plant-based protein like organic tofu or beans to round out this meal. I love that you enjoyed a small egg roll as part of a plant-centric, nourishing meal. When we avoid deprivation and instead eat mindfully, savoring our food — we tend to be far more satisfied."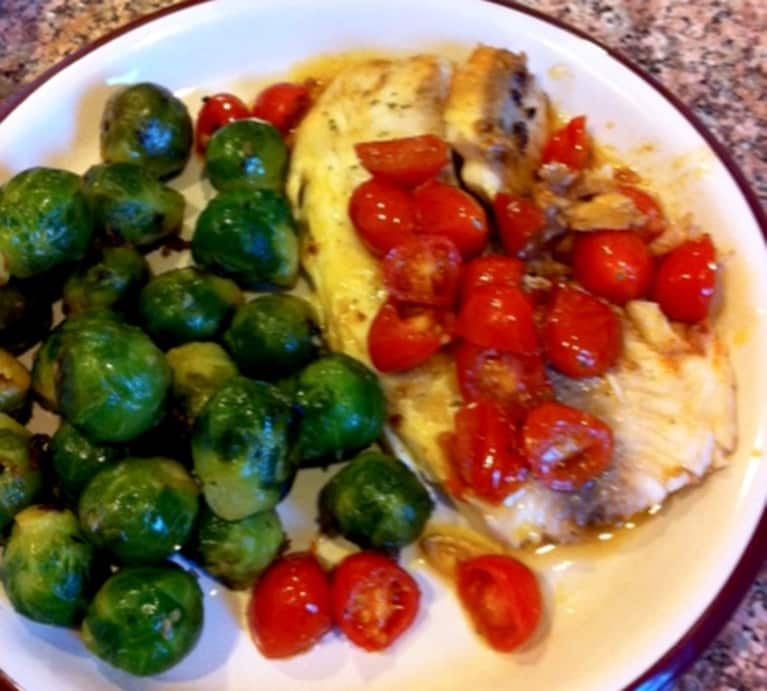 This is one of those boring weeknight dinners that I always have on hand, for weeks when I don't have time to go food shopping. It's baked tilapia with some sort of veggie on the side, this night was roasted Brussels sprouts. I season both with lemon juice, a bit of extra virgin olive oil, and some spices.
Katie Cavuto, RD: "Opt for wild-caught fish whenever possible as it tends to be nutrient dense. I love the use of spices and lemon to add flavor. We all can stand to eat more veggies every day, so I'm happy to see you incorporating vegetables into every meal."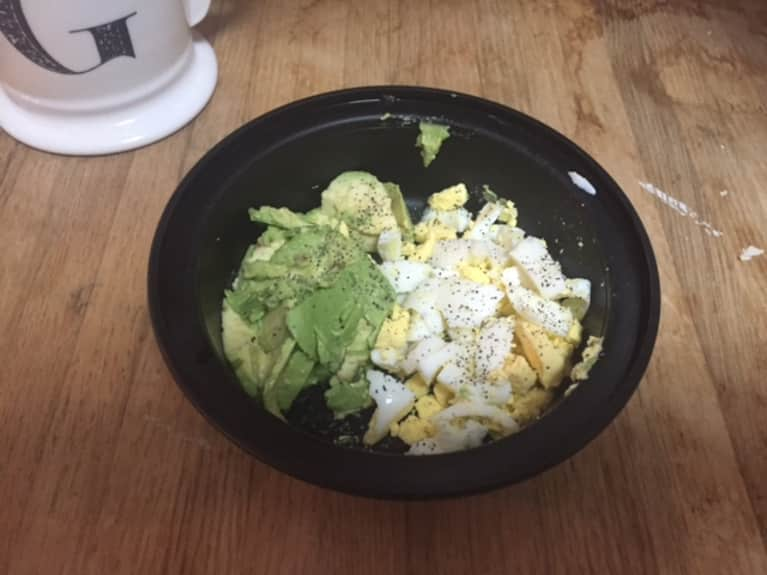 I pair one hard-boiled egg with 1/2 of an avocado on mornings when I work out and am extra hungry. I hard boil eggs on Sunday nights so this is really quick to throw together as I'm running out the door.
Katie Cavuto, RD: "This is a great combination of lean protein and healthy fats. Spruce up your avocado with a pinch of sea salt or some lime zest. A piece of fruit would round out this meal nicely as well."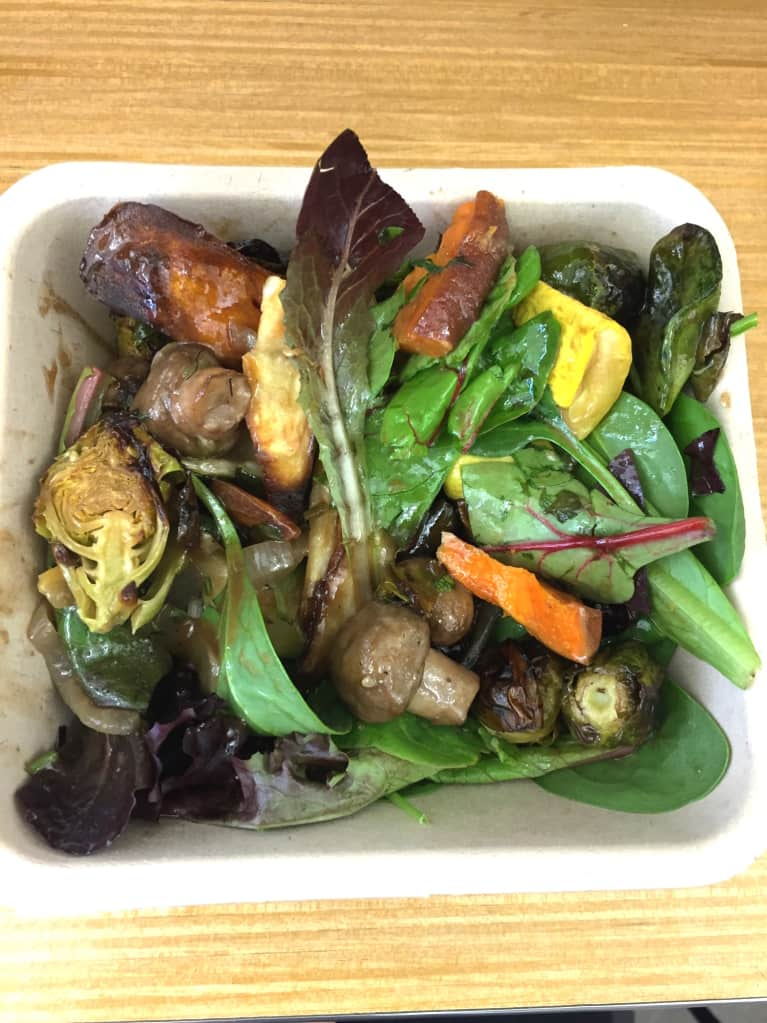 This is the salad I typically make when I don't have leftovers. There's a great salad bar near our office and I usually make a spinach salad with roasted veggies like Brussels sprouts, zucchini, mushrooms, and sweet potatoes. I also usually add some of the dressing they offer there, though I know it probably has too much sugar.
Katie Cavuto, RD: "I love all the veggies in this salad! Yes, store-bought salad dressings can be a culprit for sugar and they are often made with inexpensive, inflammatory fats like soybean oil (this includes organic varieties). Make your own using olive oil, lemon juice or vinegar and a touch of Dijon mustard. Combine the ingredients in a jar — shake, shake, shake — and you have a dressing that is bursting with goodness."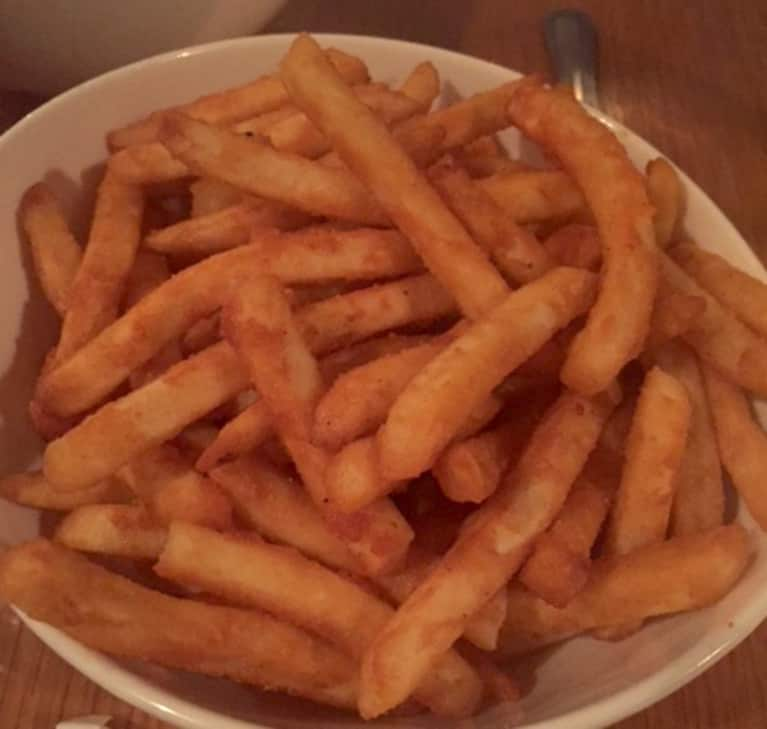 Friday night! I split a burger and fries with my sister... Not the healthiest option, but I love fries and indulge in them occasionally.
Katie Cavuto, RD: "It is so important to savor our favorite (more indulgent) foods from time to time. I love that you shared. This is a great way to have your cake and eat it too. A healthy lifestyle is about balance and mindfulness and a burger and fries can by all means fit into a nourishing meal plan!"
Cover image courtesy of iStock

Related reads: