Could This Age-Old Fruit Be The Next Big Superfood?
December 15, 2015 — 10:50 AM
Rich in antioxidants, vitamins, and nutrients, baobab fruit is the latest player in the race toward coveted superfood status.
The fruit comes from the baobab tree — a long-lived species native to Southern Africa, Western Africa, and Madagascar. It looks like a small coconut or large mango on the branch, and its pulp dries naturally in the shell.
Indigenous people in Africa often turn baobab into a thickening agent for soups, pound it to extract its nutritious oils, or enjoy it plain. The nutrient-rich fruit has also been used medicinally to treat asthma, bug bites, and skin conditions. Though it's relatively foreign outside its native Africa, baobab has been the subject of international health studies recently.
The fruit has nearly five times the potassium of bananas and 10 times the vitamin C of oranges. It's thought to have more antioxidants per serving than other superfoods like açai and goji berries, and it's super rich in soluble fiber. If consumed regularly, baobab could help improve blood cholesterol levels and heart health, control blood sugar levels, slow digestion, and facilitate fat burn.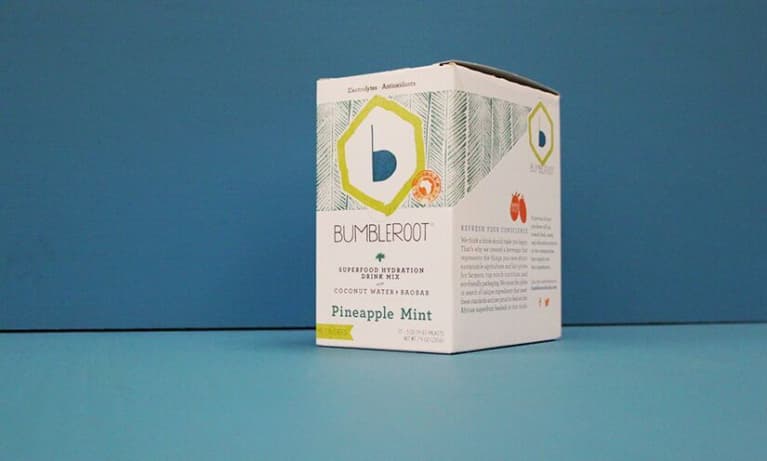 In an effort to help the superfruit find an international audience, Bumbleroot Foods is spearheading a baobab revolution of sorts. The new, California-based company sources baobab from Zimbabwe and reformulates it into powders and drink mixes that can be combined with water or added to smoothies and juices for a nutritional boost. They're pairing their product with a business model that puts the environment first.
"Over 50 million bottles are thrown away every day in the United States. We didn't want to contribute to that problem and are working to package our products in the most eco-friendly packaging we can find," Bumbleroot founder Sara Andrews told mbg in a recent email.
By avoiding bottles altogether and selling her product in powder form, Andrews is nixing the need for harmful plastics.
Since the baobab products first went on the market this summer, they've received glowing reviews from people looking to up their energy levels and improve physical performance.
"People have told us it helps them have a steady (not jittery) energy, and athletes have been telling us it decreases their recovery times," Andrews said.
Always game to try a new supposed superfood, the editorial team sampled some baobab drink mix — a combination of baobab, dried coconut water, and flavoring — during a recent morning meeting. We added the fruity mixes to water and drank up. Some of us likened the resulting beverage to Emergen-C — which makes sense considering its high vitamin content.
The blueberry flavor went over better than the pineapple-mint one, but overall, we thought both provided a relatively painless way to get a nutrient boost. Though I didn't notice any sort of dramatic physical benefits right away, I can see how a glass of the vitamin-packed concoction would help someone recover from a tough workout or combat the common cold.
Branch out (pun definitely intended) and try all that the baobab tree has to offer for yourself.
Keep reading:
Photo courtesy of Chloe Bulpin
Preview photo credit: iStock Photo