These Yearbook Photos Show How Smiling Has Evolved Over The Past 100 Years
November 30, 2015 — 20:14 PM
Think about it: getting your photo taken 100 years ago was a big deal. You didn't have the luxury of taking an unlimited amount of photos until you finally got one you liked. It was one and done.
So, over time, we've loosened up in front of the camera. We send goofy selfies to our friends all day long.
But back at the start of the 20th century, photographs were taken a lot more seriously — and that is reflected in the facial expressions of the subjects at the time.
A team of researchers at UC Berkeley are examining how photographic style has evolved over the years, using quite the unique data set: yearbook photos. Yes, those pimply, braces-filled photos with that splotchy blue background.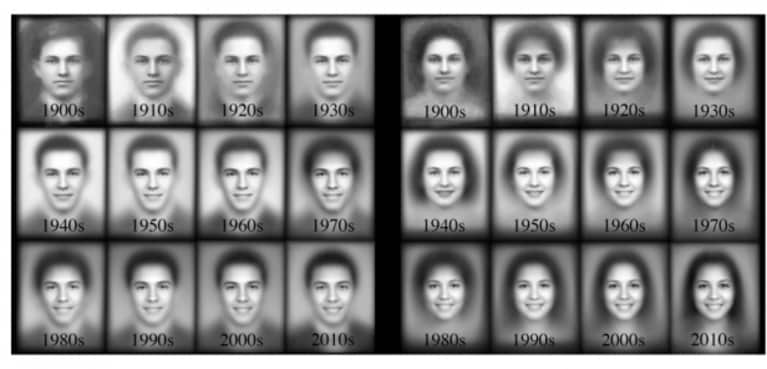 The team, led by Shiry Ginosar, PhD, is data-mining photos dating all the way back to 1905 in order to understand trends from different time periods. For the study, they examined 37,000 digitized images in total pulled from 800 yearbooks from 26 states in the U.S. Grouping the photos by decade to create an "average face" for the period, they were able to identify trends such as hairstyles, glasses, and facial expressions. Perhaps the most intriguing finding, though, is the evolution of smiling over the years.
At first, people posed their faces the same way they would have for a painted portrait (where they'd have to sit for hours at a time): something rather expressionless and tight-lipped. "Etiquette and beauty standards dictated that the mouth be kept small — resulting in an instruction to "say prunes" (rather than cheese) when a photograph was being taken," say the study authors.
But as photography became more popular, so did smiling in photos — especially among women. The data shows that women "significantly and consistently smile more than men." You can see how the smile gradually grows from decade to decade in the image above.
Kodak may have helped the smile movement along by using its ads to popularize the idea of smiling in photos so that the images recorded happy memories. We also just have better teeth now, and we're definitely not trying to hide those pricy works of art (thanks, Dr. Vidal!).
Keep smiling, keep shining. Knowing you can always count on me, for sure. That's what yearbooks are for.
(h/t MIT Technology Review)