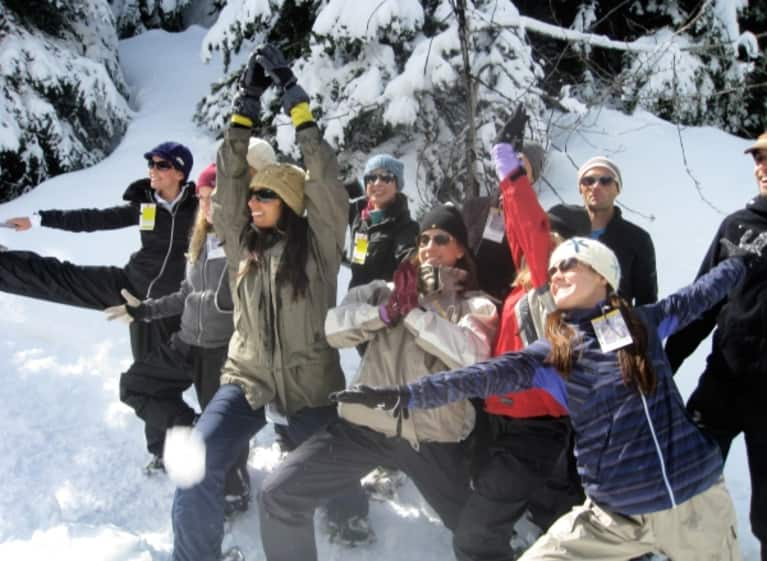 Many years ago a close friend mailed me -- as in postage stamp and mailbox mailed -- a quote from Aldous Huxley, who we both greatly admire. I do not have that sliver of paper handy, and Google is not helping me out, so I'll paraphrase: Man's greatness lies in his ability to set his goals in the realm of the unattainable. The value of such a sentiment resides not so much in the possibility of creating something altogether new as it does in serving as a reminder to not settle for mediocrity. Doing just what's expected of you to get by is not going to result in a fruitful and fulfilling life. And every once in a while, something unattainable is attained, and as a species we evolve.
Last week I was honored to be one of the 100 or so fitness professionals brought to Whistler, British Columbia, as part of apparel company Lululemon's Ambassador Summit 2011. Each store picks out regional instructors -- yoga, spin, trainers, runners, skiers, studio owners -- to be an 'ambassador' for a set period of time, which involves being in a photo shoot for that store, teaching community events and receiving a healthy amount of Lululemon clothing. This idea evolved into the Summit, which attempted (and succeeded) at uniting the company's broad community in one four-day series of workshops, networking and, being in Whistler, whatever winter sport you chose. I went with snowshoeing.
Living in a time when social networking is a crucial component of modern business, what fascinated me most about Lululemon, a publicly traded company (doing well at $91/share), is that in lieu of conducting market research board members produce events like the Summit. The company has struck a nice balance between maintaining strong brand identity while offering individual stores a great degree of flexibility: in being able to choose ambassadors, stock local instructors' DVDs and info, even down to painting the walls whatever colors employees choose (something that doesn't always go so well, I found out). More than anything, executives honor and know the value of one essential quality so often denied in top-down business organizations: creativity.
Like in college, I gained more from the Summit outside of the classroom, when meeting new friends and creating bonds, than during the sessions themselves. They were indeed powerful, though I'm not a huge fan of the Landmark Forum formula. Still, a number of people profited from those presentations, so I understand the value. My favorite was called Design Creation, where we broke up into ten teams to dream up new design features that we, as fitness professionals, wanted to manifest. Most importantly, we were told to not let outrageous ideas remain silent. The moderator held up her iPhone and remarked that 50 years ago such technology seemed impossible, making me recall the Huxley almost-quote cited above.
This is where innovation happens. You create the conditions for people to feel comfortable creating and take notes. Then you make the impossible a reality.
Out of respect for the company, I won't share some of the more 'attainable' ideas that were presented, often with much laughter and sometimes music. But a few that the team I was part of are worth noting, like a yoga pant that pulls lactic acid from your hips while you practice and a mat that does yoga for you. Who knows, maybe the hovering gym bag that floats effortlessly beside you while you walk to the club is closer than we think.
Community has always been an important component of creating enjoyable work environments; it defines the difference between having a job that you do for money and being involved in a career that you love. The community has to be actual, however, not a fictionalized ideology lip-serviced by executives that never plays out in actuality. This involves dialogues between participants regardless of job title or company role, in which every opinion is taken into consideration and no voice is silenced. I've seen examples of this in smaller, independent companies, where success is possible only by input from every person involved. Seeing it occur in a multi-billion dollar company is a powerful indicator that 'business as usual' need not be the mantra that continues to fuel the modern mindset. Of course, you have to start with a foundation worth building upon, and the gap between what's worth creating and frivolous expenditure is wide and sometimes hard to see. Fortunately, some people are getting it right.