Your New Favorite Cold-Weather Moisturizer Is Here
Welcome to "Product Of The Week." Just like the name suggests, we'll spotlight one product every week that not only does what it promises to do, but that also upholds the green, natural approach to beauty and skin care we value so much. Trust us when we say you can trust our beauty editor, Allie White — in her time here, she's sampled upward of 400 different products. These are her favorites.
I was recently told by skin care professional that at 27, I had the softest, youngest-looking hands she'd ever seen (outside of, you know, actual children). The then-stranger grabbed my hand as I reached to take something she was holding out, stroked first my palm, then the top of my hand and remarked at how smooth the skin was.
At this point in my life, I've been compulsively moisturizing my hands for about a decade, ever since I read in one of my mom's women's magazines that the hands are the first thing to really show signs of age.
When I spritz my hands with antibacterial spray after my morning subway ride, I apply lotion right after. Anytime I wash my hands in the bathroom, it's followed by a quick visit to the moisturizer corner of my desk. Next to the kitchen sink in my apartment, I keep a small tube of hand cream to apply after washing dishes. And every single night, without fail, I 1) take my makeup off, 2) floss my teeth and 3) slather my hands and arms in lotion.
I can't say with certainty why the thought of aging hands had such an impact on me back in high school, but regardless, I've been faithful to my moisturizing routine ever since.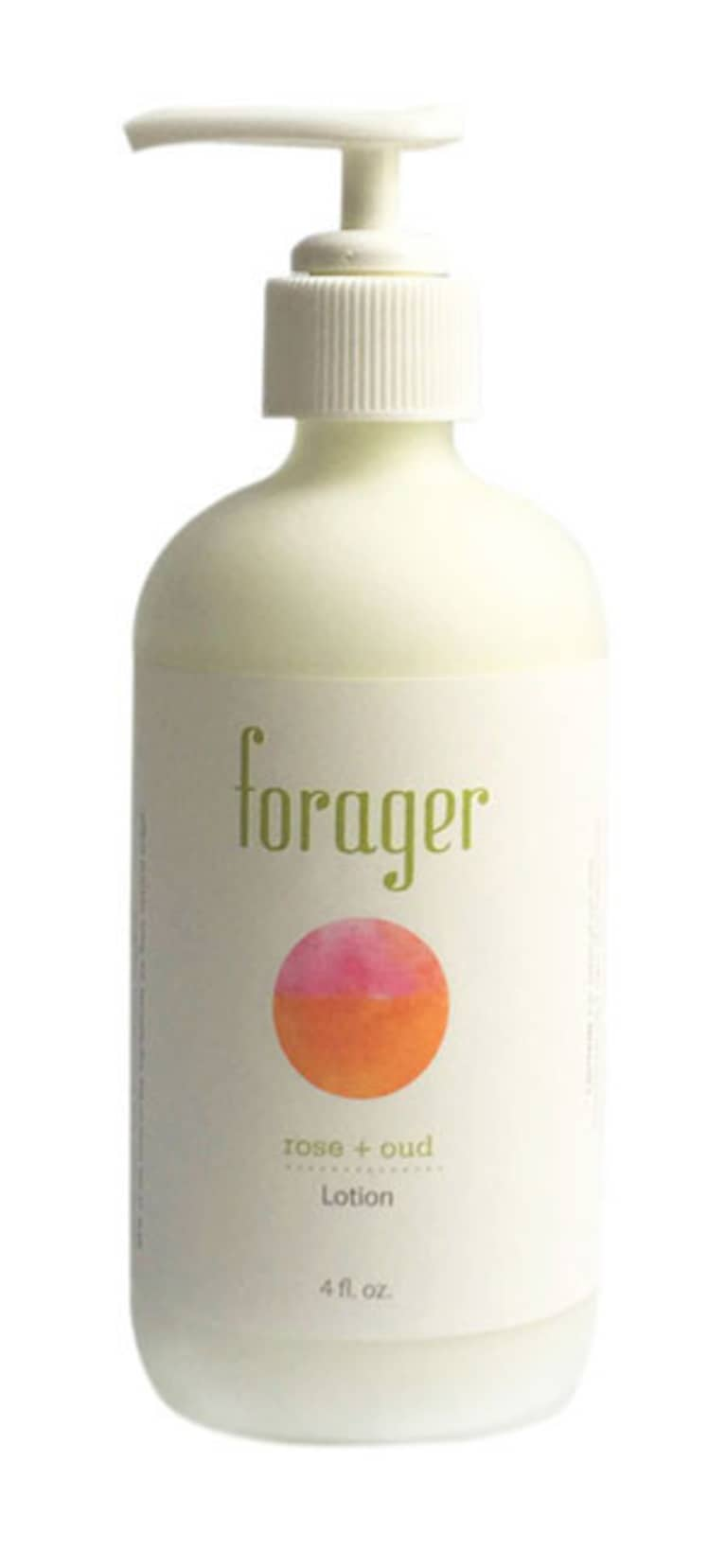 Unfortunately, in the world of all-natural skin care, I've found straight-up lotion/cream hard to come by. When it comes to skin hydration, the vehicle of choice is often oil. And while I'm all for oil (face, hair, body, etc.), I find it too slippery to use as an everyday hand moisturizer. Yes, it does a great job at getting deep into my skin and leaving my hands feeling plump and soft, but the few times I tried using it midday, my hands were sliding all over the keyboard as I tried to type and doorknobs were incredibly difficult to open.
So when forager's Rose + Oud Lotion landed on my desk a few months ago, I was ecstatic. Not only is this stuff made in small batches right here in Brooklyn, it's also 100% vegan, and paraben- and sulfate-free. It comes in a recyclable glass bottle and the pump dispenses just enough of the product at a time. (This may not seem like a big deal, but think about how many times you've accidentally squeezed/pumped out too much lotion and had to beg a friend or loved one to literally take some off your hands by wiping the excess onto their skin. Just me? Cool. Moving on.)
Its consistency is perfect for leaving my hands feeling truly moisturized without any greasy residue (adios, slippery keyboard), and the floral-meets-smoky-forest scent is subtle and delicious.
In terms of ingredients, the first thing on the list is aloe leaf juice, which is packed with antioxidants like beta carotene, vitamin C and vitamin E, all of which are anti-aging. Then there's sunflower seed oil, which is rich in linoleic acid and proteins, both of which helps decrease water loss in skin, are anti-inflammatory and fight free radicals. Rounding out the ingredient list is everyone's favorite superfood, spirulina, which is packed with protein to help build collagen and elastin.
At $26, the price may seem a bit steep for something that sits on my desk at the office, but I promise it will last you for a while, even if you're like me, a compulsive hand moisturizer.
forager Rose + Oud Lotion, $26, foragerbotanicals.com
EWG Score: 4 — moderate hazard
Illustration by Chloe Bulpin, mbg creative; photo courtesy of brand