4 Mantras + Movements To Invite Love
Here are four powerful yoga movements, coupled with mantras that you can use to generate love — both internally for yourself and externally for our troubled world. As you practice the poses, breathe deeply and mentally repeat the mantras during each pose. Create a rhythm with the breath and the words. Always spend an equal amount of time on the right and left sides of your body.
Photo courtesy of iStock
1. Crescent Lunge (Anjaneyasana)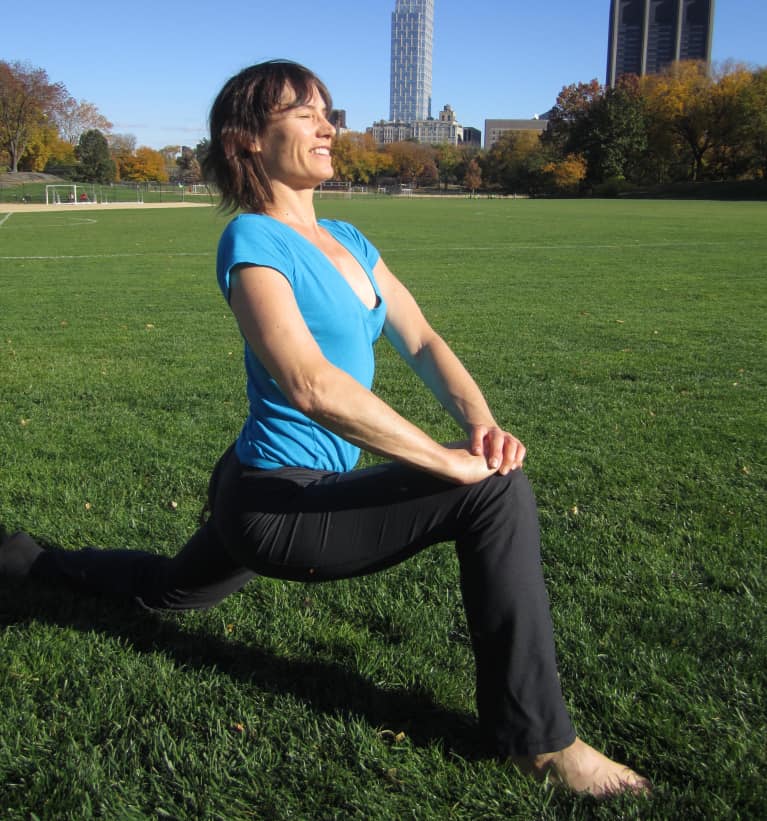 Mantra: I am fearless.
The goal of groups like ISIS is to create fear in the hearts of their proclaimed enemies. Choose not to live in fear by embodying fearlessness. Crescent lunge is a beautiful pose to open the hips, the place where we normally hold the emotion of fear. From downward dog or a simple table pose, step your right foot forward in between your hands and slide your left foot back so your legs are wide apart. Put your hands on your front knee and straighten your arms so your spine curves like a crescent moon. Reach your arms up and lean back a little more. Repeat the mantra.

2. Archer's Pose (Akarna Dhanurasana)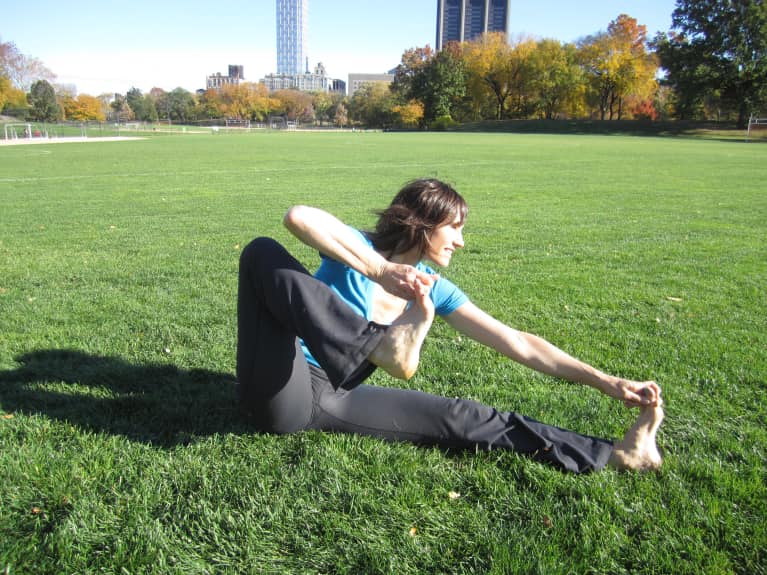 Mantra: I am love.
This powerful pose simulates the vision of an archer drawing an arrow to fight for the cause of love. Sit on the ground with your legs stretched out in front of you. Use two fingers to grab both big toes. Breathe in. Breathe out and lift one leg by bending your knee and leaning back. Keep holding your straight leg too! Sit up tall and imagine an arrow of love shooting out from your heart. Lift your bent leg like you are drawing a bow. Breathe calmly and focus your eyes on the target as you repeat the mantra.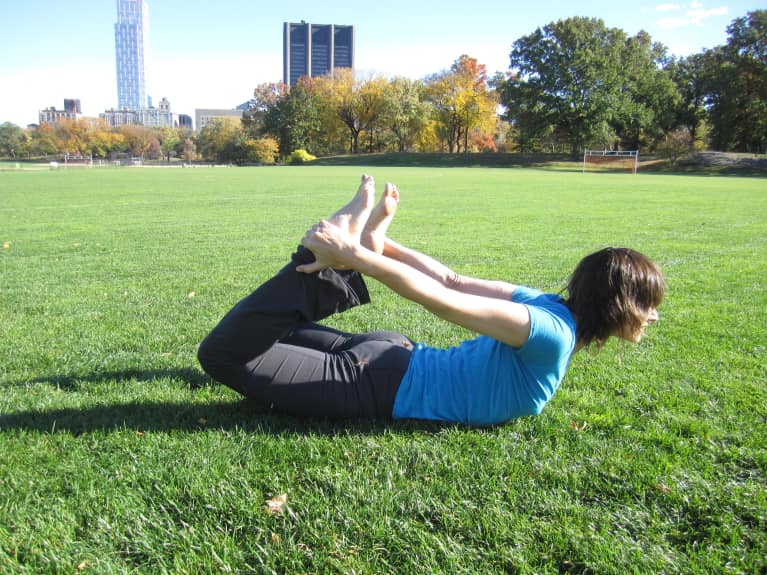 Mantra: I open my heart to forgiveness.
Drawing our arrows in revenge might feel right, but ultimately violence perpetuates violence. In bow pose, your body is mimicking the shape of a weapon, but you are actually prostrating yourself in a vulnerable position and opening your heart. Lie on your tummy. Bend your knees and reach back to grab the outsides of your ankles. Inhale and lift your feet and chest toward the sky. Your body is like a bow and your arms and legs are the string where an arrow is placed. Repeat the mantra as you take long deep breaths. After you gently lower to the floor, rock back and forth or side to side as you continue to repeat the mantra.
4. Wild Thing or Rock Star (Ardha Urdhva Danurasana)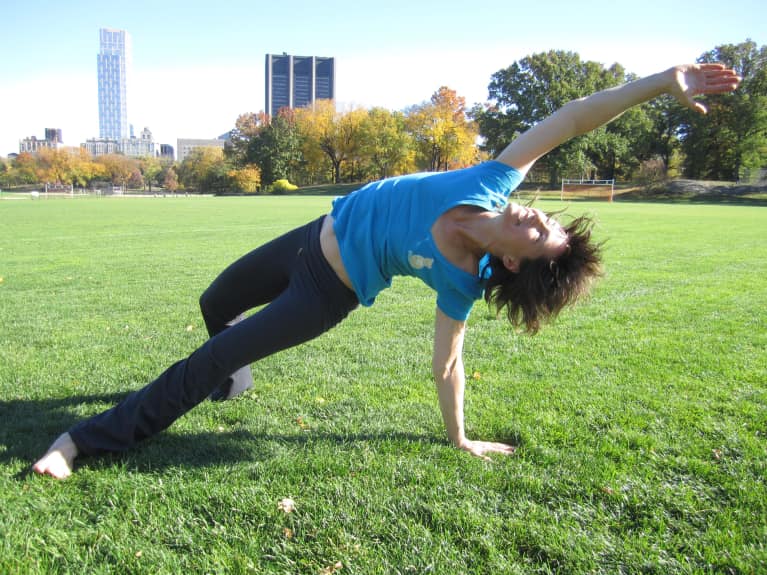 Mantra: I embrace joyfulness.
Inviting joy and fun into your life is a subtle way to combat the insidious morbid curiosity that feeds seemingly endless streams of bad news. Freedom and joyfulness are encapsulated in this fun and playful pose. Get into wild thing either from side plank or from downward dog. Keep your hips high and your head heavy and look up at your top hand or the sky. You'll almost go into a back bend (wheel), but not quite. Breathe and repeat the mantra. Allow yourself to open. Have fun with this pose!
When you've finished these four mantra movements, be sure to practice a few gentle twists to relieve your spine. Repeat the mantra that gives you the greatest sense of peace, safety, and love as you conclude the series. Know that by speaking your words and opening your heart, you have personally contributed to humanity's goal of world peace. Namaste!
Related reads: