An Absurdly Good Gluten-Free Stuffing For Thanksgiving
This dish is a great addition to your Thanksgiving table, especially if you're serving gluten-free guests. But really, everyone will want to save room on their plates for this ridiculously delicious Cornbread Stuffing With Pancetta.
For more gluten-free recipe ideas, check out my course: The Complete Guide To Gluten-Free Cooking.
Gluten-Free Cornbread
Ingredients
2 cups gluten-free flour blend (I used Pamela's Artisan AP Flour Blend, if you use a gluten-free blend without xanthan gum, make sure to add 1 teaspoon xanthan gum to recipe)
2 cups cornmeal
2 tablespoon baking powder
1 teaspoon kosher salt
4 eggs
2 cups milk or non dairy alternative
½ cup butter
1/3 cup honey
Preparation
1. Preheat oven to 400 degrees F. Grease a 9 x 13-inch baking pan.
2. Sift together the flour, cornmeal, baking powder and salt. Combine the milk, eggs, butter, and honey.
3. Add the liquid ingredients to the dry and mix. Pour batter into baking pan and bake for 25-30 minutes or until a toothpick inserted into the center of the cornbread comes out clean and the edge of the bread starts separate from the pan.
Gluten-Free Cornbread Stuffing With Pancetta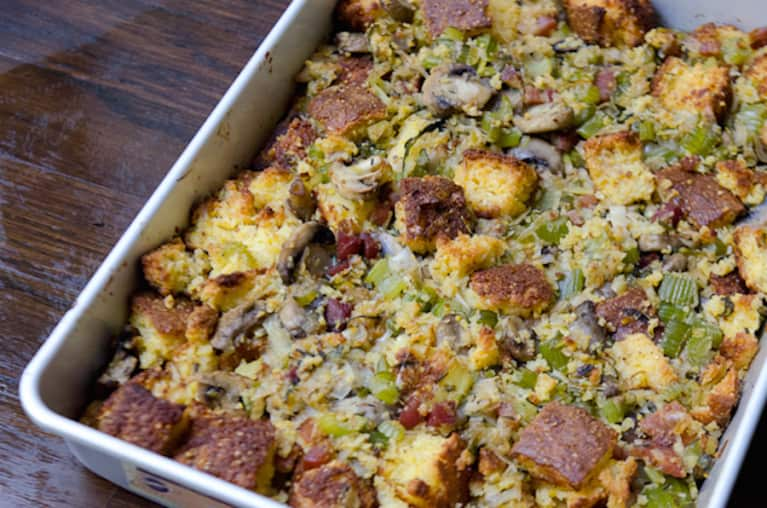 8 cups gluten free cornbread, cubed into 1" cubes and toasted (recipe below)
1 tablespoon olive oil
1 cup pancetta, diced (about 3-4 slices)
2 leeks, rinsed well and sliced thin
2x 8-ounce packages sliced white button mushrooms
4 cups sliced celery, ¼" thick
1 granny smith apple, diced
1 ½ teaspoons salt
1 teaspoon fresh thyme leaves
8 sage leaves, julienned
½ teaspoon fresh rosemary, finely chopped
½ teaspoon pepper
1/8 teaspoon cayenne pepper
¾ cup chicken stock
¼ cup heavy cream
Preparation
1. Preheat oven to 350 degrees F. In a large skillet, heat olive oil over medium heat. Add diced pancetta and cook until pancetta is crispy. Remove crispy pancetta and place into a small bowl.
2. Then add leeks, and celery and sauté on medium high for 5-10 minutes, stirring frequently. Once leeks and celery are soft, add mushrooms and apples and cook for another 5 minutes.
3. Then add thyme, sage and rosemary and stir. Remove from the heat and put the cooked veggies into a large mixing bowl, then add the toasted cornbread. (To toast the cornbread, cut the cornbread into 1-2 inch and toast in the oven on a sheet pan at 300 degrees for about 20-30 mins. Watch them carefully. )
4. Pour heavy cream and chicken stock over everything and mix to combine thoroughly, it's okay if some of the pieces break apart it just makes it better in the end!
5. Grease a 9 x 13-inch pan with oil of your choice. Dump cornbread and veggie mixture in and bake for 30-35 minutes.
Photo courtesy of the author