A No-Bake Salted Caramel, Pecan & Sweet Potato Pie (Fitness Expert Approved!)
Our Move Nourish Believe–approved take on the traditional Thanksgiving pumpkin and pecan pie not only looks impressive, but it tastes like heaven and it's quick and easy to throw together. And the best part? There's no baking required.
This 20-minute no-bake pie is gluten-free, dairy-free, refined-sugar-free and 100 percent vegan. Dessert without the guilt … yes, please!
Lorna Jane Clarkson's Salted Caramel, Pecan & Sweet Potato Pie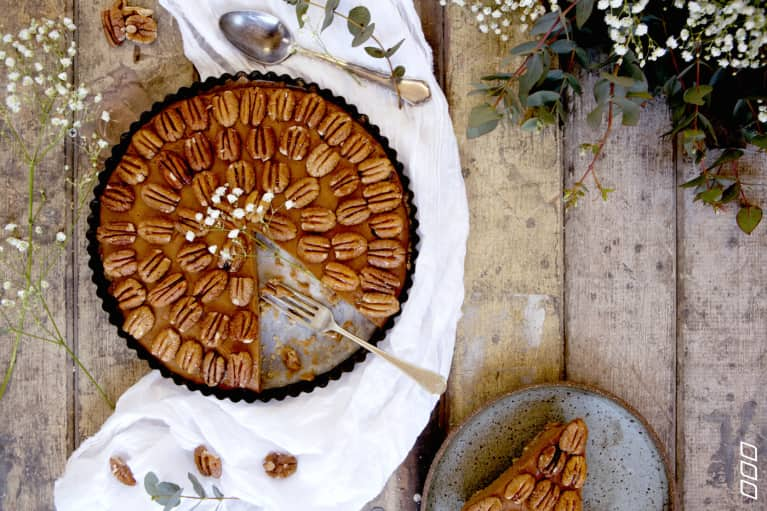 Makes 12-14 slices
Ingredients for the base
1 cup cashews
½ cup almonds
½ cup macadamias
¼ cup cacao butter, melted
1½ oz. (40 ml) maple syrup
3 medjool dates
1 teaspoon cinnamon
Pinch salt
Ingredients for the filling
1 medium sweet potato, roasted whole at 180°C/350°F for 30 minutes
13 oz. (400ml) coconut milk
1 teaspoon agar agar powder
1 teaspoon corn flour
¼ cup coconut oil
¼ cup maple syrup
⅔ cup roasted pecans
3 medjool dates
½ teaspoon salt
1 teaspoon lemon juice
1 teaspoon vanilla
1 teaspoon cacao powder
½ teaspoon ginger
½ teaspoon allspice
½ teaspoon nutmeg
1 teaspoon cinnamon
7 oz. (200 grams) pecan halves, roasted 5 minutes
Preparation
1. For the base, Line a 12-inch (30 cm) tart pan with baking paper and grease sides. Place nuts in food processor and blend until breadcrumb consistency. Add remaining ingredients and blend until just combined. Press into pan and place in freezer to set.
2. For the filling, preheat oven to 350°F (180°C) and roast sweet potato, whole skin on, for 30 minutes or until soft. Cut in half and squeeze out cooked sweet potato into blender.
3. In a medium saucepan, whisk coconut milk and agar agar. Heat over low to medium heat for 5 minutes, whisking to keep smooth. Dissolve corn flour in 1 tablespoon of water and whisk into coconut milk mixture. Stirring over heat for another 2 minutes until thickened.
4. Pour into blender with sweet potato and all remaining ingredients, and blend until smooth and creamy. Pour over base and top with roasted pecans. Place in refrigerator to set for 3 hours or overnight.
Photo courtesy of the author