Q & A with Lady Ruth of Jivamukti Yoga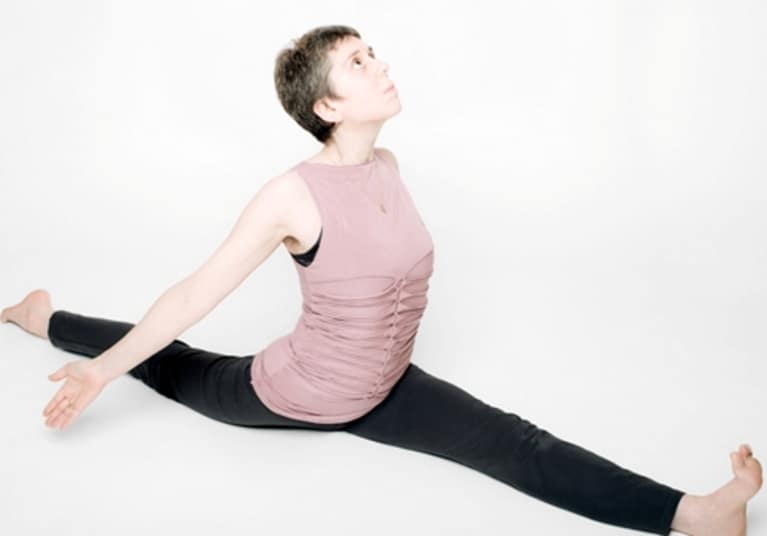 Move over Lady Gaga. In New York City yoga circles, there's only one Lady -- and her name is Lady Ruth.
Ruth Lauer-Manenti, affectionately known as Lady Ruth by many of her students at Jivamukti, began practicing yoga in 1989 as a way to heal from a bad car accident. Since then, her keen observation of everyday beauty and blend of spirit and movement has made her one of the most respected teachers around.
Lady Ruth talks to us about how she began her practice, her inspiration, and more.
How did you first come to yoga? How has yoga helped heal your body?
I first came to toga when I was 20 after spending 2 years in bed after a terrible car accident where I broke my neck, one rib, my jaw and had over 100 stitches throughout my body. I had a nurse in the Kingston Hospital in 1983 who was a devotee of who at that time was called Bhagavan Rajneesh. She was the most beautiful person I had ever met. She had this inner beauty that shined into the room and I always felt blessed in her presence. She took incredible care of me and taught me about nutrition. Her boyfriend taught me some yoga asana, because at 22 I was like an old lady -- very stiff and always afraid of falling or catching a cold. I took to the yoga immediately. It seemed familiar to me, like something I had done before and it brought me great relief. It was as if for years I had been carrying a backpack that was very heavy and I had finally taken it off. It was mysterious because I had never been interested in sports and I was always a bit clumsy or awkward, but on the yoga mat I could be graceful. As I continued with seriousness with yoga there were many postures that I felt I should stay away from on account of my neck injury -- especially headstand. When I met my Guru, Sri K Patabhi Jois, who I got to because of a heart felt suggestion by my teacher Sharon Gannon, I told him that I would not do headstand because I had broken my neck. Everyday he insisted that I do it, yelling "Yes, you do you go you do you can, yes you can!" Finally after months of fighting with him I thought that maybe he was right and that I should consider what he was saying and upon that consideration I felt free, like I could do anything. Up I went and Guruji said, "Yes, yes" and walked out of the room so as not to let it go to my ego. This experience got me thinking -- what else do I assume I can't do, and why do I limit myself? Through my Guru, who always lives in the realm of possibility, my potential started to peek through my life. I was able to do many things that I never dreamed possible, and while it started on a physical level, like doing headstand, it proved that this was true in many other ares in my life. Doing headstand was just the beginning.
Who's inspired your practice? People? Books?
My practice was and is and will continue to be inspired by my teachers Sharon Gannon and David Life. Their faith in the practice as a method of Self Realization, as a way of becoming who we are meant to be, happy servants or perfect helpers of the Lord never wavering in the inevitable ups and downs of running a yoga center in NYC and now in other places all over the world, never stopping delivering their message of veganism, keeping the yogi's tradition of a gentle diet  from being lost or put off to the side continues to compel me to work for them, with them and stay always by their side. I want to go with them wherever they are going and that involves staying on the path of yoga and going deep into that path.
I am also inspired by the yoga community at large as I have seen it grow into something so good and lovely over the past 20 years. I am also inspired by the yoga texts, especially the Yoga Sutra and the Bhagavad Gita as they are so poetic and practical and mysterious and kind of lay out a fantastic adventure that is ours if we finally get to a place in our lives where we want it.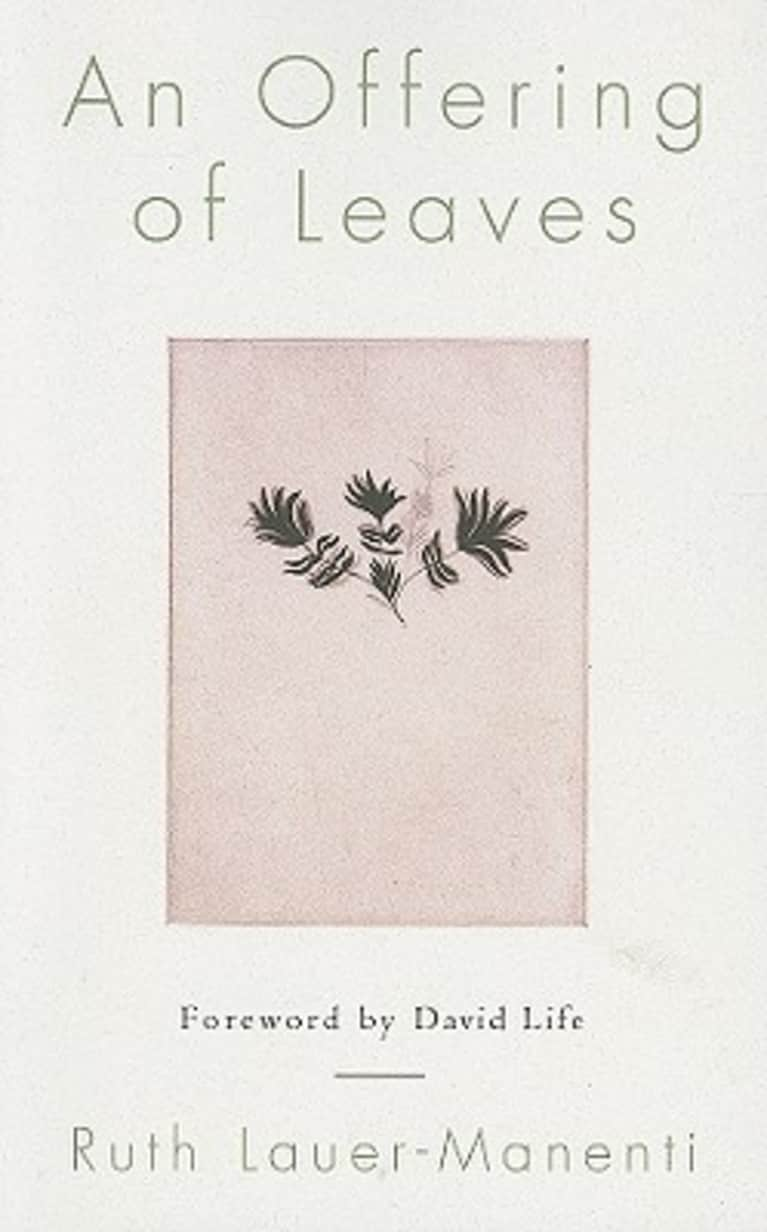 Seeing the beauty in ordinary circumstances is something you wrote about in An Offering of Leaves -- how does yoga help us see this beauty?
Much of the lore around yoga is beautiful. Saraswati wears a garland of flowers and she captures our attention because she smells good -- she is fragrant. She stands in the moonlight looking radiant, the moonlight shines through her white dress. She is playing the vina. The instrument is curved like her body. She is singing in Sanskrit, devanagari, the language of the Gods. She is sitting in the middle of a lotus flower. She is so comfortable in the flower that she is like an extension of the flower. Verses and verses of poetry are there, how she spends her days, how she lives her life. The poetry and the music that she offers encourages us to respond to the beauty of the physical world. When we respond to the beauty outside of us we fell that we are a part of that beauty -- that it exists within us as well. If we look for beauty inside we will never find it unless we can see it outside. When we see it outside, the Lord says in the Bhagavad Gita, it is especially there in the season of Spring, the beauty inside unfolds and then we want to offer something of beauty back to the outside so that finally inside and outside don't feel as opposites but as friends doing a dance.
You have an MFA -- how do yoga and art mix? Are they similar? Has being an artist influenced your practice? Has your practice influenced you as an artist?
Having two disciplines is my challenge I suppose. I toggle back and forth from my study of Sanskrit, my time on my cushion and my yoga mat and my time in the studio. Both take a lot of time and hard work and dedication but I stick to both as it seems that neither one is just some kind of faze I'm going through. Both demand humility and concentration and discipline and both bear fruits that are tremendously exciting. I have received a lot of appreciation from others for my yoga classes, and very little appreciation from others for my art. If I telephone anyone in the yoga world I will be phoned back immediately but no one ever calls me back in the art world so the work in my studio has yet to really communicate to others, whereas as a teacher I am a communicator, people are listening. Because of my yoga practice I have the courage to take whatever idea I may have in my studio, no matter how small and primitive it may be, and see it through. Because of my love and appreciation for the arts, I try to bring a certain level of poetry -- visual and contextual -- to my classes, which I think helps people love the teachings and see their relevance at this time.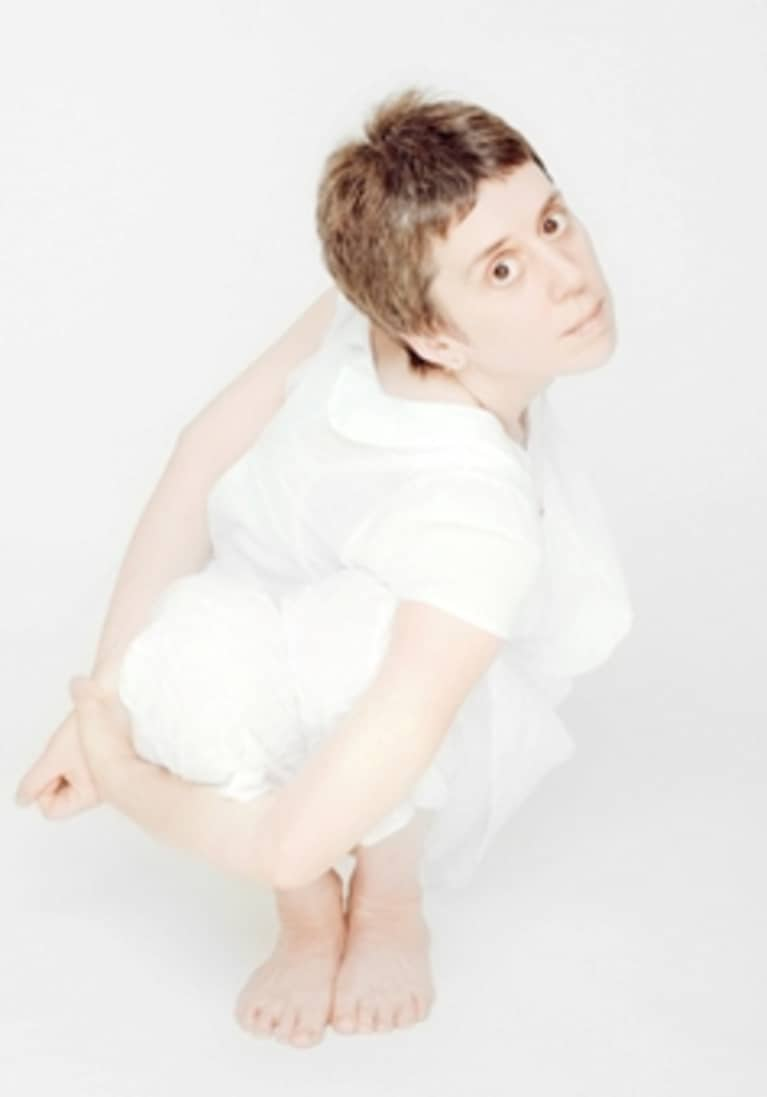 Any advice / tips for someone who is just starting a practice?
Stick with it, never assume you have anything "down," find a good teacher and serve them well, don't be competitive, practice daily, keep a vegetarian diet, and keep making the purpose of your practice higher, find a way of linking your practice to the benefit of others.
What does yoga mean to you?
Yoga is togetherness, we are all in this together so there is nothing from outside threatening.
What are you currently working on? What's next?
I am currently preparing 4 lectures on Master Patanjali's Yoga Sutra that I will be presenting at this year's Jivamukti's Teacher Training at Omega Institute. The last sutra that I was going over is in book 3 and it has to do with language. The yogi can separate the words and the ideas from the meaning that the word and ideas are super imposed or sitting on. By doing this the yogi can understand the sounds and cries of all the creatures. This is why the enlightened being looks at all the scriptures and realizes that the words and ideas may be different in relation to time and geographic location, but the underlying message is all the same, there is just a different set of words used. It also implies that the yogi is s good listener, nada brahma, the sound of God. Some friends of mine went on a 3 year retreat about a decade ago and one lady was deep in meditation when she heard the sound of someone crying. It stirred her out of her meditation, she left her yurt and followed the sound way past her yurt. Eventually she found a bunny rabbit half way down the mouth of a snake and pulled it out and saved this bunny rabbit who then accompanied her and the other retreatants for years. The yogi hears the cries of all the creatures in the world.
Next, hopefully will be another book with the help of my student, editor and dear, dear friend Andrea Boyd.
Photos by Daniel Francisco Valdez: superluminal.zenfolio.com