What I Eat In A Typical Day: "Feed Me Phoebe" Tells All
As a food woman of many trades — cookbook author, culinary instructor, and gluten-free chef — I spend the majority of my day cooking and shooting, or dreaming and writing about my meals.
Several years ago, after being diagnosed with an autoimmune disease, I had to dramatically change my approach to eating. But as a passionate French fry aficionado and human of limited willpower, I refused to completely give up on all my favorite comfort foods. So today, on my blog and in my daily routine, I try to eat a lot of "good" with a little "bad" — a philosophy I like to call healthy hedonism.
I mostly eat at home, on food that I've prepared from scratch, usually during a weekend cooking spree. In doing so, I believe I'm already putting my best health foot forward. So take a peek at what happens behind my closed kitchen doors. Here's what a typical day looks like in my wacky little food world!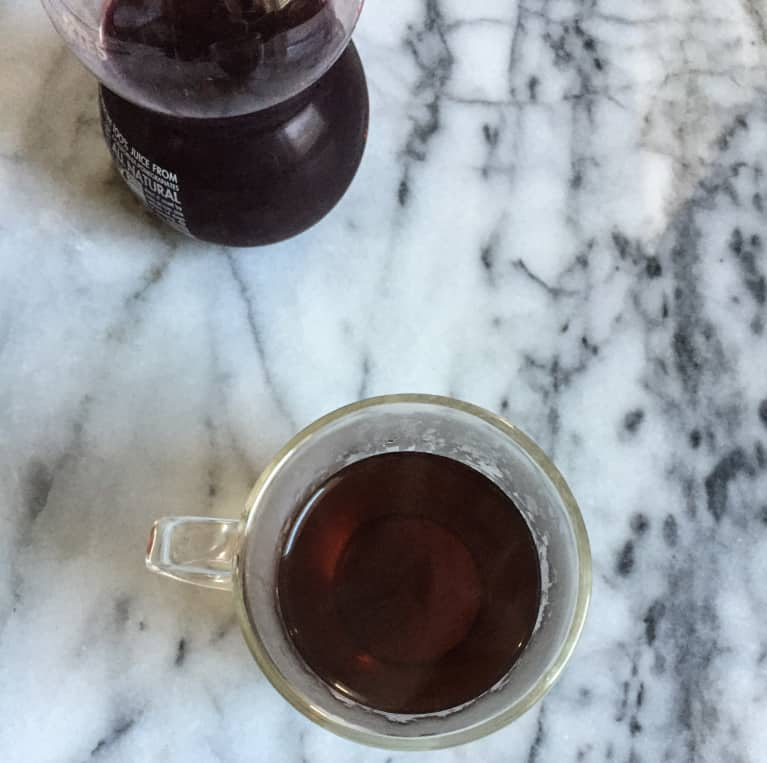 I usually start the day with tea. I'll put the kettle on first thing, and then let the bag steep while I do my morning mediation. I've tried to replace coffee with other hot drinks that are lower in caffeine. When I'm feeling very droopy, that's green tea. When I have more energy, it's hot water with lemon. But on this particular morning, I enjoyed a new KILLER concoction: black pepper tea with pomegranate. In Aryurvedic medicine, black pepper is great for digestive issues and for stimulating the immune system.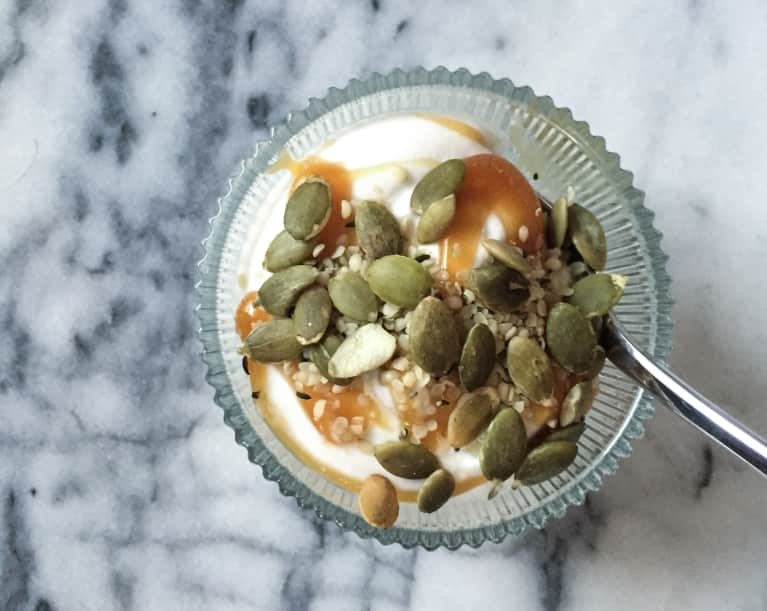 My breakfast often depends on where I'm working that morning. Sometimes I'll be at my local coffee shop. Other times I'm at home. When I'm on the go, I'll usually grab a single serving of siggi's yogurt. But when I'm home working on a recipe at home, like on this day, I'll get a little more elaborate. This little bowl is composed of Anita's coconut yogurt (a delicious dairy-free option), topped with a small dollop of raw manuka honey, and garnished with hemp seeds and pepitas for some fiber.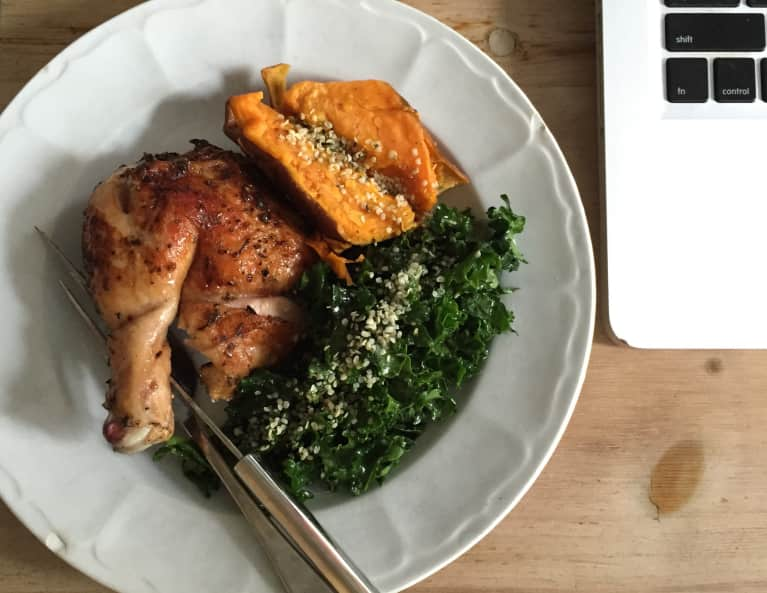 When I'm working from home, I usually barely make it to noon before I want to stick my face in one of the many containers of food in my fridge. When I get that impulse, I eat, even if it's only 11 a.m.
This lunch was a mix of store bought and homemade items. I'm not a staunch DIY-er and I feel no shame in that. We're all creatures of convenience, and sometimes you have to cut some corners or supplement. Cooking every meal from home is a noble aspiration, but it's not necessarily realistic for most busy people, myself included.
I love grabbing a whole organic rotisserie chicken from my local market, Foragers, at the beginning of the week, and then use it to round out some of the make-ahead sides and salads I've pre-cooked over the weekend. Roasted sweet potatoes and marinated kale are two of my favorite meal "building blocks" that I keep on hand in the fridge so I can throw together lunch in under a minute. Oh, and there are hemp seeds and olive oil galore on my plate.
3 PM: Unintentional Snack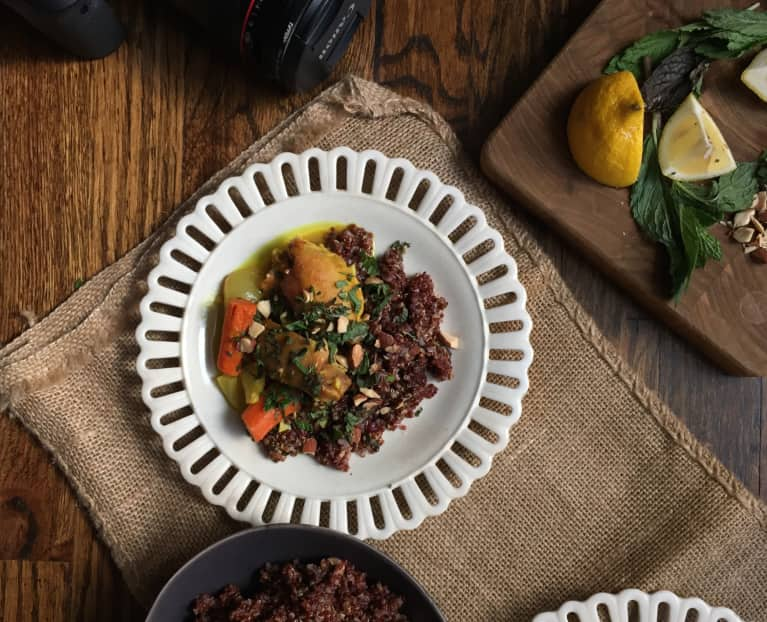 I'm not a big snacker, but when you work around food for most of the day, you can't always avoid it. The light in my apartment is best for shooting in the afternoon, which is when I was taking glamour shots of this Roasted Moroccan Chicken recipe. I had a few bites of it before I plated to make sure the recipe turned out just as I had envisioned it. And then I had a few more nibbles afterwards. Sometimes the plate looks more picture-perfect (in a shabby chic, real sort of way) when there's a bite taken out of it. Or so I keep telling myself…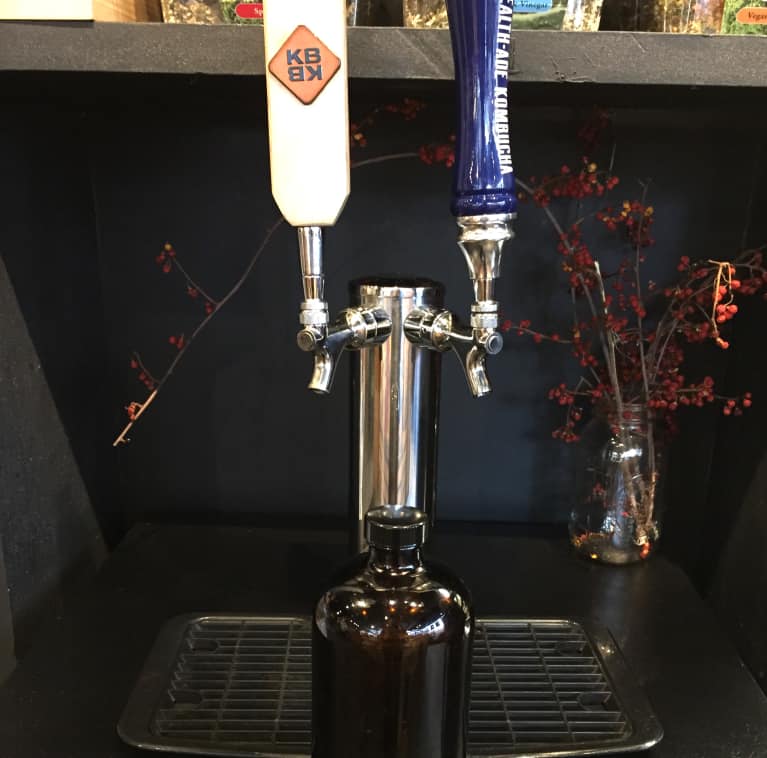 I try to mostly steer clear of the beverage aisle and focus on water. But I've been on a bit of a probiotic tear recently and can't get enough kombucha. I love refilling my growler every week so I always have enough on hand for a few swigs. When I'm buying a bottle, I make sure that it's a brand or flavor that's low in sugar. Even without the added sweetener though, I find that this bubbly beverage satisfies my cravings in the same way that the soda of my youth did. It's a great healthy treat towards the end of the workday, in place of a glass of wine.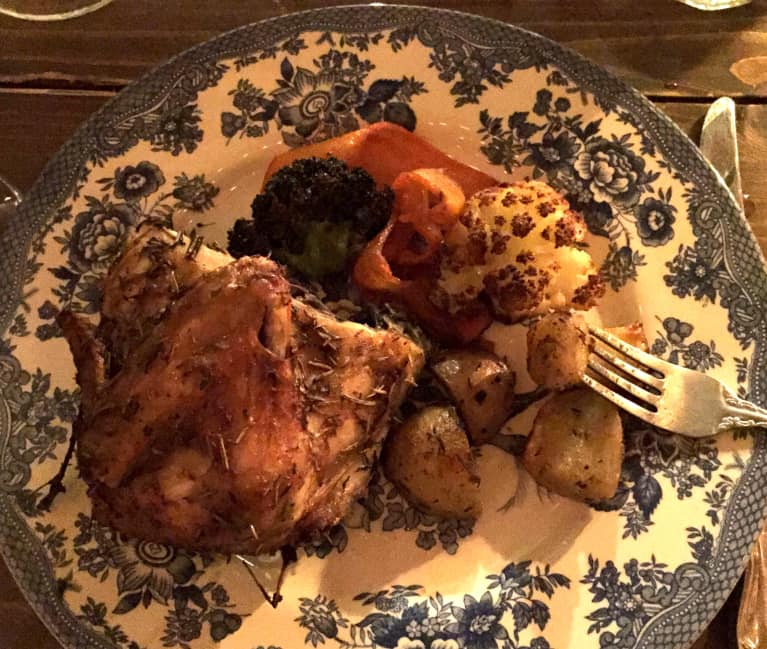 Working as a solitary freelancer can get lonely. By 6 p.m., I tend to be in serious need of some human interaction. So between teaching and social engagements, my weeks have the tendency to be jam-packed in the evenings. On this night, I was attending a dinner party in honor of one of my close friend's birthdays. Usually, I get a little antsy about group dining situations where I don't have control over the menu, but this event was at a restaurant I know and could expect delicious healthy food. My family-style meal consisted of kale Caesar salad, roasted carrots and cauliflower, and some super crispy potatoes. Not pictured: a lot of really good French wine. A green tea morning clearly followed…
Photos provided by the author

For more food and cooking advice from Phoebe, check out her course on cooking healthy and delicious meals on a budget!
Looking for more health and nutrition articles? Read these!: