5 Vegetable-Packed Meals For People Who Hate Salads
As a health coach, I place a lot of emphasis on eating clean, whole foods at least 80 percent of the time. This includes fresh vegetables, organic meat/poultry/fish/seafood, legumes, whole grains (such as quinoa and brown rice), nuts and seeds, and fresh fruit.
I believe in eating plenty of vegetables every day, ideally at every meal. Each vegetable offers its own set of much needed vitamins and minerals, so the more veggies and the wider variety, the better.
I tell my clients to fill half their plate with veggies, and add some healthy protein (animal or vegetarian) and healthy fats (like avocado). Eating this way will help anyone be their healthiest self and shed unwanted weight.
But I often come across people who struggle to eat enough vegetables because they're not salad fans or have trouble digesting raw vegetables. As a result, their diets lack in quantity and variety of vegetables and usually include too many processed foods.
For those of you who don't love raw green salads (or have trouble digesting them), I'm sharing five of my favorite clean, healthy, and delicious meals — filled with nutritious veggies — that anyone will love. (Bonus: They're also perfect to bring to work!)
Note: All recipes below serve 2 and are gluten- and dairy-free. Adding cheese is an option for most of the recipes, for those of you with no dairy sensitivities.
1. Roasted Beets and Curried Chickpea Salad
Ingredients
2 tablespoons extra-virgin olive oil, divided
2 medium beets, peeled and thinly sliced (or precooked beets)
1 bunch of kale, leaves de-stemmed, washed and chopped (can also use spinach)
1 can organic chickpeas, rinsed and drained
1 teaspoon curry powder
1 teaspoon turmeric
1 teaspoon garlic powder
Sea salt and cayenne pepper, to taste
1 small avocado, sliced
Fresh parsley or cilantro, finely chopped
1 cup cooked brown rice or quinoa
Lemon or lime juice
Preparation
1. Heat oven to 400°F. Place sliced beets in a baking dish, drizzle with 1 tablespoon olive oil, and sprinkle with sea salt. Cook for about 30 minutes until beets are soft and a bit crispy on the outside. (You can also use precooked beets to skip this step.)
2. Meanwhile, in a large pan heat 1 tablespoon olive oil on medium heat, and add chopped kale. Sauté for 2 to 3 minutes until kale starts to wilt. Add chickpeas, curry, turmeric, garlic, sea salt, and cayenne pepper, and cook another 5 minutes.
3. When beets are ready, toss the beets, kale, and chickpeas into a bowl, and top off with sliced avocado and herbs. Serve over a small bed of brown rice or quinoa, drizzled with lemon or lime juice, and sprinkled with sea salt.
Optional: Add a few tablespoons of goat cheese.
2. Easy Zucchini and Carrot Frittata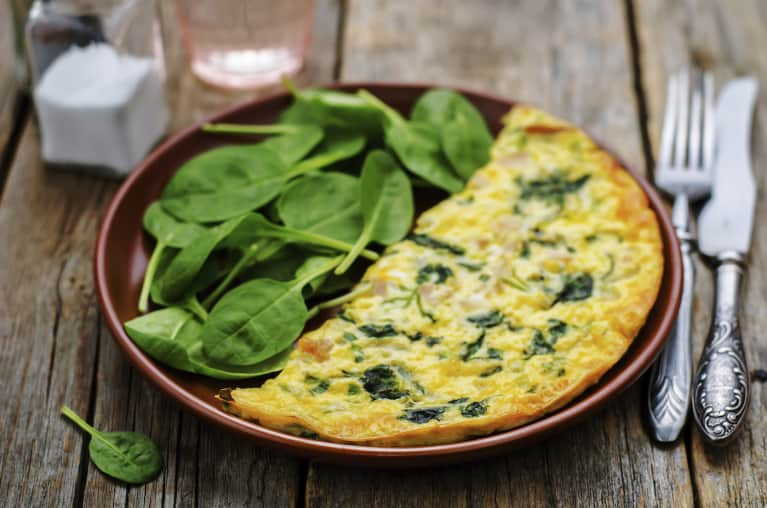 2 eggs
Fresh herbs of choice, chopped (I like to use rosemary, thyme, oregano, and/or parsley)
Sea salt and pepper, to taste
1 medium zucchini, finely chopped
3 medium carrots, shredded
½ medium onion, finely chopped
1 garlic clove, minced or finely chopped
Preparation
1. Heat oven to 350°F. Grease a small baking dish.
2. In a medium bowl whisk eggs and season with sea salt and pepper. Add in chopped herbs, vegetables, and garlic. Mix together and pour mixture into baking dish. Bake for 15 to 20 minutes, until lightly browned on top.
Optional: Add a light layer of Parmesan cheese on top before baking.
3. Warm Roasted Brussels Sprouts and Quinoa Salad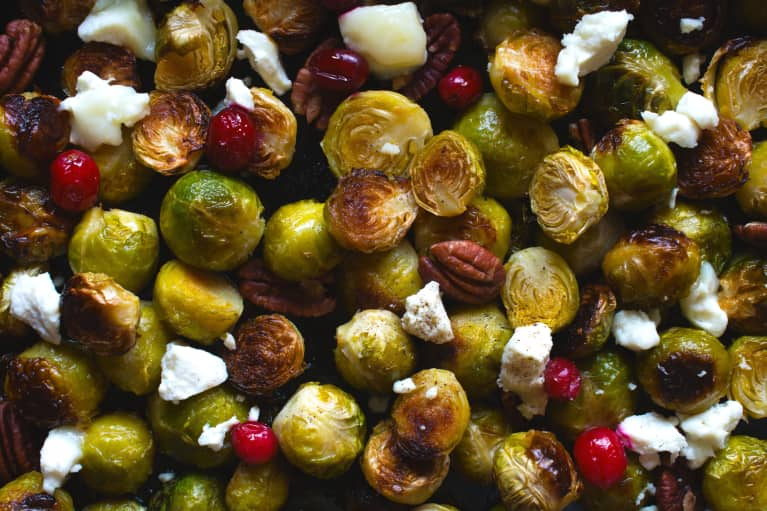 1 lb. Brussels sprouts (or broccoli florets if preferred)
2 tablespoons olive oil, divided
2 tablespoons balsamic vinegar
2 tablespoons chopped walnuts
2 tablespoons dried cranberries
Sea salt and pepper, to taste
1 cup cooked quinoa
Preparation
1. Heat oven to 350°F. Trim the edge of the Brussels sprouts, then chop them into halves or quarters, depending on size. Place in a baking dish with 1 tablespoon of olive oil well spread out, and a sprinkle of sea salt and pepper. Bake for about 15 to 20 minutes or until golden brown and crispy on the outside.
2. When ready, allow to cool slightly and place in a bowl. Add second tablespoon of olive oil, balsamic vinegar, cranberries, walnuts, and cooked quinoa.
Optional: Add goat cheese and/or chopped prosciutto.
4. Warm Veggie Quinoa Stir-Fry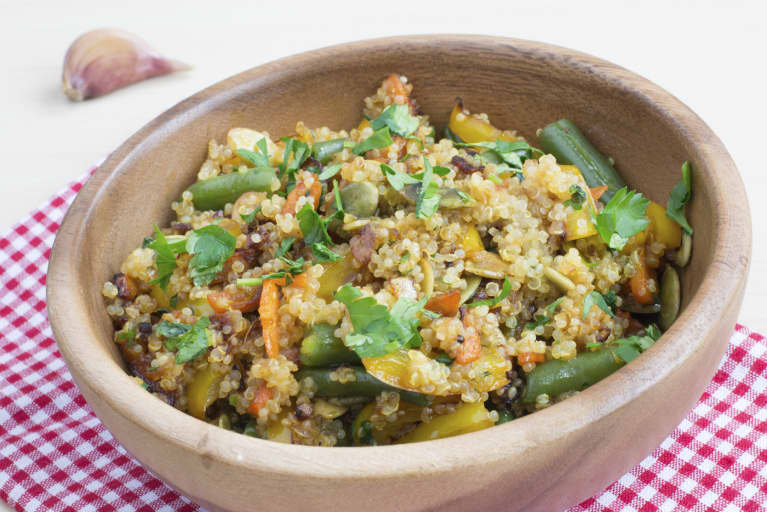 1 teaspoon coconut oil
1 cup quinoa, cooked
1 zucchini, cut into matchsticks
1 yellow squash, cut into matchsticks
1 medium carrot, cut into matchsticks
½ cup scallions, chopped
½ red onion, chopped
¼ cup sesame seeds
¼ cup sesame oil
2 tablespoons rice vinegar or apple cider vinegar
Splash of tamari (gluten-free soy sauce) or coconut aminos
¼ cup cilantro, chopped
Sea salt and pepper to taste
Preparation
1. In a large pan, heat coconut oil on medium heat; add finely chopped onions, zucchini, squash, and carrots and cook for about 5 minutes. Add chopped scallions, stir and cook and additional 2 minutes.
2. In a bowl, mix 1 cup cooked quinoa with the veggies, vinegar, sesame oil, tamari, cilantro, and sesame seeds. Stir and serve.
5. Basic Stuffed Eggplant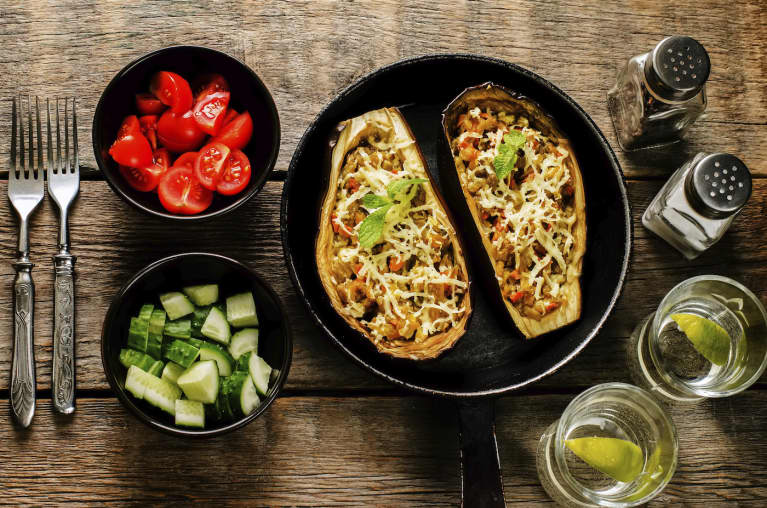 2 medium to large Italian eggplants
2 tablespoons extra-virgin olive oil, divided
1 onion, finely chopped
3 garlic cloves, finely chopped
1 lb. ground turkey (can also use lamb or beef) -OR-
2 cups cooked millet, quinoa, or brown rice (for vegetarian version)
1 cup sliced baby portobello mushrooms
½ cup organic tomato paste
Sea salt and pepper, to taste
Herbs of your choice
Handful fresh parsley leaves, finely chopped
Slivered almonds, for serving
Preparation
1. Heat oven to 400°F. Wash and dry the eggplants, trim the ends, and split down the middle lengthwise. Place eggplant halves in a baking dish, lightly greased or lined with aluminum foil. Drizzle with olive oil, sprinkle with sea salt, and bake for 15 minutes. (Or microwave for 7 to 8 minutes.) When ready, allow to cool a few minutes, then use a spoon to scrape out most of the inside, leaving a shell of about 1 centimeter thick. Repeat this on the other eggplant halves.
2. Finely chop the scooped out eggplant flesh (by hand or using a food processor) and set aside.
3. Heat a large pan with 1 tablespoon olive oil, add finely chopped garlic and onion, and sauté for 3 to 4 minutes, then add ground meat, chopped eggplant, and mushrooms, and season with salt, pepper, and additional herbs of your choice. Stir and cook until the meat is evenly cooked through, to your liking, about 8 to 10 minutes.
4. Drain any excess liquid, mix in tomato paste, and heat for another minute. Fill the eggplant shells with the ground meat and eggplant mixture until tightly packed but not overflowing. Save any leftover filling to enjoy later! Cover stuffed eggplants with chopped parsley and slivered almonds, drizzle with olive oil, and bake for 45 minutes or until eggplant halves are soft and browned on top.
Cover Photo Credit: iStock