11 Nutritionists Reveal What They REALLY Pack For Lunch
We all know it's healthier to bring your own lunch to work, but it's also a lot harder. Packing a lunch every day takes time and a decent amount of creativity. That's why we quizzed our favorite nutritionists and health coaches about what they pack for weekday lunches. Check out their tips and recipes below!
Crunchy Almond Butter on Dave's Killer Bread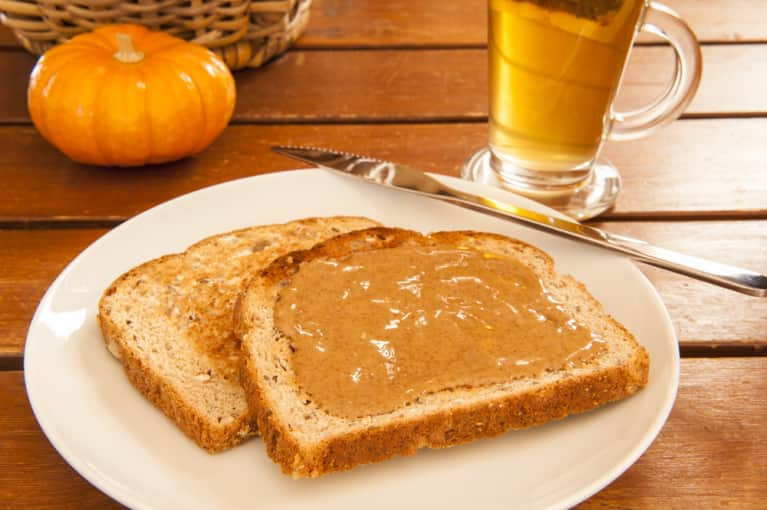 "This is my go-to, on-the-go lunch," says Bonnie Taub Dix, owner of BetterThanDieting.com and author of Read It Before You Eat It. "It literally takes only a minute to throw together, yet it supplies a decadent taste that satisfies for hours. This combo also provides the perfect trifecta of whole grain carbs, plant protein, and healthy fats."
Hummus Wrap with Avocado, Veggies, and More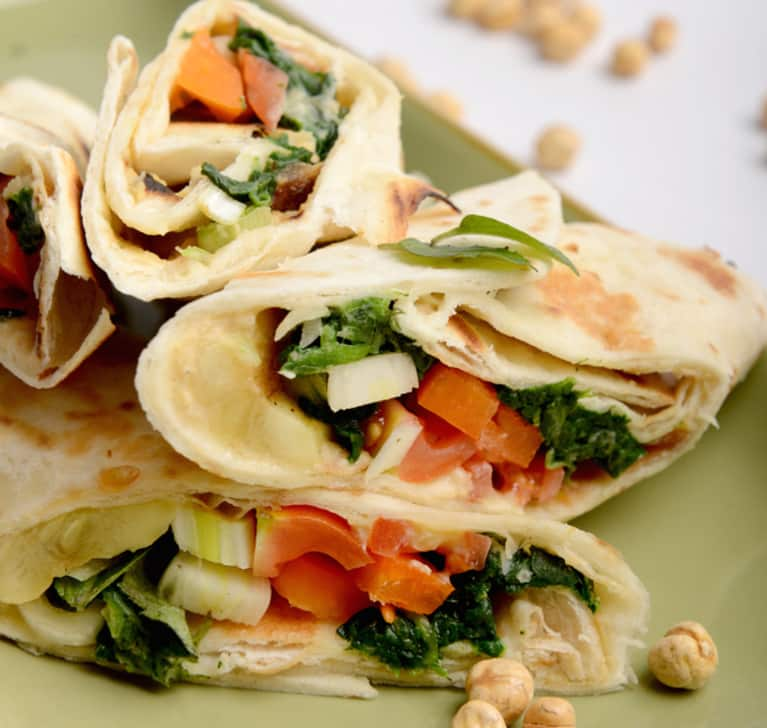 "When I'm crunched for time and need something I can slip into my bag and eat anywhere, I take an Ezekiel sprouted-grain tortilla and stuff it with hummus, mashed avocado, a heavy sprinkle of nutritional yeast, and veggies such as spinach, tomato, shredded carrot, and bell pepper — plus a few dashes of hot sauce!" says Robyn Coale, RD and author of the blog, The Real Life RD. "It's full of plant protein from the hummus and yeast, fats from the avocado, and fiber and nutrients from all the veggies. Wrap it up in foil for easy eating."
Chipotle Roasted Kabocha and Kale Salad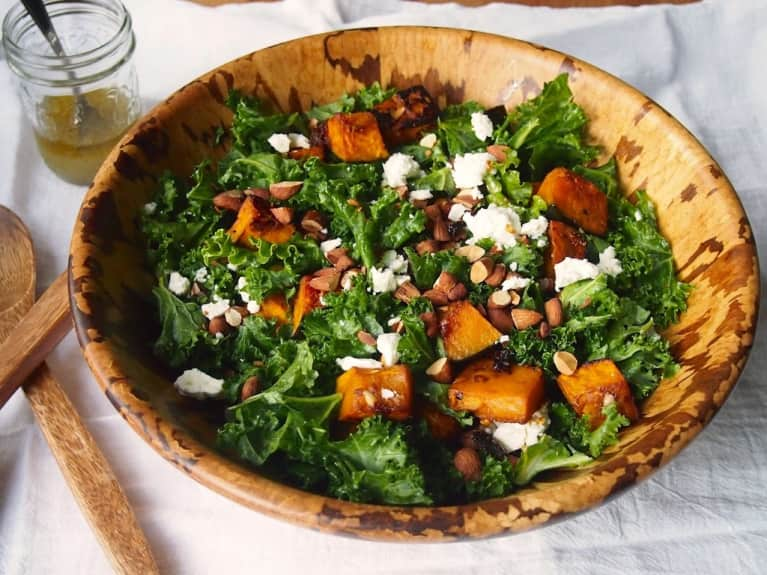 "Usually I eat leftovers for lunch, but on especially busy weeks, I'll make a big batch of a whole grain or kale salad," says Rachael Hartley, RD and author of the blog Avocado a Day Nutrition. "Both last all week in the fridge, so all you have to do is scoop out a serving into a Mason jar or other portable container. My chicken and wild rice salad with tart cherries and chipotle-roasted kabocha and kale salad have been on frequent rotation this fall."
Cottage Cheese With Fruits or Veggies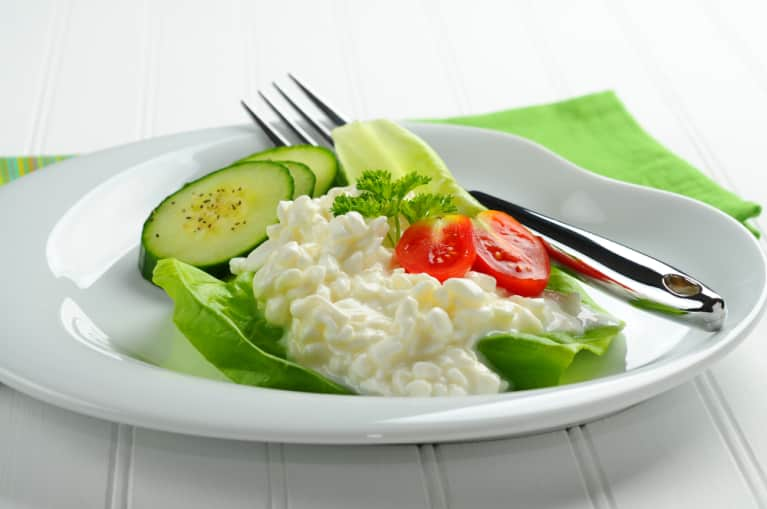 "My favorite easy lunch is low-fat cottage cheese with a fruit or vegetable mixed in," shares Jenna Braddock, RDN and author of the blog Make Healthy Easy. "My favorites are avocado, tomatoes or sundried tomatoes, mango, and strawberries or peppers. This way I am getting a good protein and at least one plant food. I usually throw in a Ziplock bag of raw veggies or fresh fruit as well. EASY! See this post as an idea!"
"My soups and salads in Mason jars are the perfect packed lunch," says Elissa Goodman, a holistic health coach. "The glass is reusable. I make batches of soups and salad jars (like my Power Chopped Quinoa Salad or my Broccoli and Arugula Soup) for the week and keep them stocked in the fridge at my office. If you can devote a couple of hours to the prep and cook time on the weekend, packed lunches will be a breeze."
Sliced Veggies, Protein, And A Grain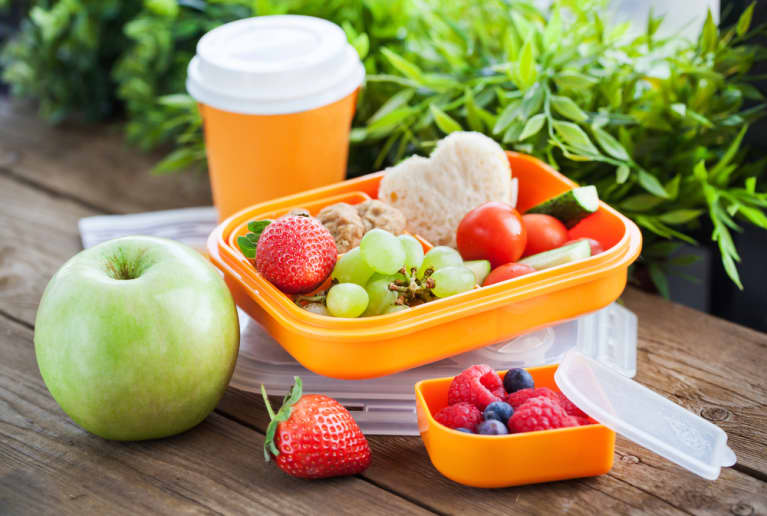 "Many of my clients get overly stressed about lunches on the go because they think they need to look just like a meal at home would," says Rachel Meltzer Warren, MS, RDN, and author of The Smart Girl's Guide to Going Vegetarian book and blog. "Instead of negotiating how to pack an unruly sandwich or salad, I usually treat to-go lunches like mini picnics for one. I'll pack a couple of bags of sliced veggies like cucumbers or red bell pepper slices, a protein like roasted chickpeas or a squeeze pack of peanut or almond butter, and a grain like wholegrain crackers (I love Mary's Gone Crackers), a piece of fruit, and I'm good to go!"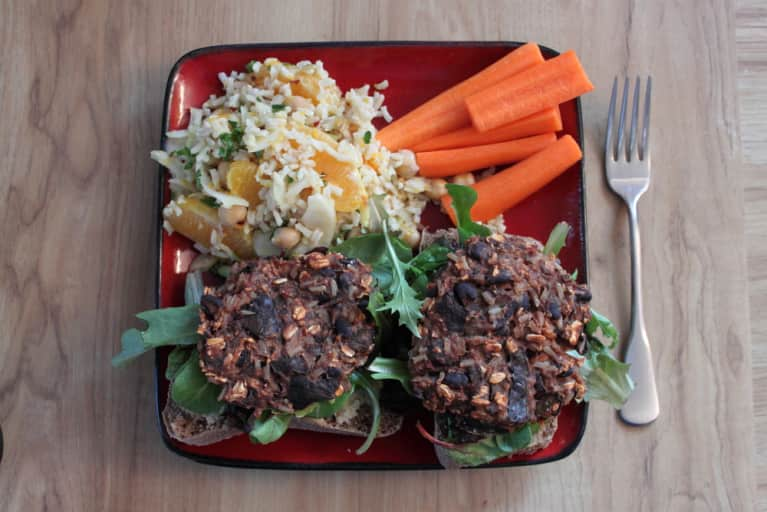 "LEFTOVERS. For my lunches, leftovers are the name of the game," says Talia Pollock, holistic health coach and author of the blog Party in My Plants. "But the key is always to mix and match and get as culinarily creative as I can. For example: Leftover chili becomes leftover chili sandwiches with another leftover sauce and some arugula hanging around the fridge. Leftover quinoa becomes leftover quinoa salad with a veggie burger, a few stray cut up tomatoes and a leftover half an avocado. Lunch is such an awkward midday meal that is so often ignored, forgotten, or skipped — so a mishmash-of-leftovers lunch DEFINITELY beats no lunch!"
Salad With Grape Tomatoes, Cucumber, Olives, and Light Meat Tuna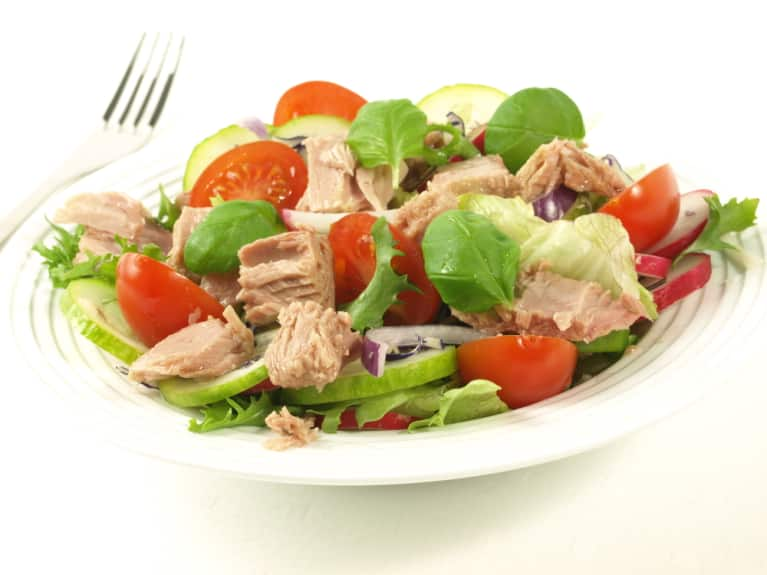 "If I'm in a bind for lunch, I usually throw some leafy greens into a container with grape tomatoes, sliced cucumber, olives, herbs, and some Spanish or Italian light meat tuna (packed in olive oil). It's simple, easy, and takes about two minutes to throw together," says Alicia Anskis, MS, RD, LDN, and registered dietitian at Massachusetts General Hospital.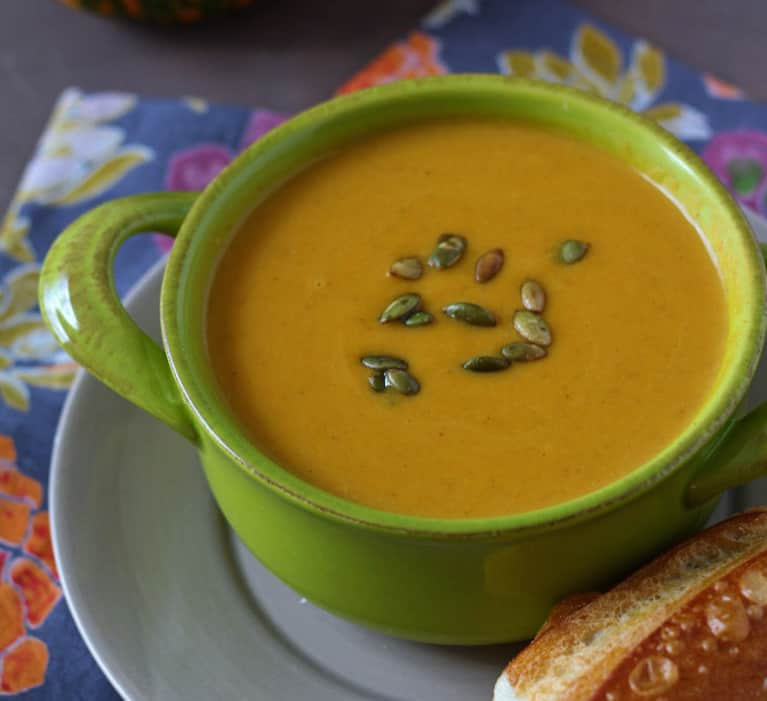 "During fall and winter, I pack warm lunches. Usually it's a cup of soup, like my autumn squash soup or baked sweet potato and carrot soup," says Emily Hein, RDN and author of the blog Zen & Spice Nutrition. "If I don't feel like making soup, it's usually a sandwich and some fruit. I buy low-sodium, nitrate-free turkey, 2 percent cheese, and whole-grain bread and load it full of avocado and tomato slices."
Salad With Chicken, Egg + Veggies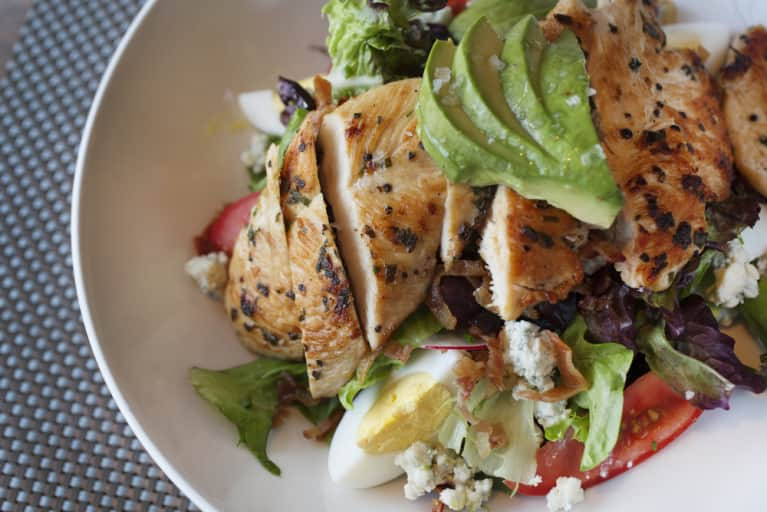 "I love a big "loaded" salad," says Dr. Kellyann Petrucci, a naturopathic physician and certified nutrition consultant. "I always keep washed greens handy in my fridge, along with a vinaigrette dressing, so I have the basics ready to go. I just add leftover meat, chicken, or fish from my dinner the night before, toss in a sliced egg, and add whatever's on hand. Some days, I go for tomatoes, cucumbers, and avocado slices. Other days, I choose berries, nuts, or pomegranate seeds. It's a great way to clean out the fridge!"
Walnuts, Avocados, Blueberries, and Wild Smoked Salmon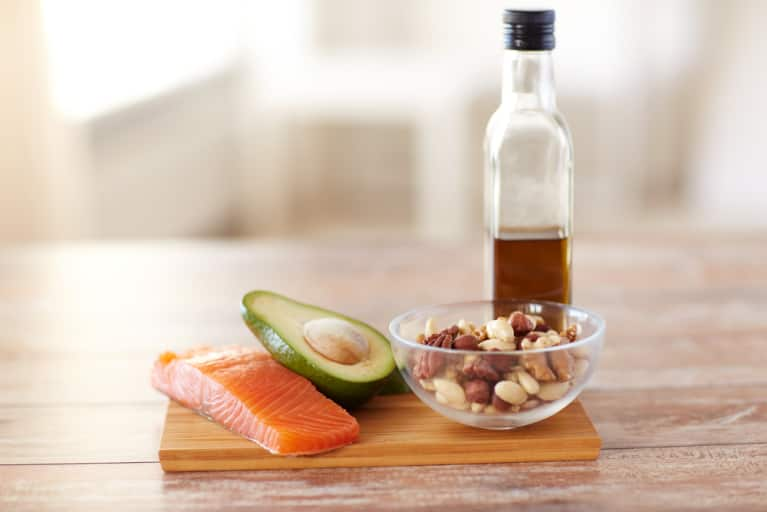 "Since I'm often on the go, I'm usually picking up lunch from a healthy café or salad spot," says Dr. Robin Berzin, a physician who specializes in women's nutrition and health. "When I'm in the office, I'll pack walnuts, avocados, blueberries, and greens, and pick up some wild smoked salmon on my way to the office for an easy, balanced lunch."
For more information on how nutritionists and health experts eat healthy, check out these stories: